There was pandemonium in Abeokuta,Ogun state capital on Mmonday when a truck owner , Fatai Salami drank an insecticide known as Snipper and died at the premises of the Traffic Compliance and Enforcement Corps after he was asked to pay a fine of N215,000 for violating COVID-19 law in the state .
 Salami reportedly commited suicide after his truck was seized by officials ofthe TRACE for five days and insisted that he must pay N215,000 as a fine for breaking the coronavirus order of the state.
An eye witness who did not want his name in print told PLATFORM TIMES that the officials of TRACE seized the deceased's truck from his driver  in Abeokuta on Thursday for flouting social distancing order and failure to use face mask and asked him to pay N215,000. 
Salami was said to have followed his driver to the premises of TRACE where his truck was impounded and pleaded for the release of his truck ,but, his plea was ignored .
PLATFORM TIMES gathered that the deceased had been sleeping in the premises since Thursday until Monday when he was able to raise a sum of N150,000 but was rejected by the officials .
PLATFORM TIMES further gathered that the man was frustrated and threatened that he would kill himself ,but,he was not taken seriously until he drank the snipper and died .
The Public Relations Officer of TRACE ,Babatunde Akinbiyi confirmed the death of the truck driver .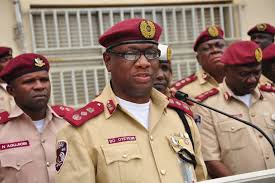 Akinbiyi however said the man was neither a truck owner nor a truck driver .
He said the man sat on the floor within the premises which houses TRACE and other agencies on Monday .
He said "the man was neither a truck driver nor a truck owner . We only saw him there, he sat on the floor and the people asked him to stand up and as he stood up he brought out something from his pocket and drank it. 
"We later discovered that it was snipper he drank . One of his bosses saw him attempting to drink it and screamed, but, before help could come ,he had drunk it . 
"He fell down and started displaying as somebody who is suffering from epilepsy .
 He was rushed to the general hospital Ijaiye and at the hospital he gave up . So the case had been reported to the police."
When asked whether the TRACE fined him for N215,000 for flouting the COVID-19 laws or not , Akinbiyi denied the allegation 
He said "That is a lie, how can his family say that ,the man was not a driver .
That is a lie . We are going to take extra precaution .
"He was neither a driver not a truck owner, what he cane here to do we don't know . A whole lot of them usuallycome into the premises .
"TRACE is not the only one using the place , the place is shared by Parking task forceand Legion .
"We don't know what he was doing there and because of this we are going to take extra caution , we run an open door policy. Anybody can come in and go out but, with what happened we will take precaution, we will not allow anyone who does not have business here to come in.
Content created and supplied by: Sodiq_ojurungbe (via Opera News )