Why Professor Osinbajo's Helicopter Crashed - AIB
studio.opera.com
2020-07-28 17:53:26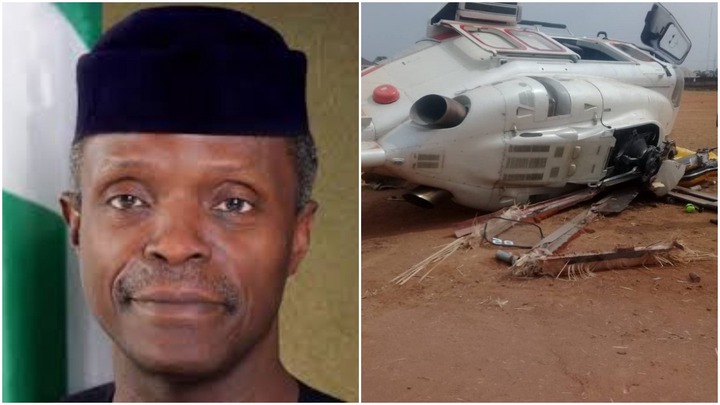 The (AIB), Accident and Investigation Bureau has published an announcement that clarified why the helicopter that was transporting Vice President Osinbajo during the 2019 general elections crashed on their way to Kabba in Kogi state.
In a statement disclosed by Akin Olateru, the Commissioner of AIB, the staff lost visible contact with the external surroundings and the ground.
The staff was however blamed for unqualified landing techniques and insufficient planning before the kickoff of the flight.
Olateru explained;
"There were 12 people on board with the Vice President his escort, and 3 flight crew members, (Co-pilot, an Engineer, and Pilot).
"The flight crew members asserted that they spotted the planned landing location as an outcome of the cloud of dust created by the turbulent downwash from a Police helicopter.
"After sighting the football arena, the flight crew moved toward the field with the momentum of 20feet to 100feet and reached a hover to land.
"At about 50feet above the ground, a blackout set in. The aviation crew lost control of visual touch with the external surroundings and the ground.
The helicopter encountered a difficult landing on the right major landing gear and swerved over to the right side and rolled over to its right side. All people on board were taken out without any injuries.
Source: Opera News