Snail experts who advise you to build a pen, buy snails from their own farms, feed them with paw-paw leaves or a 'mega formulated meal,' allow each parent snail to lay 5-6 times a year from 20-400 eggs anywhere, achieve a 100% hatch-ability and you can have 1,000,000 baby snails (one million) worth N200,000,000 (one million dollars) in another 12 months.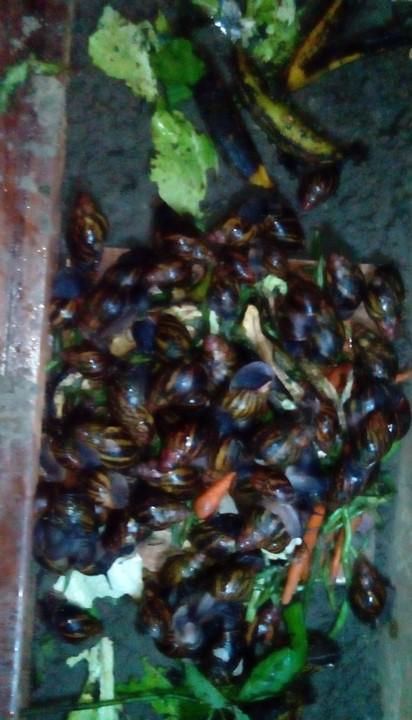 These criteria can only be met in a research lab with sufficient available funding. Just guess what? You have no workshop and you don't even have to invest in petrol. (Because such an undertaking should be if ever conducted for scientific purposes and not for commercial gains). The best you can do is maximize your earnings using my simple methods of affordable and practical secrets that, combined with best practices and application of good quality control, will more often than not reward you. These are 'small secrets' that give you 'huge results.' I've compiled it from A-Z in a fun way and hopefully, it will lift more proprietors of successful snaileries in Nigeria, Africa, and the entire world.
lets read A,B, C - the snail way!
Achatina is a genus of small to very large, air-breathing, tropical land snails, terrestrial pulmonate gastropod mollusks within the family Achatinidae. Around 200 species of Achatinidae occur in sub-Saharan Africa. Many species are kept as terrarium (just a fancy word for an aquarium without water; LOL) because of their size and colorful shells. Nonetheless, for snail farming, we can only work with the three species of that genus that are naturally, marketable and competitive. they are their younger brother Achatina achatina Linnaeus, Achatina marginata, and Achatina Fulica.
Breeder
Breeder snails are the prospective snail farm's patriarchs and matriarchs (though the snails are hermaphrodites). Snails are "highly reproductive!" These breeders are snails aged 12-24 months who have the qualities needed to start, sustain and "improve" your snail business. Logical features include shell health, age, species, source area, stress factors present in capturing and transporting as well as your (estimated) farm size, farm position and type of housing to introduce. I often recommend that mature adult snails would come from the forest, rather than from farms. Farms are a good place to go but not the best place to go as the forest snails have had a regular life and are usually more hardy. Crop snails have had so much interaction with other snail trails on the crop with 'snail slime' and this greatly decreases their viability and overall immunity to disease. (Children deprived of farm snails. Check out 'Density Matters'). The only place you shouldn't buy snails though, is your city markets. Live snails from these markets are usually stressed out, and are ideal for milk. Good to see!
Calcium
In any snail company, calcium is the single most important feeding element. Why? For what? Who for? It. It. Just. Easy. Small calcium intakes can lower the rate of development and thin out the shells. Calcium can be placed in a feeding dish or trough so that the snails may consume it at will. Nutrition is just one calcium source. Snails that eat calcium-seeking buildings paint or target walls, and can eat dirt too. I am using two low-cost calcium sources in all of my farms. Another from the outer green cabbage leaves (you don't pay for that. It's readily available in any fruit/vegetable market in Nigeria). We'll also ask you to help them lift the 'dirty'!
"An experiment was carried out to evaluate the growth efficiency of African Giant Land Snail Achatina achatina, fed with three natural feedstuffs; pawpaw berries, pawpaw leaves, and cabbage leaves; a minimum of 24 growing snails aged about a year were used for study, randomly divided into six groups, then allocated to the three experimental diets, ordered in an order of complete random degree.Feed intakes of dry matter served every other day, weight gain, and increase in snail size were measured on a fortnightly basis. The findings showed that pawpaw leaf's protein content equals that of a cabbage leaf and pawpaw fruit.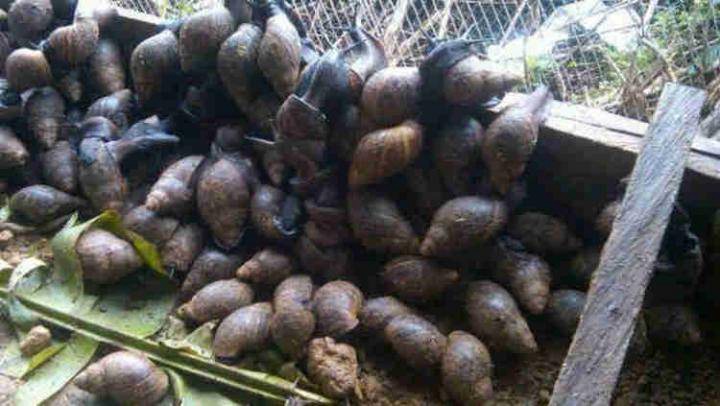 Cabbage leaf also contains some essential mineral elements which are useful in bodybuilding compared to the other two feedstuffs. It also revealed that snails fed with cabbage leaves had the highest dry matter intake and weight gain of 14.2 and 18.6 g, respectively. The maximum shell length and diameter increase of 0.3 and 0.6 cm was recorded in pawpaw fruit and pawpaw leaf, respectively. Although the weight gain of snails fed with pawpaw fruit and cabbage leaves (p > 0.05) did not vary, the cabbage leaf tends to be richer in protein and other essential mineral elements than pawpaw fruits. It was therefore hypothesized that the cabbage leaf could serve as a good substitute for pawpaw fruit and leaves, known up to now as the preferred natural feed of snails.
It was the abstract of a research paper from the Jericho, Ibadan Federal Forestry School, by four professor-level experts. I have been using it since 2009 and I have applied it consistently. The other cheap but powerful calcium source is broken pieces of limestone rock. Put them only in cages, or the place where you want to hold your snails as 'Licking Stones.' Discover them conveniently in shops where poultry feed is sold or simply take a walk to Edo's Okpella hills, Ebonyi's Nkalagu, Kogi's Obajana, or cross the mfanmosing river and fill your sacks.
Bigger Healthier Snails. A good calcium source.
Density
What counts is a range! Rather than asking what brings Physics into snail farming, proper use of space will determine if your snail venture is productive or not. Why are there so many snails in a small area, or little snails in a wide enclosure? One problem as I described in 'Breeder Snails' is the fact that density affects the growth and breeding capability of snails. High-density populations tend to develop slowly, to mature into smaller adults, laying fewer egg clutches and fewer eggs per clutch. If the snails are very closely clustered they can't be breeding at all. The accumulating slime suppresses reproduction. Some drawbacks of high density are the high parasitism rates and ease of disease transmission.
Snails do not tend to replicate when crowded too tightly, or when the mud in the pen accumulates too much. The slime serves as a pheromone and does away with reproduction. On the other hand, snails in groups of about 100 tend to breed better than when there are just a few snails confined together. Perhaps they've got more future friends to pick. While food is plentiful in a densely populated area, snails grow more slowly, and they also have a higher mortality rate. Then these snails are smaller adults, laying fewer egg clutches, have fewer eggs per clutch, and lower hatch rates for the eggs. Lesser adult snails sell for less. Dwarfing is very common in snail raising, and is largely due to rearing conditions rather than heredity factors. Snail crowding is a bogus economy
Think of 20 Adult snails per m2. (They generally seem to be ascending per cubic meter). 40 / Sq3 for little snails, and 80-100 / Sq3 for small snails. What counts is a range!
Escargot
Escargot simply means snail intended for food, usually in Europe and particularly in France, Spain, and Portugal. I shall limit it to the planting, harvesting, processing, and marketing of well-packed snails at the backyard for this reason. Before you will explore the snail farming gold mine, you'll need to get to the 'escargot stage.' Starting is not costly. Your snail empire will begin as little as having 5 breeders set free 100 mature snails. Instead of selling your snails to the market lady who will haggle and demand, just pick them up, clean them hygienically, and place them in a freezer cold. Now you can get a good deal on your street, a neighbor, or even a hotel or fast-food chain from the 'frozen chicken and fish market' side. 100 bits in 6-8 months, x 250-400Naira. Do the math for 1000 pieces when only 50 square meters (5 meters by 10 meters of land) are required, I smell the money!
I promised 'every secret' in snail farming would be open.
Bigger escargot operations will pull in millions from shipments to Europe, Asia, and, of course, the U.S.A. The U.S.A. is a gold mine since the government has banned the importation of 'live' snails. Our African brothers in that country need no small snail because there can be no legally operating Giant African Snail farm. You can also do what I call snails for stock-market trading. I'm only buying small to medium forest snails at a cheap rate during the rainy season (we're in one right now but it'll end early so take action now and put them in my 'snail reserve' for six months). You will sell 4-6 months later in the dry season and make 4-5 times gross revenue with a mix of skills not unrelated to cheap/decent feeds and complete snail care. (Bearing the initial money in mind, feeding costs). Example buy 1000 N50 snails and sell them for N250, after 'Banking.' More likely you pick, clean, and market yourself.
The stock market is more optimistic than ever.
Feeding
A feed is the most important factor in snail cultivation. Snails are easy to feed and are fed to virtually all nontoxic, unhairy / waxy, raw, seeds, fruit, vegetables, tuberous foods, and household waste (not included in table salt). Popular sources of food include bananas, melons, chips, carrots, paddy paws, salads, pepper, pumpkin, plantains, etc. Many people devise various feeds for snails but on the side, the drawbacks must be overweighed. Why buy if next to it you can get all-natural and free? Please find cheaper outlets! Fruit markets, vegetables, and even forests are behind your home. In the end your food supply and quality will be determined by the type of home and the size of your farm. In this way, call me. Consultation services are not costly.
If your snail farm is very large, you have to provide any food you need for your snails' healthy growth. It will require your efforts to grow, collect or buy snail foods in cash. So what snails do, so what they want, must be known. Smaller snails can prefer juicer sources of supplementary food, while adult snails may eat softer feed, or use soil substrates to enhance their calcium.I peel off the outer leaves of the cob until I read that the outer leaves were around 80 % higher than the inner leaves (40mg / kg and 70mg / kg). I always intend to cut the chocolate before the last moment as vitamin C loses from air exposure. Not to mention the balance of calcium/magnesium in feeds, as too much magnesium will hinder calcium absorption causing development problems. In reality, there are many mysteries too!
Housing 
Figure out whether your snails will live a happy life. Different styles of snaileries are built. In this way, certain considerations must be taken into account. Firstly, the snails' stage of development and their snails' habits. It means the new-born, young, and adult snails are categorized by age. The trick to remember is that younger snails would need more convenient quarters to prevent any harm. More specifically, snaileries must demonstrate escape and must thrive against predators.
Pens may be made of wood as in the case of bare ground boxes or pens (decay-resistant types). You may also create concrete stones embedded in the ground (the same way a base is built, for a normal building). These are however semi-intensive methods which can be repeated on a large commercial scale, where the initial capital is small. These techniques have demonstrated the right density of the edge. Extensive approaches include mini paddock and free range pens which can reduce feeding costs significantly. A traditional plantar farm or vegetable garden and comprehensive snailing can be turned into a two-edged knife, in order to brush away the deprivation of secrets.
The final trick is to use thin mesh netting to keep flying from getting to your snail types. There's one fly that drains your snail investment if left unregulated. This places the eggs in the snails and consumes the inside snails. Stay set for fly snails larvae.
Content created and supplied by: Utomobong6 (via Opera News )
Opera News is a free to use platform and the views and opinions expressed herein are solely those of the author and do not represent, reflect or express the views of Opera News. Any/all written content and images displayed are provided by the blogger/author, appear herein as submitted by the blogger/author and are unedited by Opera News. Opera News does not consent to nor does it condone the posting of any content that violates the rights (including the copyrights) of any third party, nor content that may malign, inter alia, any religion, ethnic group, organization, gender, company, or individual. Opera News furthermore does not condone the use of our platform for the purposes encouraging/endorsing hate speech, violation of human rights and/or utterances of a defamatory nature. If the content contained herein violates any of your rights, including those of copyright, and/or violates any the above mentioned factors, you are requested to immediately notify us using via the following email address operanews-external(at)opera.com and/or report the article using the available reporting functionality built into our Platform See More