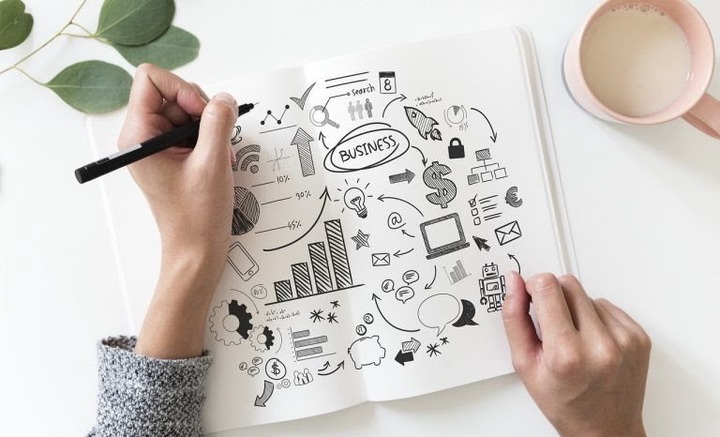 Nigeria is a big country that does not have good leaders who end the financial empowerment of young people completely while there are no well paid government run jobs, this has increased poverty in the country by 20%.
We have realized that 70% of Nigerians want to start their own business due to lack of employment and youth empowerment, that is why we created this business item to start in Nigeria with the number 5,000 or 10,000 Naira.
One thing you need to know is that no matter how small you think a company may be if you apply the right and proven marketing principles, I assure you it will grow and start generating millions for you.
This business listing will help you get started while positioning yourself in the business industry.
All the business ideas listed in this post are companies that anyone can easily start with 5000 Naira up to 10000 Naira, so nothing to fear so that the bank does not break down.
8 small businesses to start in Nigeria with 5000 or 10,000 Naira
1. Fabrics used from London (OKRIKA)
Okrika are fabrics used abroad that some importers imported into Nigeria. About 48% of Nigerians wear Okrika, but you will not know it because they are first class Okrika.
The facts are that you will not be able to distinguish Okrika and ready-made preparation if combined. Many shops in Nigeria maintain their shop with Okrika and sell them at a higher price.
Starting this business is a good idea for the residents of Abuja and some popular places.
This is the business that is currently most active in Abuja, in which young people are joining and contributing a good amount of money.
This business does not require the store to start if you do not have the money, no problem.
If you have been to Abuja or are living in Abuja, you will need to better understand why you do not need a shop to start your Okrika business.
People in this business are only in popular areas of Abuja, such as the street and under bridges, all they do is arrange clothes on a nylon or wide table.
This company does not require even a full day and will not disturb you in your daily activities.
The main convenient time to start this business is at night when workers return from work (16:30 to 19:30).
Buying a set of Okreika fabrics costs from 10,000 to 20,000 and you can find over 200 pieces of clothing in a complete set.
People who sell these clothes sell them from the rage of the number 500 to the number 1200.
Now, if you have a set of clothes bought for the number 10,000 and find each 200 clothes worth # 500 each,
How much will your profit be?
if we have to calculate 500 x 200 = # 100,000 - # 10,000 you bought it = # 90,000 - # 4,000 for shipping = # 86,000 wow you will definitely get a profit of # 85,000 in less than two weeks if you are smart and God is on your side.
2. Clean water / bottled water business
If you live in a place known as Abuja, the clean water business can be a very good opportunity, this business does not need much start-up capital.
You can only start from number 3000 to # 5000, you can start this business in a sustainable way.
You don't have to reach for yourself.
All you have to do is meet those people who sell clean water / table water along the way and tell them that you are willing to sell them at a lower price than the normal price they buy.
You can also get the unemployed beggars in your area to bring you this bag of clean water, and for each bag sold, incorporate the Naira N50 while keeping the rest.
Allow them lunch and make sure they are friendly, make them a hockey bowl.
You can include table water and canned drinks, such as malt drinks, etc. People who dance sell more than 20 bags of clean water every day if God is for you.
You can get so many hawks of up to 10 or 15 of them to sell to different places in Abuja, every day you will have up to # 3000 of this business, it is much better than ordering or being unemployed.
The wholesale cost of pure water is currently # 80 naira per bag.
3. Buy and sell.
This is one of the businesses that many people do not know in Nigeria. There are only a few people in this business and they are really doing it.
This company is more profitable than you might ever think and the good part is that you don't have to suffer the stress of working in a factory.
No need to shop, this business requires an initial capital of up to 10,000 naira or higher, depending on the item you are dealing with.
How is it done?
This is the act of listing items to buy online and reselling them online.
The lucrative side of this business is buying used properties that you can resell and make money from. If you want to make a good profit, phones and computers are the main goals of this business.
The secret is that for many reasons that push people to sell their current cell phones or laptops, some reasons are due to the urgent need for money to solve other problems that are more vital to them than their property.
Therefore, they will set up this property at a very cheap price to get a buyer faster.
All you have to do is meet with the seller and confirm that the item is working 100% perfectly and also make sure that the property belongs to you.
Buy items and reinstall a larger amount of # 10000 naira more profit.
The best place to do this business is Olx.com,
jiji.com and you can sell the item as fast as the same day or the next day.
Keep rehearsing it until you can say it with conviction and confidence.
It is a delicious business and some wise businessmen are doing very well with this business now because it is still very young in Nigeria.
4. Almond preparation activity
This business does not require a lot of money to start, but you can start with a small amount from 2000 to # 5000, depending on your desire.
This is an act of preparing noodles, using bread and eggs, should not be similar to that of the natives as the Hausa boys in your area do this.
You can make it a perfect place, build it with planks or plastic lids, and then wrap the body in wraps, embellishments, or even anything that will make it acceptable and very tidy.
You can do this business in advance while using offshore parks.
You can also supply the office staff of this company in your area at holiday time.
At some point, you will have their contact and they will call you to continue.
This company has an average profit level, if you give it time and try to do it in a modem mode, you can earn between 4000 and # 5000 every day.
5. Mini production of meat pies.
This company needs # 10000 Naira and above if you have not already.
The requirement to start a business is
1. oven
2. Pot or Frypan
3. Lulja
4. Sugar
5. movement board
6. Rolled wood
7. Stove or electronic stove or gas stove
Most of these requirements listed above are not easy to handle, the only expensive item is the oven.
The good thing is that there is now a mini oven that can reach # 3000 and very perfect to start with.
You can start this business from home without having to do a shop, all you have to do is meet fast food and those people who sell meat and egg pie on the street.
Offer to offer your product at a cheaper price of Naira # 20, than the normal price they use to buy them, treat them very well and retain customers.
Get their number and always call them to find out when they need meat pies.
I know many people who started this business with this method, now they have their own bakeries and the buses they now use to deliver them.
6. Liquid soap production.
Today many people settle into the liquid soap manufacturing business for its convenience and sell faster, people use soap every day, and there is this new nameless liquid soap mostly green.
This soap is produced locally and does not need much start-up capital, it is very possible to start this business with only # 5000 Naira.
Before starting this business, he first recommended that you meet with your neighbors and tell them about your new idea and when you will start production.
Let them know that you supply them at a low price with the normal price they use to buy.
If you are making the Naira 50 number of each soap you sell and can sell 20 pieces of soap every day, you will make 1000p every day, you will also be able to inform some traders to sponsor.
This may not be a good source of livelihood, but you can manage to raise a good amount to start a better business.
And it is much better than begging or stealing.
7. Nursery business
Nigerian needs for good child care management are growing.
While there are many daycare centers out there, if you can come to the field with immense service and creativity, you are sure to make money with this business.
You do not need to start a day care service, you can easily start this business from home.
Those who do not have the capital and experience to set up a full-time child care center can still benefit from this area of ​​business by starting a small nanny agency or a grandparent service.
Some other small businesses to start in Nigeria are;
• Real estate agencies.
• Drafting of the proposal.
• Information marketing.
• Sale of fruit.
• Online editing.
• Selling honey.
• Independent marketing.
• Home teaching.
• Independent writing.
• Stock marketing.
• Editing e-books.
• Craft business.
• Obtaining the ball.
• Exercise instructor.
• Business plan writer.
• Carpet cleaning and car wash.
• Aerobics classes.
• Corporate cleaning services.
• Dance instructor.
• Computer instructor.
• Graphic designer.
• Mobile phone repair.
• Web page designer.
• Charge the phone and car batteries.
• Kitchen service.
• Time management consultant.
• Cosmetics sales.
• Event management.
• Employment agency.
• Event planners.
• Stylist.
• Facialist.
• Freelance photographer.
• Art and makeup.
• Food delivery service.
• Letter of congratulations.
• information agent.
• Interpreter / translator.
• Mailing list service.
• Foreign language teacher.
• Music classes and much more ...
Content created and supplied by: Olu12 (via Opera News )
Opera News is a free to use platform and the views and opinions expressed herein are solely those of the author and do not represent, reflect or express the views of Opera News. Any/all written content and images displayed are provided by the blogger/author, appear herein as submitted by the blogger/author and are unedited by Opera News. Opera News does not consent to nor does it condone the posting of any content that violates the rights (including the copyrights) of any third party, nor content that may malign, inter alia, any religion, ethnic group, organization, gender, company, or individual. Opera News furthermore does not condone the use of our platform for the purposes encouraging/endorsing hate speech, violation of human rights and/or utterances of a defamatory nature. If the content contained herein violates any of your rights, including those of copyright, and/or violates any the above mentioned factors, you are requested to immediately notify us using via the following email address operanews-external(at)opera.com and/or report the article using the available reporting functionality built into our Platform See More