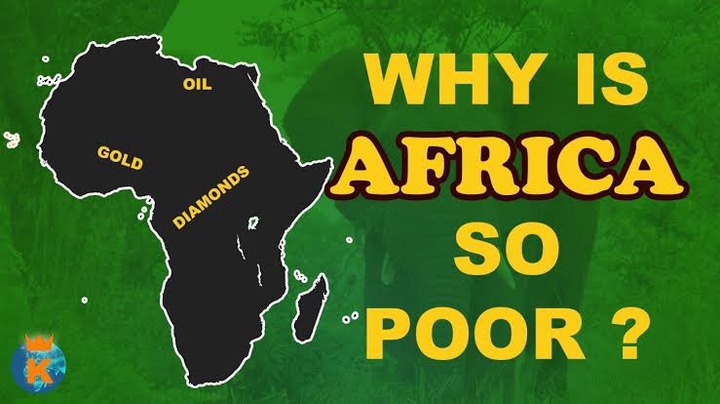 Poverty in Africa is the lack of provision to satisfy the basic human needs of certain people in Africa. African nations typically fall toward the bottom of any list measuring small size economic activity, such as income per capita or GDP per capita, despite a wealth of natural resources. In 2009, 22 of 24 nations identified as having "Low Human Development" on the United Nations(UN) Human development Index were in Sub-Saharan Africa. In 2006, 34 of the 50 nations on the UN list of least developed countries were in Africa. In many nations, GDP per capita is less than US$5200 per year, with the vast majority of the population living on much less (according to World Bank data, by 2016 the island nation  of Seychelles was the only African country with a GDP per capita above US$10,000 per year. In addition, Africa's share of income has been consistently dropping over the past century by any measure. In 1820, the average European worker earned about three times what the average African did. Now, the average European earns twenty times what the average African does. Although GDP per capita incomes in Africa have also been steadily growing, measures are still far better in other parts of the world.
Despite large amounts of arable land south of the Sahara Desert, small, individual land holdings are rare. In many nations, the land is subject to tribal ownership and in others, most of the land is often in the hands of descendants of European settlers of the late 19th and early 20th centuries. For example, according to a 2005 IRIN report, about 82% of the arable land in South Africa is owned by those of European descent. Many nations lack a system of freehold landowning. In others, the laws prevent people from disadvantaged groups from owning land at all. Although often these laws are ignored, and land sales to disadvantaged groups occur, legal title to the land is not assured. As such, rural Africans rarely have clear title to their own land and have to survive as farm laborers. Unused land is plentiful but is often private property. Most African nations have very poor land registration systems, making squatting and land-theft common occurrences. This makes it difficult to get a mortgage or similar loan, as ownership of the property often cannot be established to the satisfaction of financiers.
Over $500 billion (U.S.) has been sent to African nations in the form of direct aid.The consensus is that the money has had little long-term effect.
In addition, most African nations have owed substantial sums of money. However, a large percentage of the money was either invested in weapons (money that was spent back in developed nations, and provided little or no benefit to the native population) or was directly misappropriated by corrupt governments. As such, many newly democratic nations in Africa are saddled with debt run up by totalitarian regimes. Large debts usually result in little being spent on social services, such as education, pensions, or medical care. In addition, most of the debt currently owed (approximately $321 billion (U.S.) in 1996) represents only the interest portion on the debt, and far exceeds the amounts that were actually borrowed (although this is true of large debts in developed nations as well). Most African nations are pushing for debt relief, as they are effectively unable to maintain payments on debt without extending the debt payments indefinitely. However, most plans to forgive debt affect only the smallest nations, and large debtor nations, like Nigeria, are often excluded from such plans.
Clean potable water is rare in most of Africa (even those parts outside the sub-Saharan region) despite the fact that the continent is crossed by several major rivers and contains some of the largest freshwater lakes in the world. However, many of the major population centres are coastal, and few major cities have adequate sewage treatment systems. Although boiling water is a possibility, fuel for boiling is scarce as well. The problem is worst in Africa's rapidly growing cities, such as Cairo, Lagos and Kinshasa.
Despite other hot spots for war, Africa consistently remains among the top places for ongoing conflicts, consisting of both long-standing civil wars (e.g. Somalia, Democratic Republic of Congo), ethnic conflicts that even resulted in genocides (e.g. the Rwandan genocide) and conflicts between countries.
Effects Of Poverty
Africa's economic malaise is self-perpetuating, as it engenders more of the disease, warfare, misgovernment, and corruption that created it in the first place. Other effects of poverty have similar consequences. The most direct consequence of low GDP is Africa's low standard of living and quality of life. Except for a wealthy elite and the more prosperous peoples of South Africa and the Maghreb, Africans have very few consumer goods. Quality of life does not correlate exactly with a nation's wealth. Angola, for instance, reaps large sums annually from its diamond mines, but after years of civil war, conditions there remain poor. Radios, televisions, and automobiles are rare luxuries. Most Africans are on the far side of the digital divide and are cut off from communications technology and the Internet, however, use of mobile phones has been growing dramatically in recent years with 65% of Africans having access to a mobile phone as of 2011.Quality of life and human development are also low. African nations dominate the lower reaches of the UN Human Development Index. Infant mortality is high, while life expectancy, literacy, and education are all low. The UN also lowers the ranking of African states because the continent sees greater inequality than any other region. The best educated often choose to leave the continent for the West or the Persian Gulf to seek a better life.
Catastrophes cause deadly periods of great shortages. The most damaging are the famines that have regularly hit the continent, especially the Horn of Africa. These have been caused by disruptions due to warfare, years of drought, and plagues of locusts.
An average African faced annual inflation of over 60% from 1990 until 2002 in those few countries that account for inflation. At the high end, Angola and the Democratic republic of Congo both saw triple-digit inflation throughout the period. Most African nations saw inflation of approximately 10% per year.[
Content created and supplied by: Olatunbosun003 (via Opera News )
Opera News is a free to use platform and the views and opinions expressed herein are solely those of the author and do not represent, reflect or express the views of Opera News. Any/all written content and images displayed are provided by the blogger/author, appear herein as submitted by the blogger/author and are unedited by Opera News. Opera News does not consent to nor does it condone the posting of any content that violates the rights (including the copyrights) of any third party, nor content that may malign, inter alia, any religion, ethnic group, organization, gender, company, or individual. Opera News furthermore does not condone the use of our platform for the purposes encouraging/endorsing hate speech, violation of human rights and/or utterances of a defamatory nature. If the content contained herein violates any of your rights, including those of copyright, and/or violates any the above mentioned factors, you are requested to immediately notify us using via the following email address operanews-external(at)opera.com and/or report the article using the available reporting functionality built into our Platform See More