HOW TO SECURE YOUR FIRST PROFITABLE INVESTMENT PROPERTY IN THREE (3) STEPS. 
Breaking News-Attention first time to pro property investors. We give opportunities for you to be part of the ever rising Real Estate Business.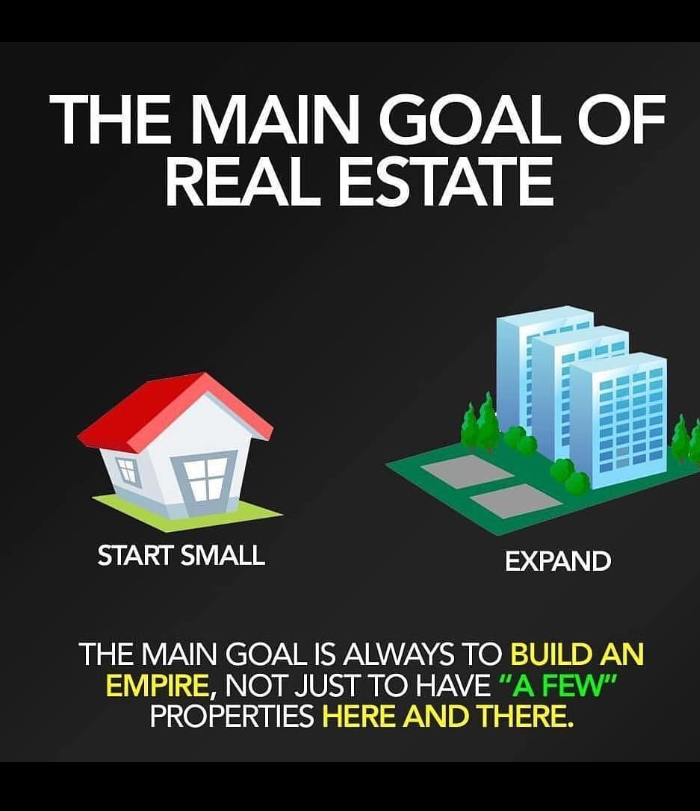 Picture used for Illustration
It is for a fact and reality, which I believe we all know what's Real Estate Investments and by experience we know Real Estate have been and will always be one of the types of assets one tends to enjoy unlimited high rate of Returns on Investment (ROI) and a perpetual Return overtime. I mentioned perpetual because it's a type of investment your generations to come will continue to enjoy after our time on this Earth with minimal risk involved, true or false?
Now the question we ask ourselves is who are Real Estate for? I've heard countless people say real estate is for the RICH and that there's desire to want to own a property of some sort at least a land. 'BUT'... That but is what is hindering most of us to reason that way. However, I reason with those people that thinks that way because gone were the days when Riches were determined by the 'Numbers of Estates' you own, that's why the Rich continue to acquire more Properties rendering the poor ones hopeless. The fact today is that above statement is still in play only if you conside yourself P.O.O.R (PASSING OVER OPPORTUNITIES REAL-TIME). Now ask yourself Are you Poor? I believe your answer is a big NO?
No one is poor, as long as you are always keen in getting the right information because Information is power. And one can only possess that power only if he/she Acts on it. I'd say that's what the RICH does they ACT ON GENUINE INFORMATION.... It all started from somewhere.
Before I begine the three (3) steps of becoming a successful Real Estate Investor I'll like to poke you on a phrase that states "The Goal of a smart Real Estate Investor is not to own a property but an Empire. Start small then expand your Reach"
THREE (3) STEPS TO BECOME A SMART INVESTOR FIRST TIMER TO PRO
This steps are what one can follow to have a successful Investments in Properties. This steps works for both new and existing Real Estate investors be it land and landed properties.
Step 1- OFFERS: 
This is the first stage of any business, as the name implies 'offers' it means the information you get at first hand about any form of investment, especially in Real Estate. However, for one to want to start an investment in any business you must have know that one way or the othe, capital will be involved. I have seen someone that doesn't have capital to start real estate investment, but started a farming business from the little he have on his father's land he inherited back home. A year later he raised the capital needed then embarked on the journey of becoming a property investor. He started small now he's owning 3 properties over 7 years he started including his farmland. Now you see the perpetual benefit he inherited from his father's land.
Offers involves getting the right information about a property if you really desire to start your journey as a Real Estate Investor. This offers may be lands or Houses or any type of Real Estate property. Then you begin with as little as you could afford. These offers should include-
Affordability, Security, Authenticity & Potentials (ASAP)
-The offer should be affordable for you to begin with, something you know you can have control of and you can risk your capital. The idea is to buy it cheap when you can.
-The offer must be secured and how do you know that? I'll explain in my step 2. 
-The offer must be genuine or authentic not to be scammed. In real Estate Investments, 'Don't trust any offer until you have done your research or you find a professional that can help you prove its Real as it claims. You will get to know much better in my step 3.
-Lastly an offer should or must have potentials, because that's how you know your Returns are guaranteed and how fast in future will this returns be reality. Now this might be a little tricky because it is a futuristic plan. But how do you know a place or property has potentials? Let's take a virgin land for instance, after you must have gotten the offer, it's affordable; secured; authentic; but you aren't sure of it's potentiality. All you need is to just be calm, look at it's neighborhood are there constructions going on around, are there residents in that area, are there social amenities like roads accessibility etc. If all this are checked and they are present or there's a future plan for it, then it has potentials. 
Step 2 ORIGINALITY IN DOCUMENTATION:
At this stage after you must have gotten information or offers you like to invest in and everything about the offer is legit. The next step is to get to work on by checking everything that involves what you want to risk your capital in. If you must, employ a professional in this field, a verified Estate Professional to help you do the check and balance. If you can't there's no cause of alarm just follow these Checks.
- who owns the property? Is it freehold or leasehold interest i.e Government or Individual(s).
- what title does the property holds? Now, there are different types of titles to properties which is another topic on its own, which I'm willing to let you know if you are interested? But the least title one should look out for if it's from a communal body or Individual is a Purchase Receipt and Survey (not registered yet to land registry of that state) or Government's title on the land if it's from the government.
However, titles when purchasing government properties are more secured other than the purchase receipt and Survey of a communal land or individual. It's not that you can't purchase Individual offer and do your own proper documentation after purchase, you just have to be careful for security reasons. Know it's originality.
- check if the property is free from encumbrances. i.e if the land is solely what it claims it is and no two owners or body claiming the land. There can only be one owner, it's either an individual/family or a body. This is where most people get scared of omonile palava. That's why I'll always employ investors to get their properties from a verifiable Real Estate Professional or Firm.
In short note, originality in documentation involves you to see to your offer physically to confirm all what you got from the offers.
Step 3- HAVING A DEAL 
This is the last stage and a very intriguing step you should consider before taking. This involves you closing the deal or still leave it open if you aren't sure what it takes to close the deal. I know how it feels at this stage talking from experience, It's just like going to the market to get yourself something but then you're having doubt about that thing you want to purchase if it's original or fake. But believe me, if you have gone through the steps highlighted above and it all checks out positively, then you need not to worry much about closing the deal because those are what you must be aware of real-time. And if you still doubt please I'd advise you to double check but this time involve someone else that you know is experienced in what you are about to risk your capital in. Even Tripple checking never hurts anyone, Smile😁
Now after checking out everything involved in the offer you can go ahead to close the deal by choosing what payment option or plan works best for you after which you collect your purchase receipt, Survey and any other documents attached to the land. Now all you just need to do to proceed with the final step is to change the name of those titles to your own name as sole owner who just bought such property, this is where lawyers come in then do a 'DEED of Transfer or Assignment' after all charges must have been paid. 
Thus, I can congratulate you for being a smart investor and welcome to your journey to becoming a Property investor. Remember the phrase I wrote before I begin all the steps? It's a matter of you trying to get another and another and another property if you can and if you must to build your empire. Getting one property motivates to get another and more if you play your cards right and follow those three steps above. Congrats once again Smart Investor!!!🤝It all starts somewhere and it's from your mindset then taking action on them. There's a quote I like using in my daily lives from an Author that says " The difference between the thought-world and real-world is the control you have over it" Gregg Krech-The art of taking Action-
-BONUS 
Like I said earlier it's always advisable to involve a middleman from the onset. Most people use their lawyers (good idea) but what about those that don't have lawyers?
It's easier to get a Real Estate professional (better idea) but is he/she the professional they claim? And lastly 
Most persons just go straight to Real Estate Companies which is the best idea so far, but how transparent and verifiable is the real estate company? 
Everything just balls down to doing your research. Which I believe with the three steps above you are on a safer side regardless. Be the Smart Investor I know you are and Invest in Real Estate Today. Start small, start now. Thank God properties are now easier to acquirer this days through Instalmental plans and mortgage if truly you are motivated. You can reach out to me whenever you are interested I'd be glad to help.
In conclusion, if you find this piece of article interesting and helpful kindly follow us and comment to get more of us...
Thank You for following.
We're always Optimistic, making smart investors smile to their ROI Overtime.
Best Regards 
Content created and supplied by: saa_writer (via Opera News )
Opera News is a free to use platform and the views and opinions expressed herein are solely those of the author and do not represent, reflect or express the views of Opera News. Any/all written content and images displayed are provided by the blogger/author, appear herein as submitted by the blogger/author and are unedited by Opera News. Opera News does not consent to nor does it condone the posting of any content that violates the rights (including the copyrights) of any third party, nor content that may malign, inter alia, any religion, ethnic group, organization, gender, company, or individual. Opera News furthermore does not condone the use of our platform for the purposes encouraging/endorsing hate speech, violation of human rights and/or utterances of a defamatory nature. If the content contained herein violates any of your rights, including those of copyright, and/or violates any the above mentioned factors, you are requested to immediately notify us using via the following email address operanews-external(at)opera.com and/or report the article using the available reporting functionality built into our Platform See More