#EndSARS/EndSWAT: The 5 Companies That Have Donated To The #EndSARS Movement
The ongoing #EndSARS protests have attacked the sympathetic attention of the people and companies from around the world.
This has helped generate funds to sustain the protests.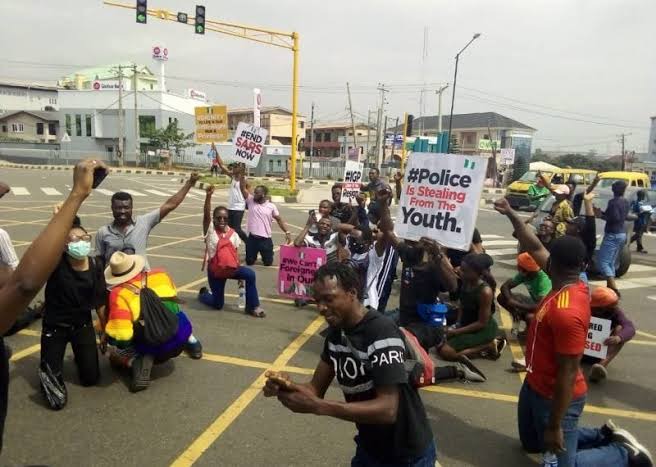 Here are 5 companies that have donated to the #EndSARS movement:
1. Flutterwave
On Friday, October 9, 2020, the CEO of Flutterwave Inc., Olugbenga Agboola, took to Twitter to announce his company's monetary show of solidarity for the campaign.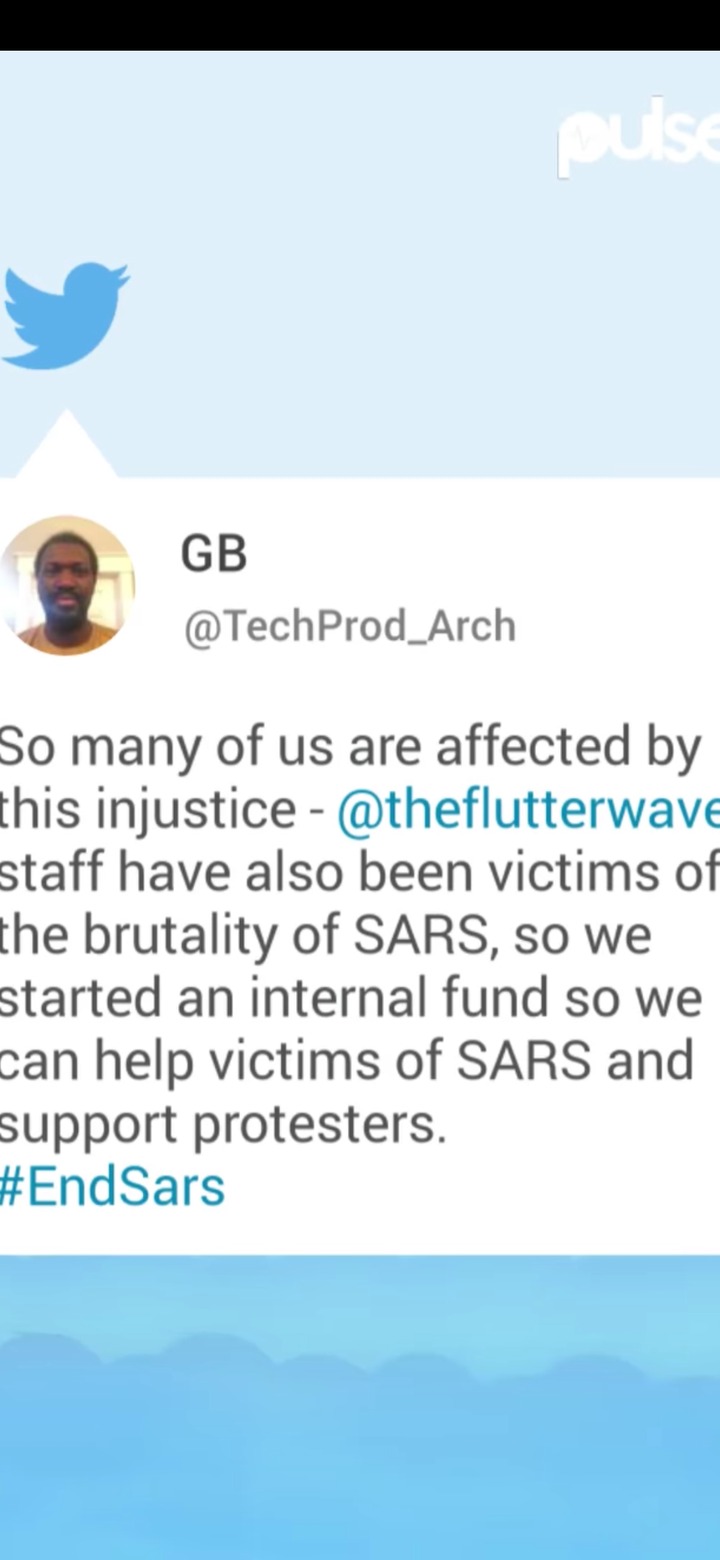 @TechProd_Arch on Twitter stated "So many of us are affected by this injustice. @theflutterwave staff have also been victims of the brutality of SARS, so we started an internal fund so we can help victims of SARS and support protesters. #EndSARS."
As at October 9, 2020, Flutterwave had raised 2 million naira and they decided to open it to the public.
Agboola further encouraged others to donate to the fund to help settle to hospital bills of wounded protesters.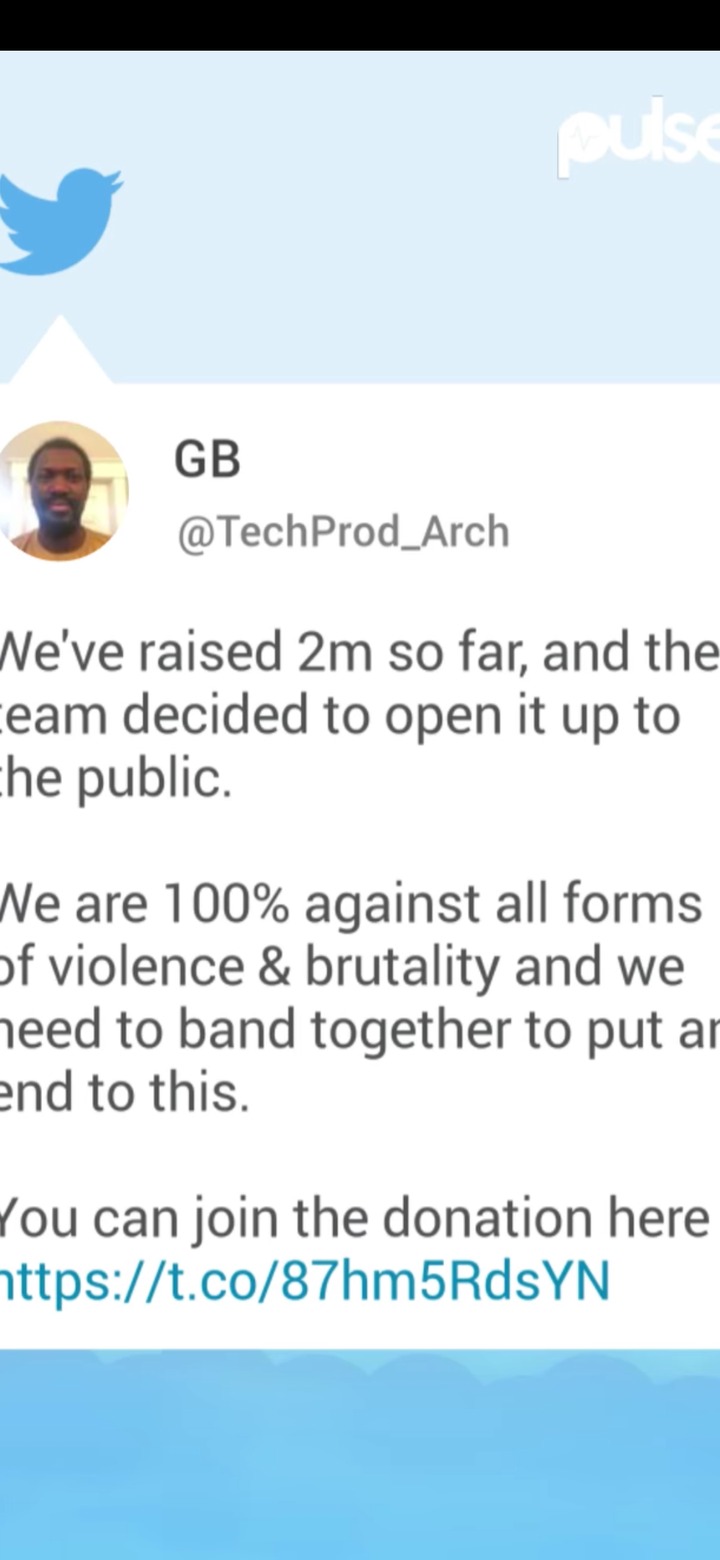 @TechProd_Arch on Twitter stated "We've raised 2 million so far, and the team decided to open it up to the public
We are 100% against all forms of violence and brutality and we need to bond together to put an end to this."
2. Adam Start
International entrepreneurial empowerment platform, Adam Start, publicly aligned with the movement on Saturday, October 10, 2020, when its founder, Adam Bradford, launched an emergency fund to support activist groups protesting against the SARS force.
Bradford kicked off the fund with a $10,000 (approximately 3,800,000 naira) pledge and invited others to do the same.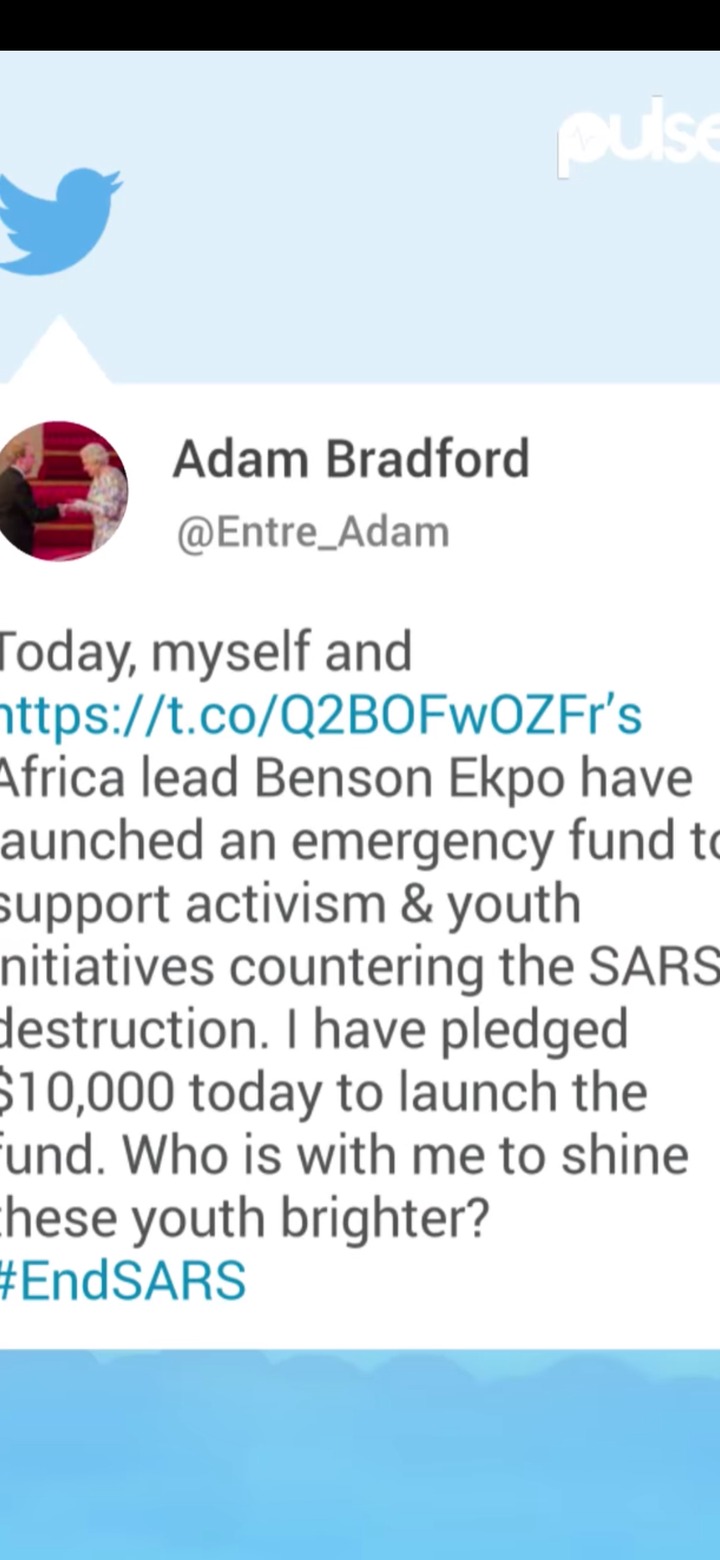 @Entre_Adam on Twitter stated "Today, myself and Africa lead Benson Ekpo have launched an emergency fund to support activism and youth initiatives countering the SARS destruction. I have pledged $10,000 today to launch the fund. Who is with me to shine these youth brighter? #EndSARS.
3. BudgIT
Following an open call for donations by podcaster and Twitter influencer, Feyikemi Abudu, BudgIT Nigeria agreed to support the treatment of Joy Eze, who was allegedly wounded during one of the #EndSARS protests, with a sum of 500,000 naira.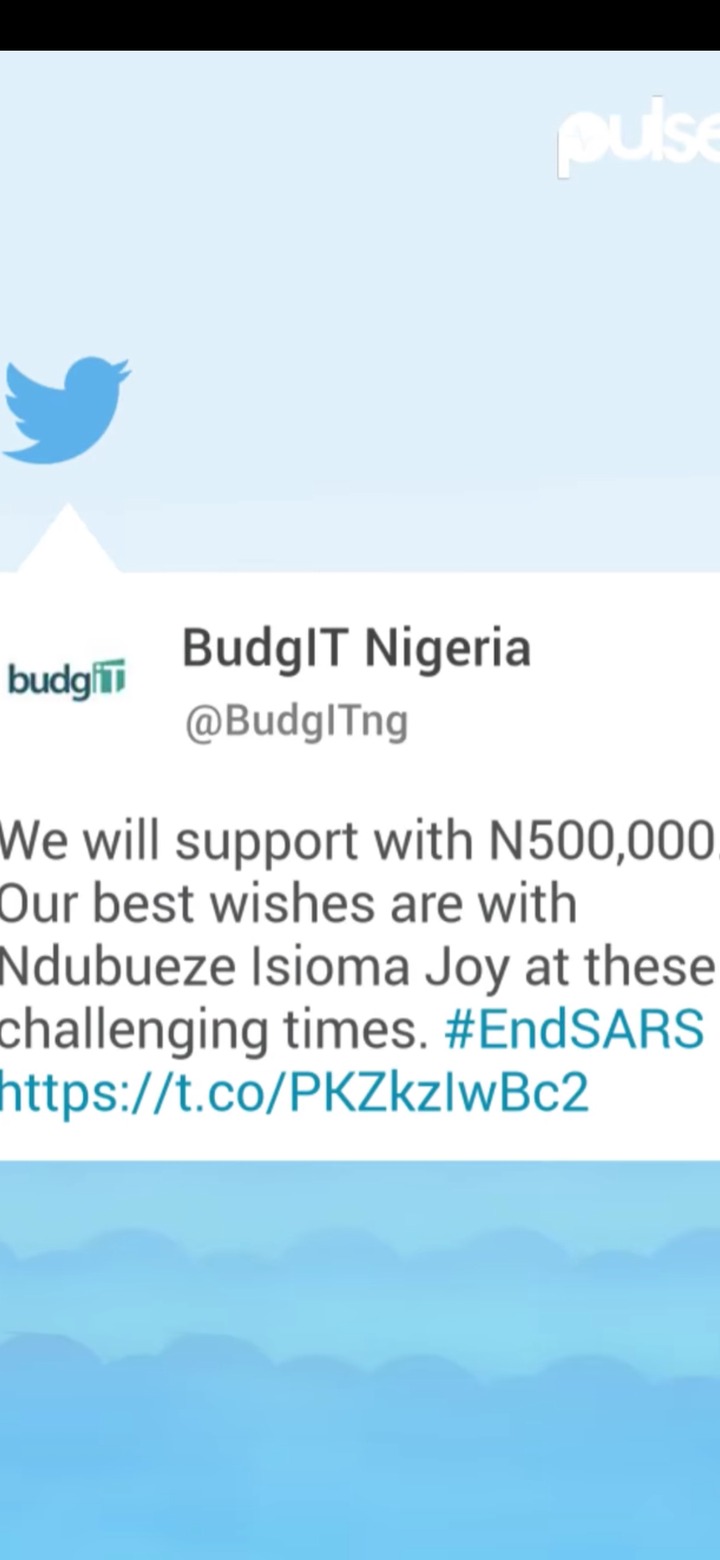 @BudgITng on Twitter stated "we will support with 500,000 naira. Our best wishes are with Ndubueze Isioma Joy at these challenging times."
4. Bundle Africa
Bundle Africa, an African-focused social payments app, also joined the fold on Saturday October 10, 2020, when it announced a 1 million naira donation to a new #EndSARS fund it created.
the company also opened three cryptocurrency wallets to inspire public commitment to funding the movement.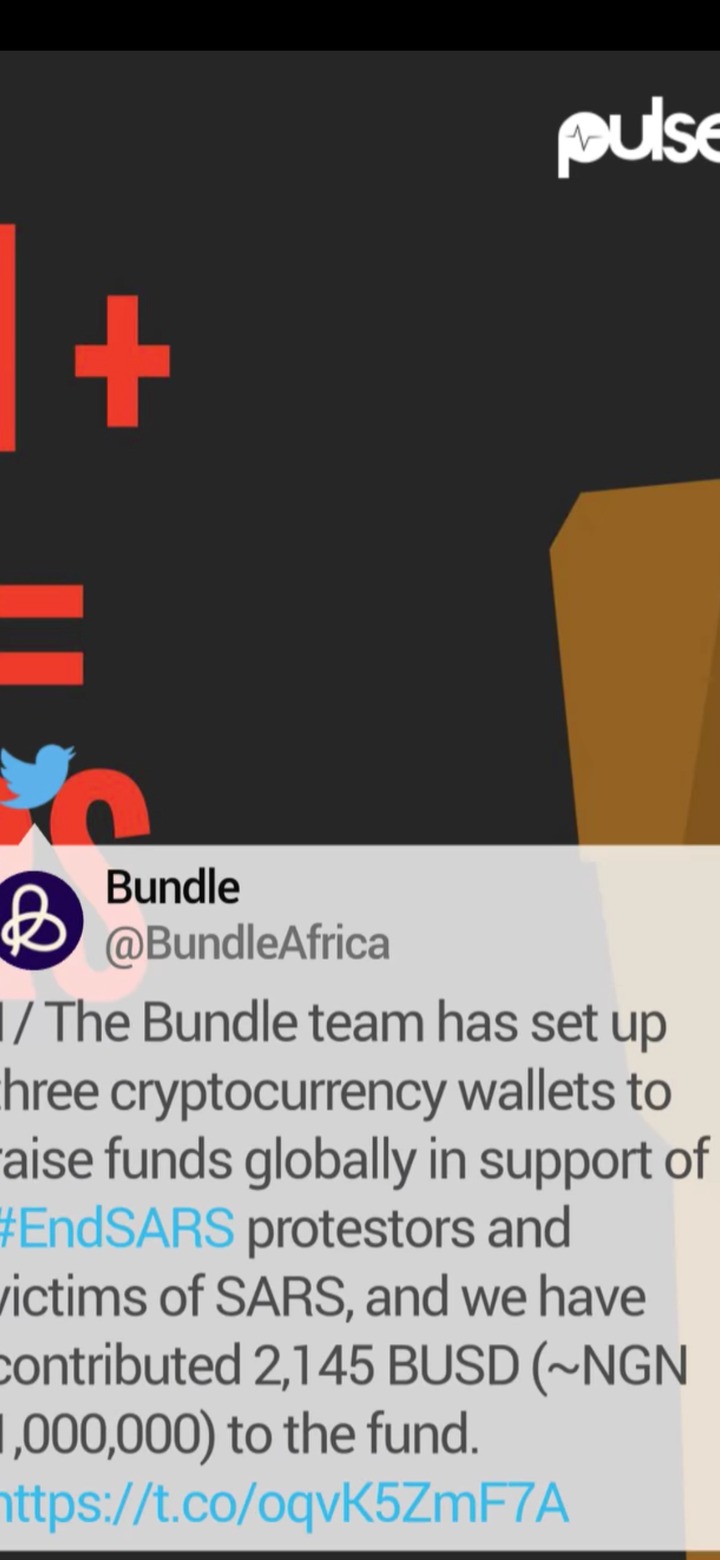 @BundleAfrica on Twitter stated "The Bundle team has set up three cryptocurrency wallets to raise funds globally in support of #EndSARS protesters and victims of SARS, and we have contributed 2,145 BUSD (~NGN 1,000,000) to the fund."
An hour after the announcement was made on Twitter, the company's CEO, Yele Bademosi, revealed that he was personally contributing 500,000 naira to the fund as a show of solidarity.
He said the funds will be shared equally between the Flutterwave fund and the Feminist Coalition fund.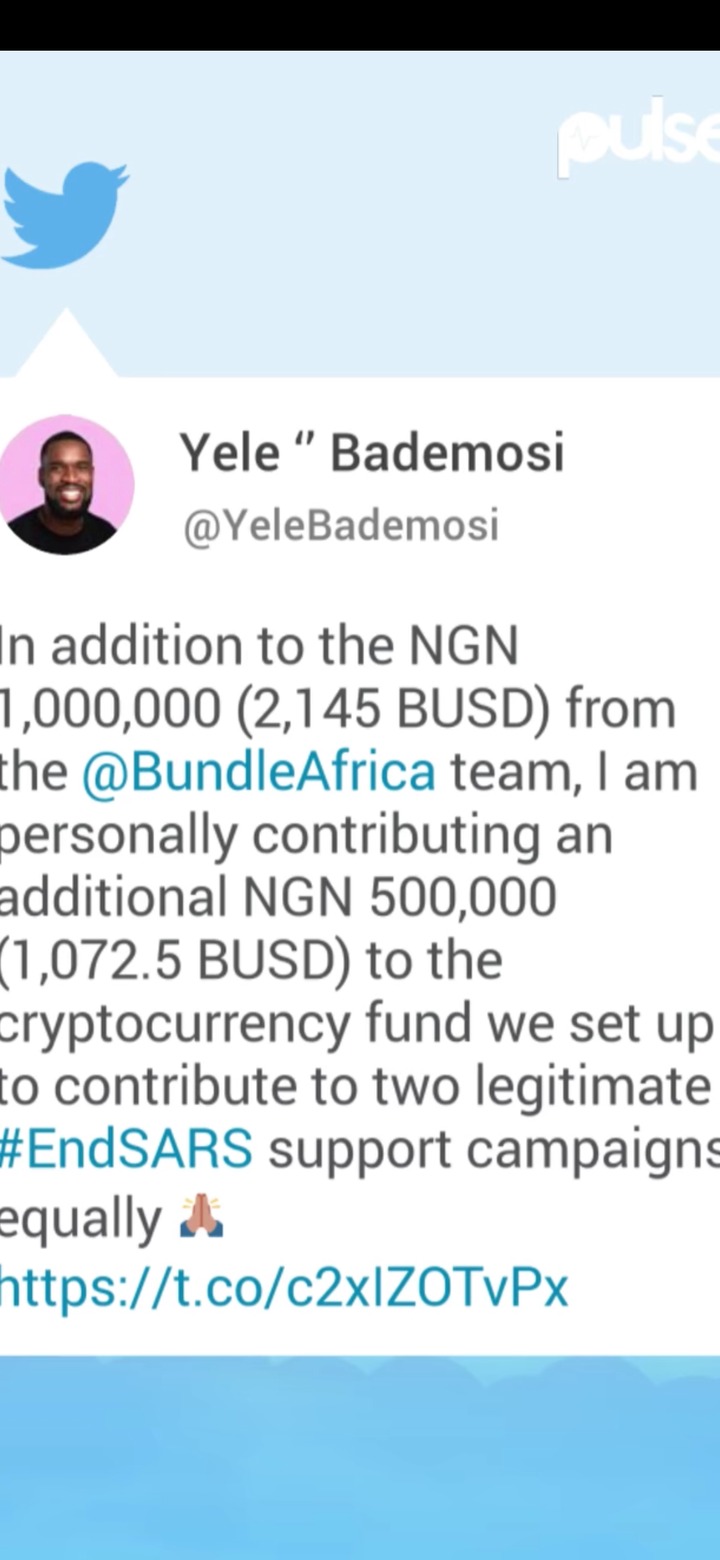 @YeleBademosi on Twitter stated "In addition to the NGN 1,000,000 (2,145 BUSD) from the @BundleAfrica team, I am personally contributing an additional NGN 500,000 (1,072.5 BUSD) to the cryptocurrency fund we set up to contribute to two legitimate #EndSARS support campaigns equally.
We will donate all funds raised to two legitimate #EndSARS support campaigns equally."
3. Scale My Hustle
Scale My Hustle, a business-growth company, supported the cause with a donation of 1 million naira on Saturday.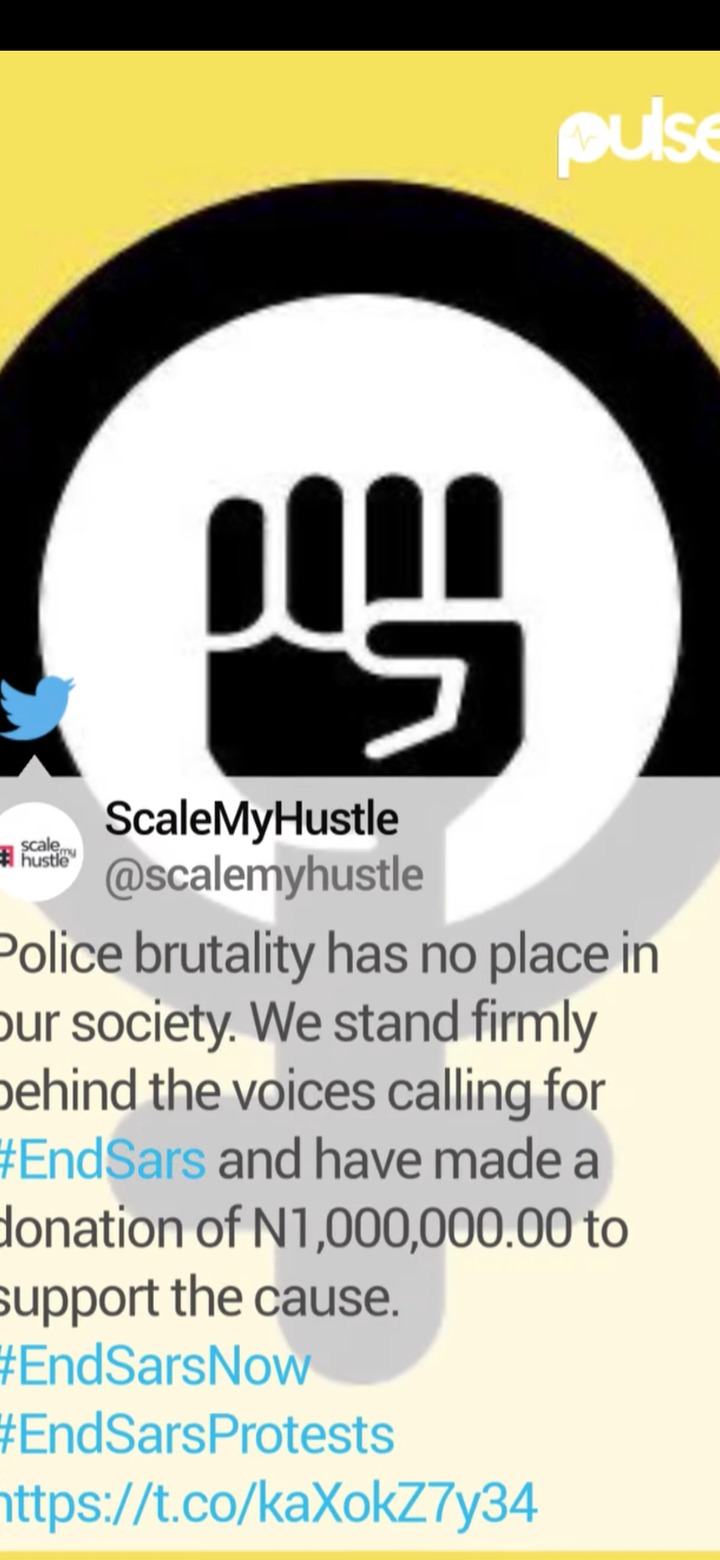 @scalemyhustle on Twitter stated "Police brutality has no place in our society. We stand firmly behind the voices calling for #EndSARS and have made a donation of 1,000,000.00 naira to support the cause."
havw you donated to the #EndSARS movement?
Content created and supplied by: Legitjournalism (via Opera News )