A lot of people say they want to be financially free, but freedom usually comes at a price. Most jobs will not guarantee financial freedom, hence one has to do things differently to attain the elusive freedom. But how much are you willing to pay for your freedom?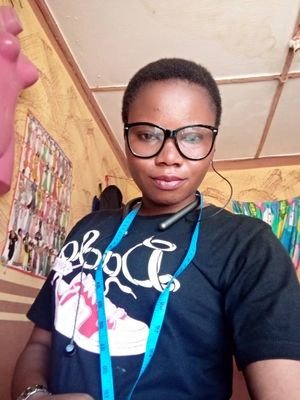 "We are not all privileged" says Ismaila Habibat Emiloju, also known as Abigeal Emiloju or simply as @EmilojuAbigeal on Twitter.
The 27-year-old from Okene in Kogi State holds an Ordinary National Diploma (OND) from Kogi State Polytechnic, but has struggled since after graduation in 2014. She was also unable to further her education due to pausity of funds.
For someone who holds a diploma, Habibat has tried several demeaning trades like selling noodles at road sides in Lokoja. She had also served in restaurants and hotels where she cooked and served food, all in a bid to feed.
In 2015, Ms Emiloju started to learn dressmaking but it was not so easy a journey for her, as she goes on and off the programme.
Fast forward to 2019, young Emiloju moved to Ilorin, the Kwara State capital in search of greener pastures. For her, it was better to trade in the line where she had garnered experience previously than to start a fresh course in an entirely different area, so she elected to go back and 'complete' a course on dressmaking.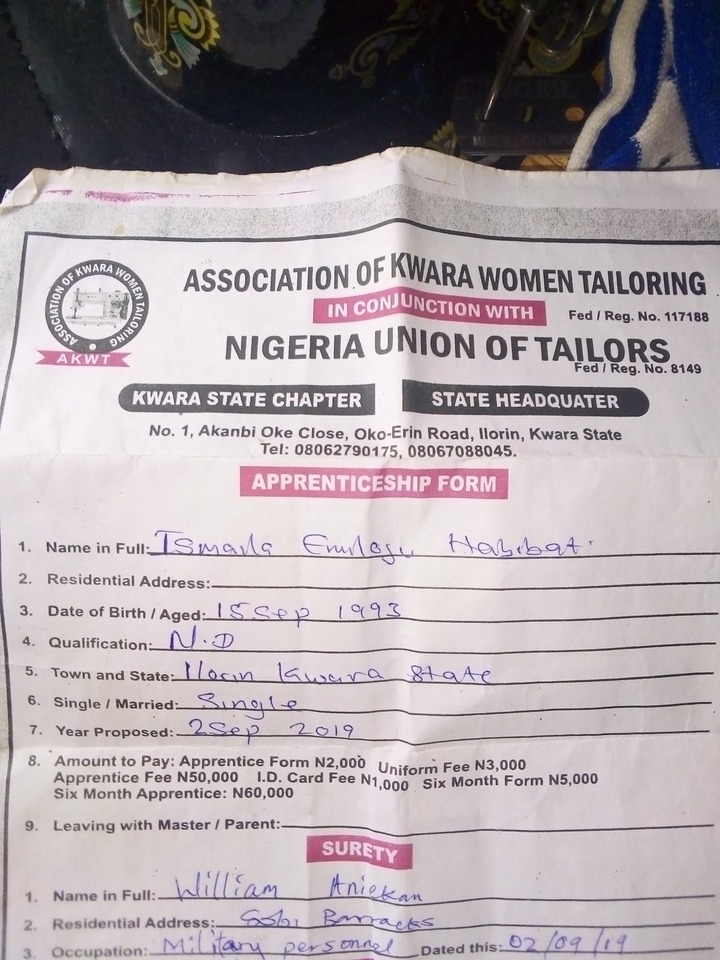 To begin her course, Habibat had to part with more than N60,000 just to learn the art of dressmaking. She revealed that her boss only allowed her to pay in three instalments because she could make a dress, else, she would have been required to pay in full before commencing.
Her apprenticeship ran with few hitches here and there, but thankfully, she is done and ready to be independent or take personal jobs.
Enter, freedom list.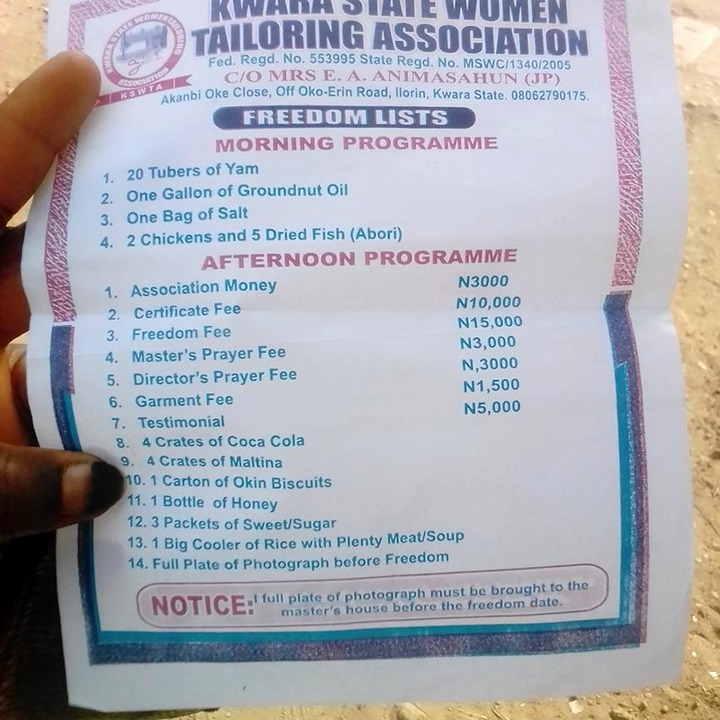 For Habibat Emiloju to be free to take personal jobs which she can do to earn money of her own, she has to fulfill the list above. Tubers of yams, a big cooler of rice, drinks, certificate fee, association fee are few items on the list. Suffice to say, the list above would take approximately N200,000 or above to fulfill.
Except you tell me that apprentices are paid stipends while their trainings lasts, I do not understand how Kwara State Women Tailoring Association (KSWTA) expects an apprentice to cough out such large sum of money to become free.
According to Habibat, she is not allowed to work from home, even to raise money to fulfill the exorbitant demands by the association. She was constantly warned and threatened to the point that she had to return fabrics she had collected to make dresses for clients.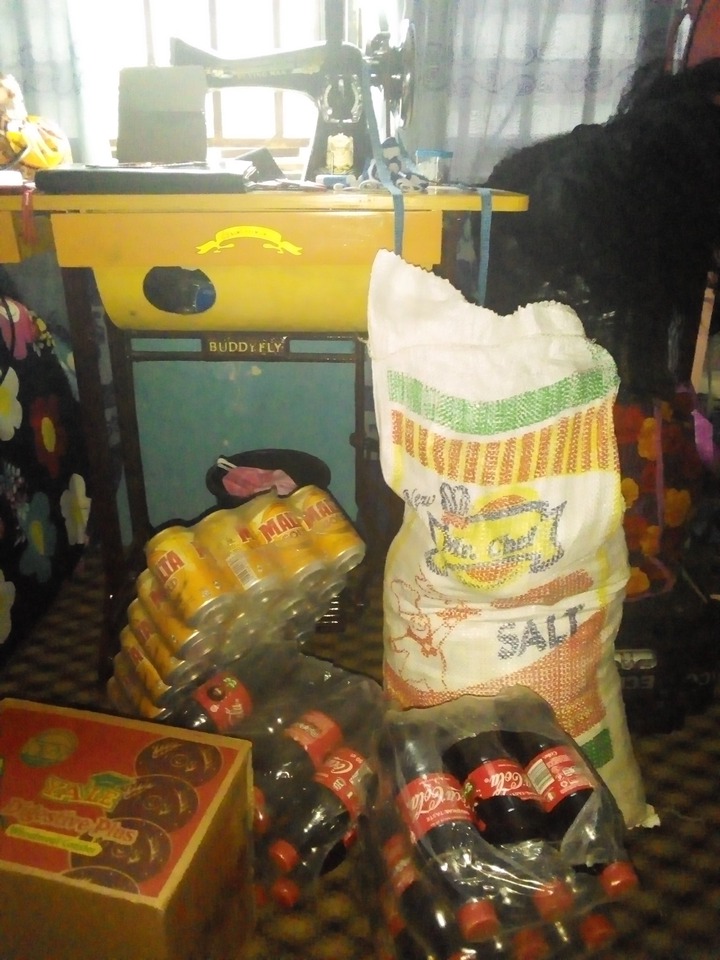 As a hard working and resilient youth, Habibat has been able to get few items as seen in the photo above, but these are hardly enough to guarantee her freedom.
With a glance at the list, one might think that there are two categories of apprentices, that an apprentice like Abigeal is supposed to fulfill either part of the list (the morning programme or afternoon programme) but that is not the case. She disclosed that the first part of the list is for "top bosses in Ilorin".
"You will cook for them and satisfy them first, then they will come back in the evening to snap with you and pray for you before giving you certificate." she said.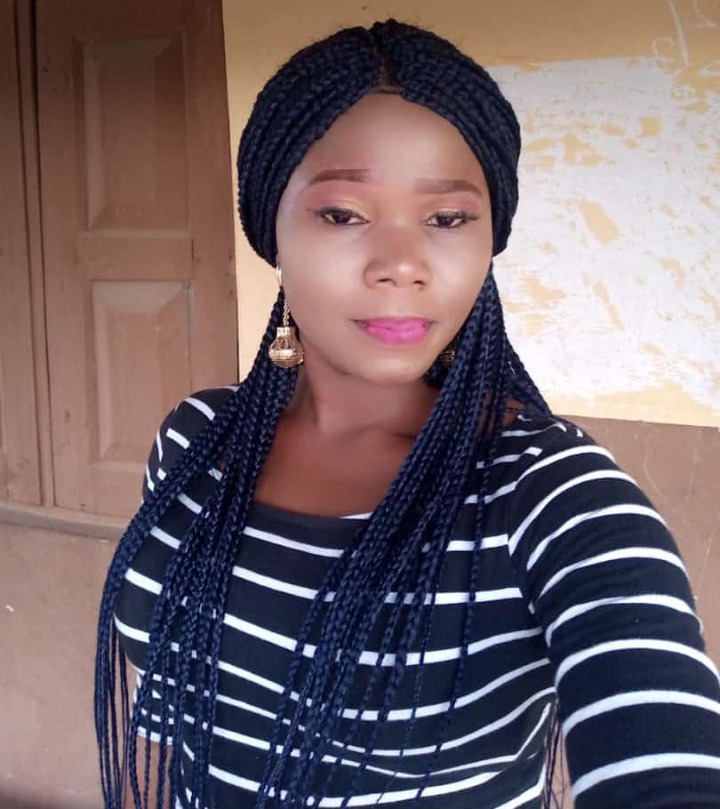 From one bag of salt to payment of master's and director's prayer, an apprentice is expected to pay to the last dime before she is allowed to work as a tailor anywhere in Kwara State.
Unable to shoulder this and at the verge of giving up hope, the young lady took to Twitter — with a video proof of her cutting a fabric — to plead with well-meaning Nigerians to come to her aid.
Read her tweets below: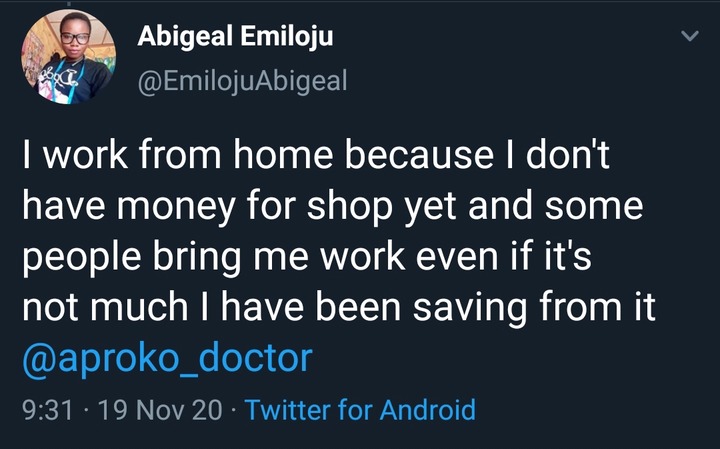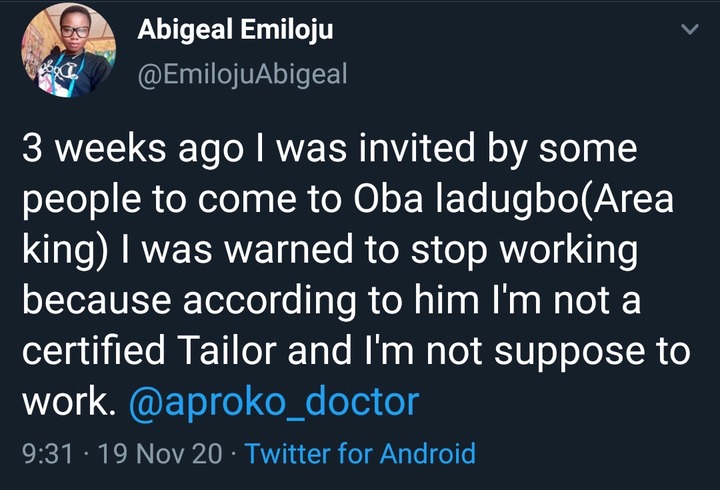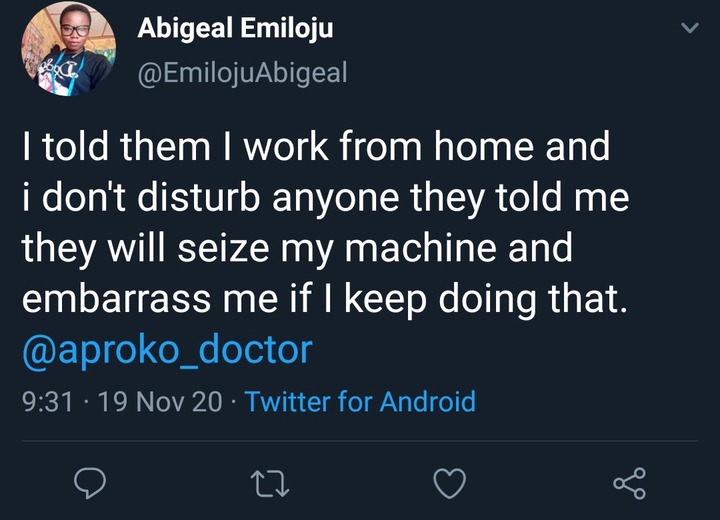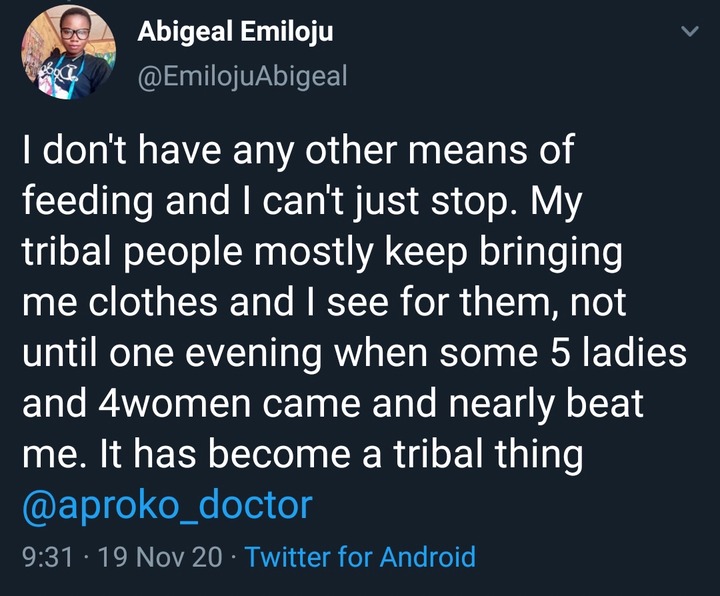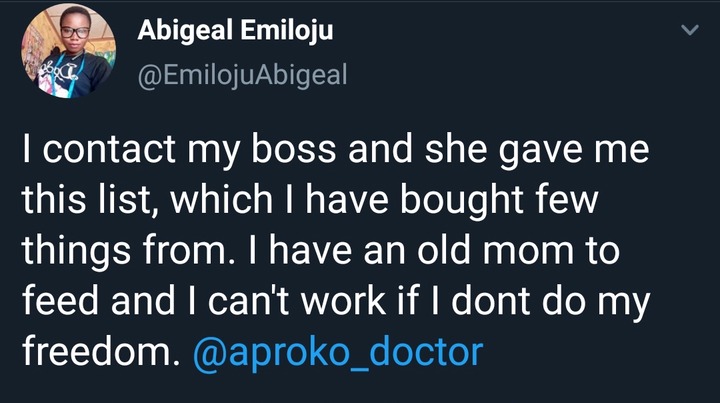 "I have an old mother to feed and I can't work if I dont (sic) do my freedom." she tweeted.
Many Nigerians have since reacted to some of her tweets, with some confirming that it is the wont of the Kwara State Women Tailors Association (KSWTA) to extort monies and food items from new tailors.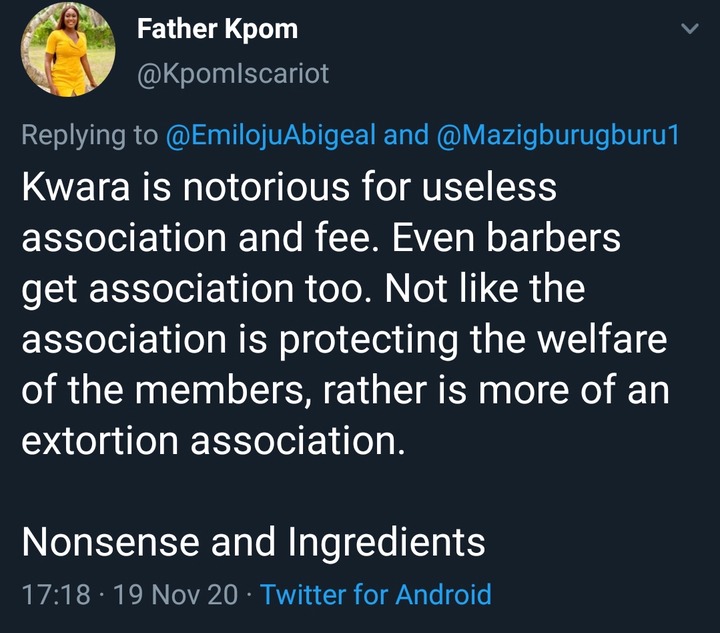 Kpom's explanation sheds light on the issue.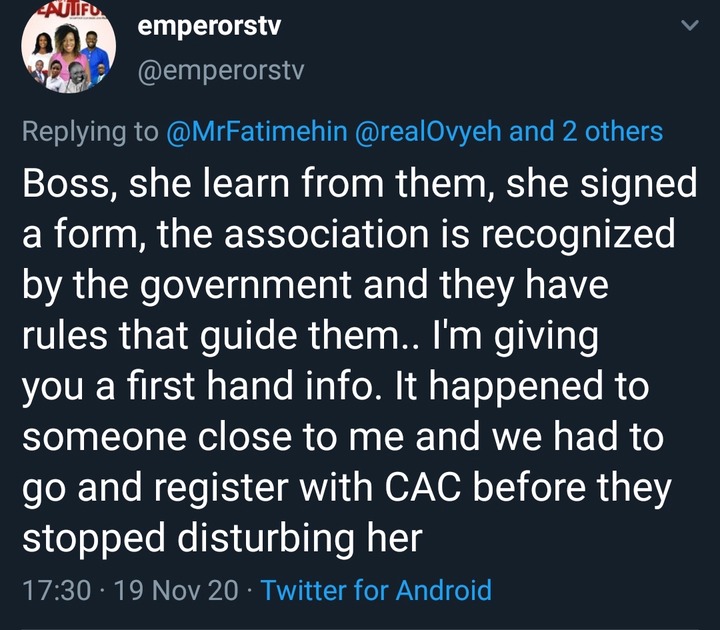 @emperorstv gives an insight into what plays out in Kwara State.
It beats me how an association recognised by government is allowed to inflict pain, suffering and hardship on young Nigerians who are willing to do their best to better themselves. An institution such as the Women Tailoring Association is supposed to encourage young female tailors, oversee their welfare, as well as protect their interests, but that is not the reality on ground.
Until the day when we shall see associations like KSWTA take responsibility, young women and girls like Habibat Emiloju may continue to fail in business even before they start up.
In the meantime, she is helpless and in desperate need of all the encouragement she can get.
Content created and supplied by: SonOfTheUnbowed (via Opera News )