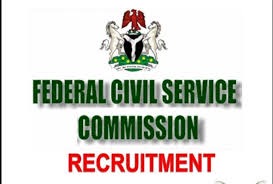 INTRODUCTION
Federal Civil Service Commission is an agency responsible for promoting and disciplining civil servants.
It is conferred with the sole authority by the Nigerian constitution to transfer, make appointments and also go as far as enforcing discipline on all civil servants in Nigeria that are under the payroll of the federal government.
Federal Civil Service Commission recruitment requirements:
For anyone to be employed into any ministry under the commission, he or she must meet up with the following criteria:
* Applicant must be a bonafide citizen of Nigeria.
* The required age is between age 18 and 30 years.
* He or she must be a University or Polytechnic graduate from a reputable institution with 2.1 for a better chance.
* NYSC discharge certificate is required but not mandatory.
* A valid identification card
* certificate of medical fitness.
How to apply for FCSC job
Interest candidates can choose to apply online or offline.
For an applicant who wish to apply on the internet, you will have to
> login to the portal on www.fedcivilservice.gov.ng
> fill the online form
> Upload every necessary document including passport photograph.
While those who will choose to apply offline will have to should submit the hard copies of his or her application comprising Curriculum Vitae and other documents required to the Honourable Commissioners or the Chairman.
Duties of the commission
* They oversee recruitment exercise
* Discipline staff.
* Conduct interviews and examination intended for promoting staff.
* They access the quality and experience of the staff that is employed in civil service.
NOTE:
• FCSC recruitment form for 2021/2022 is not yet out
• It is free of charge, so, no applicant should pay any money to get the form.
Content created and supplied by: temitope89 (via Opera News )