After sending my brother 70 million naira from abroad to build a house in the village , this is what I saw instead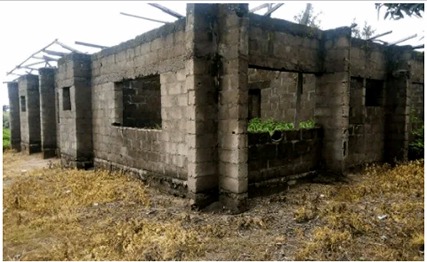 Hello friends please pay attention to this painful story I am about to tell, you will learn a lot from it.
My name is Joshua from Mbaise part of Imo state. As the first child of my family, and being born in a poor home, a family of where the father is a vulcanizer operator and the mother, a "a local road sweeper", I knew what I will face in future, I also knew that my life won't be any easy. At the age of eight, I had already started carrying small loads for people in the our local market with wheel barrow, doing the job with sincerity and a hope that one day, I pull my family out of a kind of poverty that seems unending. 
I missed almost half of my primary school education because of financial issues, an issue nobody can solve for me at that time, not even my uncle. I did not blame my father for that, neither did I blame my mummy, because I knew how Hardworking they are, how my father used to leave by 5:30 in the morning, only to return by almost 10:00 in the night just to make sure his family feeds well. Out of 5 children in our family (two boys and three girls), Solomon (second son) is the only one that completed his primary school education.
I still remembered 28th day of February 1998, my birthday, the day my father ended my education, the day I cried so hard. "my son, you know that I am a lover of education, and I want the best for you, but pardon me this time around", I was still looking confused when he said "I can no longer sponsor your education, the burden is too hard for me, please pardon me", after listening to those "heartbreaking" words, I was left with no other option than to accept my fate, to accept my ill-fate without justification. 
After the whole agreements was reached, I moved over to Anambra (at the age of 12) for 4 years apprenticeship, an apprenticeship that resulted to so many things, an apprenticeship that almost killed me. My madam (My master's wife) was hell of a kind, she maltreated me right from the day I entered Anambra till the day I vanished from there place. How did it happen? It came to the point where she no longer feeds me, she no longer allow me to sleep in the bed. During that time I saw hell. What did I not do for her? I fetch her 6 gallons of water daily before leaving for workshop, I wash all her children clothes on Sundays, I clean the house, I wash the plates, yet she decided to be punishing me for nothing.
After I ran away from their house, I had no other place to stay other than the marketplace. With no clothes, no money, no food, I started hustling with my fellow men in "Opi Iweka", a notorious dungeon for criminals and tout in Onitsha. After working as a conductor for 3 weeks, and sleeping at Onitsha main market, one driver I used to follow decided to take me up so that I can live live with him. When all these things were happening, nobody knew anything about me, not even my parents or siblings. As an area filled with touts and criminal, "timbers and calibers", I was so surprised that despite my long stay at the area, I was not involved in any of there bad activities not to talk of joining cult.
In January 25th 2014, during one of my conducting routines, I met one wealthy man from "Aguluezechukwu", a man with a heart of "gold". Okechukwu works in Germany but came to arrange something in Nigeria. Before I knew what was going he was already planning on how to move me to Germany. He did both my international passport and Visa without requesting anything from me. Even up till now, I still ask myself where did that help come from? One thing I knew for sure was that the came from God, and I am totally grateful to him for that. Fast forward to 24th day of March 2014, I left for Germany, a dream come through at last, a dream that so many people are wishing for. There I was, enjoying it for free. 
I worked in various German companies as a labourer, a work that paid me 15 euros on daily basis. Despite my earnings, my life in Germany was very hard. After passing through so many difficulties, that was when I realized that going to abroad does not mean going to paradise. Luckily for me, that the same man from Aguluezechikwu still helped me until I stabilized. After I gathered over 100,000 euros within my 4 years of stay in Germany, I began thinking home, I began thinking about my family, I began thinking on how to change my family's condition.
From Facebook, I was able to find my brothers contact. The first day I called him, he almost fainted. That was when I realized that everybody thought I was dead. After he narrated everything that have happened in our family to me, I broke down in tears. He told me how my mother died of pneumonia, and how they lost one of our female siblings to cancer. That day was a tragic one for me, moving me back to the days of suffering, back to my days in Awka, how my master's wife maltreated me. Thank God my father is still alive, so I told him not to tell father about me yet, that I will do that when I finalise my plans. 
After three weeks of discussion through video calls and chatting, I told him that he was the only one I trusted, so I would be sending him money to begin building our family house. Within two months, I have already sent him 30,000 euros ( about 13 million Naira) to begin building the house. From time to time, he sent me some pictures of how work is going on in the building site. The kind of pictures and updates he used to send to me made me to trust him even more. Within 6 months I have sent more than 60 million to him, even though I knew that the money was too much, I gave him such amount to make sure there will be no delay in completing the building.
Due to the coronavirus pandemic, I returned to Nigeria in March, I returned without prior notice only to behold a totally different thing. At first, it seemed like a dream, a dream that no one we wish it will come to reality. A dream that may cause an heart attack. I was still staring at an uncompleted building, a building that did not even pass foundation stage when my brother returned with a cool Range Rover sports. My heart was boiling, my feet were shaking, it was as if I developed Parkinson's disease instantly . When Solomon came down from the car (a car he must have bought with my hard earned money), he removed his black screen eye glasses, starred at me for a while and asked me "where have you been? I was speechless, totally puzzled, what can I say?
If I kill him now it will be a problem. If I report the issue to my father, will he believe me? Why did I even trust him in the first place? I am totally doomed, my life is shattered. After all my 29 years of suffering, after all that I have passed through in this life, starting from the day I was born, to when I was forced to quit school, from quitting school to almost dying in the hands of my master's wife, from the house of my master to Opi Iweka, from bus conductor to Germany, but here I am once again, standing with nothing. My brother has killed me, he has paid me bad for good and I don't think I will ever forgive him for that.
What do you think I should do?
Thanks for reading, please drop your contributions below, kindly like and share. 
Content created and supplied by: EdwinKenechukwu (via Opera News )
Opera News is a free to use platform and the views and opinions expressed herein are solely those of the author and do not represent, reflect or express the views of Opera News. Any/all written content and images displayed are provided by the blogger/author, appear herein as submitted by the blogger/author and are unedited by Opera News. Opera News does not consent to nor does it condone the posting of any content that violates the rights (including the copyrights) of any third party, nor content that may malign, inter alia, any religion, ethnic group, organization, gender, company, or individual. Opera News furthermore does not condone the use of our platform for the purposes encouraging/endorsing hate speech, violation of human rights and/or utterances of a defamatory nature. If the content contained herein violates any of your rights, including those of copyright, and/or violates any the above mentioned factors, you are requested to immediately notify us using via the following email address operanews-external(at)opera.com and/or report the article using the available reporting functionality built into our Platform See More