Africans Throw Heavy Weight In Defense of Dr. Stella Immanuel's Viral Video on Covid -19
studio.opera.com
2020-07-28 17:35:41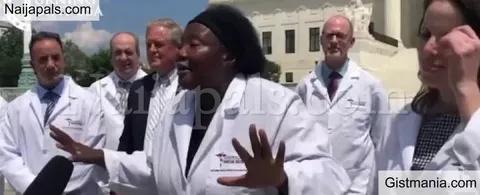 The Sociology of Dr Stella Immanuel's Viral Video on Covid-19:
The world woke up to a viral video of a certain Dr Stella Immanuel based in Houston, Texas declaring the efficacy of certain drugs in the treatment of COVID-19. This expectedly has attracted varied comments and commentaries, from both the qualified and unqualified in the field of medical science.
I am within the circumference of the unqualified, as such, I am not going to comment on the procedural politics and ethics of medicine vis-a-vis her presentation. But as a social scientist, I have viewed her presentation with utmost concern and interest. This of course raises many questions:
Is Covid-19 an international health disaster? Yes.
Are Hydroxychloroquine, Zithromax and Zinc effective in the treatment of COVID-19? Evidence indicates so even in Nigeria, coupled with her assertions based on Houston-experimented testimony.
If the answers to these questions are in affirmative, I will anchor on her argument, that it's better we use these drugs, despite that the rigours and crucibles of medical 'certifications' on the said drugs have not been completed and confirmed, and save lives; than to discourage the usage of the drugs because of its 'non-certification' for now, and allow people to die of COVID-19, only to discover in the Future that the drugs have been 'certified' as effective in treating Covid-19.
I conclude with Mao Tse Tung's argument when he was criticized that China's Socialism was attained without Marxian roadmap, and he boldly stated; "any cat that catches a mouse, whether black or white, is a good cat'.
Any drugs which prove effective in the treatment of COVID-19 should be deployed and employed now, to save lives, Akaekpuchionwa Temple one of Africa pleaded.
Source: Opera News