People React As A US Based Nigerian Doctor Expose The Truth On COVID-19 Cure.
studio.opera.com
2020-07-28 17:55:13
Dr Stella Emmanuel a US-based Nigerian doctor in a video exposed the long-hidden truth on COVID-19 after much anticipated believe that the virus doesn't have a cure.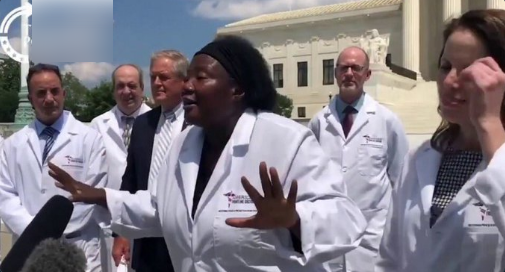 In the video, Dr Stella pointed out that she had treated no fewer than 350 COVID-19 Patients and none died. She stated that the aged and people with severe illness such as diabetes, asthma and high blood pressure were among the COVID-19 patients she treated. She further revealed that while treating her patients, she made use of some medications such as hydroxychloroquine, zinc, and Zithromax.
In the video, she said that the study that made her start using hydroxychloroquine to treat COVID-19 patients was a recent study that was carried out by NIH where a patient suffering from Hiccups was treated with hydroxychloroquine which proves that Hiccups was a symptom of COVID. So she suggested that the same hydroxychloroquine could also treat COVID. Remarkably, she revealed that NIH should have known that hydroxychloroquine works in COVID patients.
Reacting to this on Twitter was an American actor and producer, James Woods who said, " Does anyone know the circumstances or history of this video? Her passion seems genuine. I'd like to know the full fact and circumstances of her experience. Horrible to think thousands might have died because liberal media wanted to ridicule the president".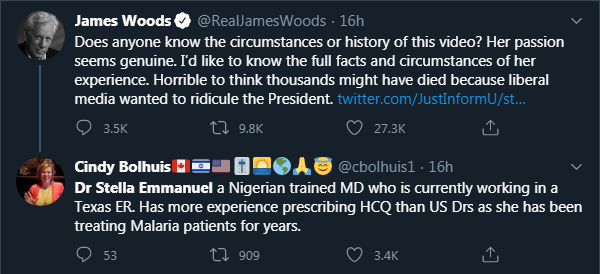 Another Twitter user, Cindy Bolhuis quickly replied him by saying that "Dr Stella Emmanuel a Nigerian trained MD who is currently working in a Texas ER. Has more experience prescribing HCQ than US Drs as she has been treating Malaria patients for years".
Several other persons replied to James Woods post. On each occasion, there were either for or against his opinion and that of Dr Stella's revelation. See their reactions below.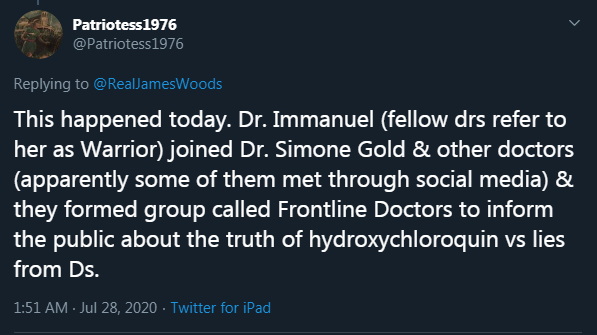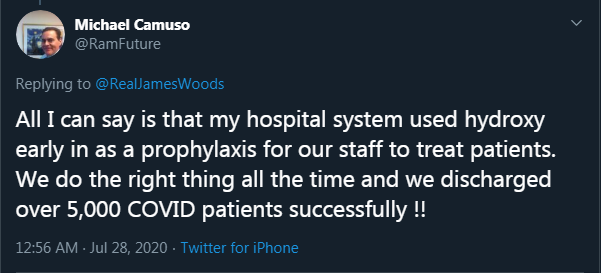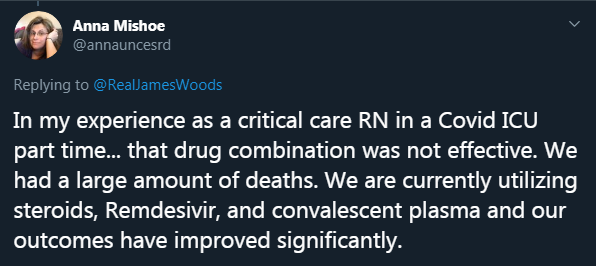 Recall that FDA and other sister US based health regulators in a memorandum cautioned the use of hydroxychloroquine in the emergency treatment of COVID-19 as it poses some health dangers especially to the heart, liver, kidney, the blood and the lymph.
Watch the video here as Stella reveals the medication she has been using on COVID-19 patients.
From Dr Stella's revelation, could it be that some persons knew the cure of COVID-19 but refused to make it public?
Source: Opera News