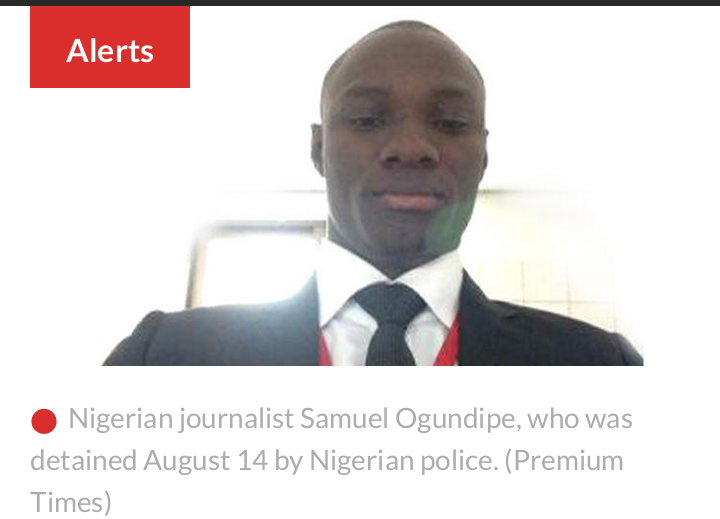 Without whistleblowers there is no investigative journalism. And without investigative journalism corrupt and inept public officials sleep a good deal sounder at night.
So when the police and other public authorities start secretly viewing the phone records of journalists and newspapers it is a big problem for a democratic society. I would call it a national scandal.
The Regulation of Investigatory Powers Act 2000 (RIPA) was passed to help fight terrorism and serious crime, but we now know it has been abused by the police to obtain the call records of journalists who were not under suspicion of breaking any law.
New York, August 16, 2018–Nigerian police should immediately release journalist Samuel Ogundipe, drop all charges against him, and cease efforts to pressure him to reveal any journalistic sources, the Committee to Protect Journalists said today.
Ogundipe, a reporter with the privately owned Premium Times online newspaper, was arraignedExternal link yesterday in a magistrate's court in the Kubwa suburb of Abuja, Nigeria's capital, after police detained him overnight and repeatedly tried to force him to reveal the source for an articleExternal link about the inspector general of police, according to Musikilu Mojeed, editor-in-chief of Premium Times, and Esther Bassey, one of the journalist's lawyers, who said the arraignment was illegal. Police from Nigeria's special armed robbery squad, commonly known as SARS, on August 13 also briefly detained Azeezat Adedigba, an education reporter from Premium Times, and used her phone to summon and arrest Ogundipe, Mojeed and Adedigba told CPJ.
"Nigerian authorities should immediately release journalist Samuel Ogundipe and drop all charges against him. No journalist should be forced to reveal their sources," Muthoki Mumo, CPJ's sub-Saharan Africa representative, said from Nairobi, Kenya. "Nigeria's authorities have too often proven brazenly willing to flout the law in order to intimidate the press."
According to the charge sheet seen by CPJ, Ogundipe was charged with "criminal trespass, theft … and having possession of Police Interim Investigation report" under sections 352, 288, and 319(a) of the Nigerian penal code. Bassey told CPJ that the sections of the penal code did not seem to match the charges.
Bassey also told CPJ that he had spoken with the journalist, and that the magistrate had ordered an additional five days in detention. "It's not legal to be arraigned without the presence of a lawyer," Bassey told CPJ. "They secretly put [Ogundipe] in a vehicle and took him to a magistrate court and accused him of criminal trespass and that he stole a police report," Bassey said.
Ogundipe's arrest occurred after Adedigba was detained for roughly four hours at the SARS office in Abuja, Adedigba told CPJ. According to Adedigba and a Premium Times reportExternal link, Adedigba went to the station in the company of Mojeed after receiving a formal police invitation letter on August 13 from an officer identified as Emmanuel Onyeneho. The letter came after repeated, often threatening calls since August 11 asking her to report to the police station, Adedigba said. The letter, which was seen by CPJ, stated that Adedigba was implicated in criminal conspiracy, cybercrime, attempted kidnapping, and a fraudulent act.
Adedigba told CPJ that her phone was seized by the guard upon arrival at the SARS office, but Onyeneho eventually brought it into the holding room and told Adedigba to dial a number she did not recognize. When it started to ring, it was revealed to be Ogundipe's number saved in her phone, Adedigba said. Onyeneho ordered Adedigba and Mojeed to instruct Ogundipe to report to the SARS office, the two journalists told CPJ.
Mojeed told CPJ that as soon as Ogundipe arrived, Onyeneho turned his attention away from the accusations listed in the invitation letter and began asking questions about an article that he claimed was injurious to the police and Nigeria. Adedigba said she was told the accusations raised against her were cleared and she was free to go. "They have been giving me a lot of psychological trauma since Saturday [August 11], just to get Samuel," Adedigba told CPJ.
When contracted by phone yesterday, Onyeneho told CPJ he did not want to talk about the case.
Ogundipe was then transferred to the inspector general's monitoring unit at the police headquarters in Abuja, where police interrogated him in an effort to discover the source of his article. The piece was about a report sent from Inspector General of Police Ibrahim Kpotun Idris to Nigerian Vice President Yemi Osinbajo on the security service's involvement in blocking accessExternal link to the Nigerian National Assembly on August 7, according to Mojeed, who accompanied Ogundipe, and a report by Premium TimesExternal link.
"I kept reminding them that this was not acceptable," Mojeed told CPJ, referring to the police's efforts to pressure Ogundipe into revealing where he got the information for the report. Ogundipe did not reveal his source and the police commissioner in charge called for officers to rush to a court and get a warrant for Ogundipe's arrest, Mojeed said. Ogundipe that evening was taken back to the SARS station where he remained until being arraigned, Mojeed and Bassey told CPJ.
Mojeed also told CPJ that the police showed him a file of information on Ogundipe, including call history, which the officer said they received from the telecommunication service provider, and bank details. Adedigba also told CPJ that police said they got her number from her service provider, privately owned MTN. Ogundipe's bank account was frozen on the same day he was detained, according to Premium TimesExternal link.
CPJ's repeated calls to Abayomi Shogunle, assistant commissioner of police and head of the public complaint rapid response unit for the Nigerian police, went unanswered. CPJ's calls to Jimoh Moshood, Nigerian police spokesperson, also went unanswered.
On the same day Ogundipe and Adedigba were detained by SARS, Osinbajo instructed Idris to reform the same police unit and investigate "allegations of human rights violations," according to ReutersExternal link. Since Ogundipe's arrest, social media uses have used the hashtag #FreeSamuelOgundipeExternal link to call for the journalist's release and today protesters gathered in Abuja to additionally demand his release, according to Premium TimesExternal link.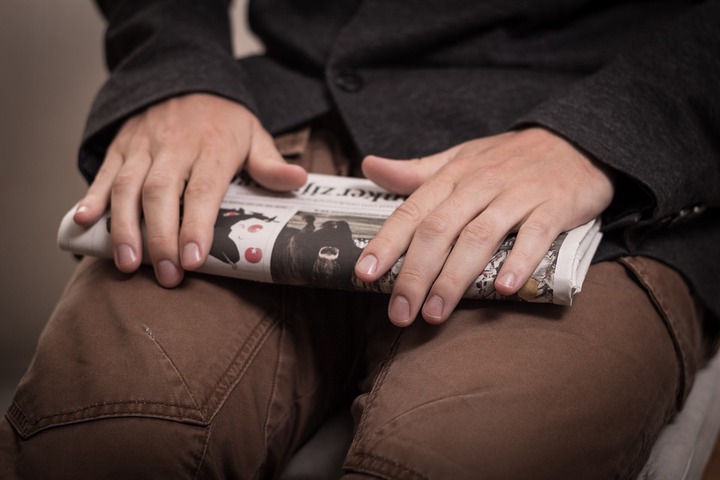 A Met Police report revealed last month that the force used RIPA to secretly obtain details of calls made (numbers and times) to both Sun political editor Tom Newton Dunn and the newspaper's main switchboard.
This his enabled the force to find and sack three constables accused of leaking information about the incident when then Chief Whip Andrew Mitchell used bad language in the presence of officers outside Downing Street. The Crown Prosecution Service refused to charge the three with any crime because it said they were acting in the public interest.
It has since emerged that Kent Police used RIPA to obtain the phone records of the Mail on Sunday and a freelance journalist in order to track down a confidential source accused of lying to the police. Again, neither journalist was under suspicion of breaking the law.
Just under a month ago Press Gazette, which I edit, launched the Save Our Sources campaign with a petition which simply asked that police and other public authorities get the permission of a judge before obtaining journalistic material.
We believe that a court is best placed to decide whether the information sought is important enough to override the strong protection given to journalistic sources under Article 10 of the European Convention of Human Rights (which protects freedom of expression)
According to leading media lawyer Gavin Millar QC, the use of RIPA against law-abiding journalists is already "completely illegal" under European law.
I have never known an issue to so outrage the readers of Press Gazette: from Sun editor David Dinsmore to Private Eye's Ian Hislop – more than 1,000 have put their names behind the Save Our Sources campaign.
Their concern is not for themselves, but for the sources who put their faith in journalists to respect their confidentiality and who put their livelihoods on the line.
The MPs' expenses, child sex abuse in Rotherham, the thousands of needless deaths at Mid Staffordshire NHS Trust. All these scandals were exposed by journalists with the help of public sector whistleblowers.
The close relationship between senior police and journalists at the News of the World and the failure of that force's original investigation into phone-hacking at the paper was also revealed with the help of whistleblowers from within the police.
The Met Police is not going raise its game by silencing the very people who bring its shortcomings to light.
Yesterday, at least partly inspired by Press Gazette's campaign, the Interception of Communications Commissioner (who monitors use of RIPA) ordered all police forces to reveal any instances where they have grabbed telecoms records in order to expose journalists' sources.
He will then make recommendations to the Government on how the relevant codes of practice followed by public authorities need to change.
Everyone, apart from bent public officials, should be hoping that he succeeds in giving whistleblowers back the protection they deserve.
Content created and supplied by: Kings.com (via Opera News )
Opera News is a free to use platform and the views and opinions expressed herein are solely those of the author and do not represent, reflect or express the views of Opera News. Any/all written content and images displayed are provided by the blogger/author, appear herein as submitted by the blogger/author and are unedited by Opera News. Opera News does not consent to nor does it condone the posting of any content that violates the rights (including the copyrights) of any third party, nor content that may malign, inter alia, any religion, ethnic group, organization, gender, company, or individual. Opera News furthermore does not condone the use of our platform for the purposes encouraging/endorsing hate speech, violation of human rights and/or utterances of a defamatory nature. If the content contained herein violates any of your rights, including those of copyright, and/or violates any the above mentioned factors, you are requested to immediately notify us using via the following email address operanews-external(at)opera.com and/or report the article using the available reporting functionality built into our Platform See More