In 1854, Mary Ann Brough committed a gruesome crime. In the middle of the night, she sliced the throats of her six children before turning the razor on herself. The scandal grew when the public realized that Brough was Queen Victoria's wet nurse, charged with caring for Bertie, the young Prince of Wales and heir to the British throne.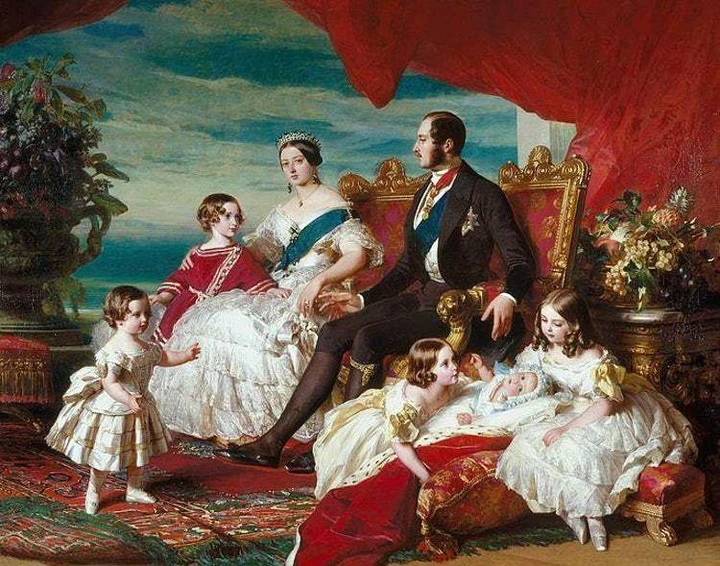 Queen Victoria had nine children of her own, even though she reportedly was not fond of children . The Queen went into mourning for forty years after her husband died, and even asked to be buried with a plaster card of his hand. And Queen Victoria was also in charge of hiring wet nurses to care for her children. When one of her Royal wet nurses murdered six innocent children, Victoria was haunted by the crime. 
Mary Ann Brough lived through her suicide attempt and became one of the most notorious female serial killer of the Victorian era. But she escaped the noose by claiming temporary insanity. Was she truly insane when she methodically slaughtered each child, one by one?
Queen Victoria Used Wet Nurses With All Nine Of Her Children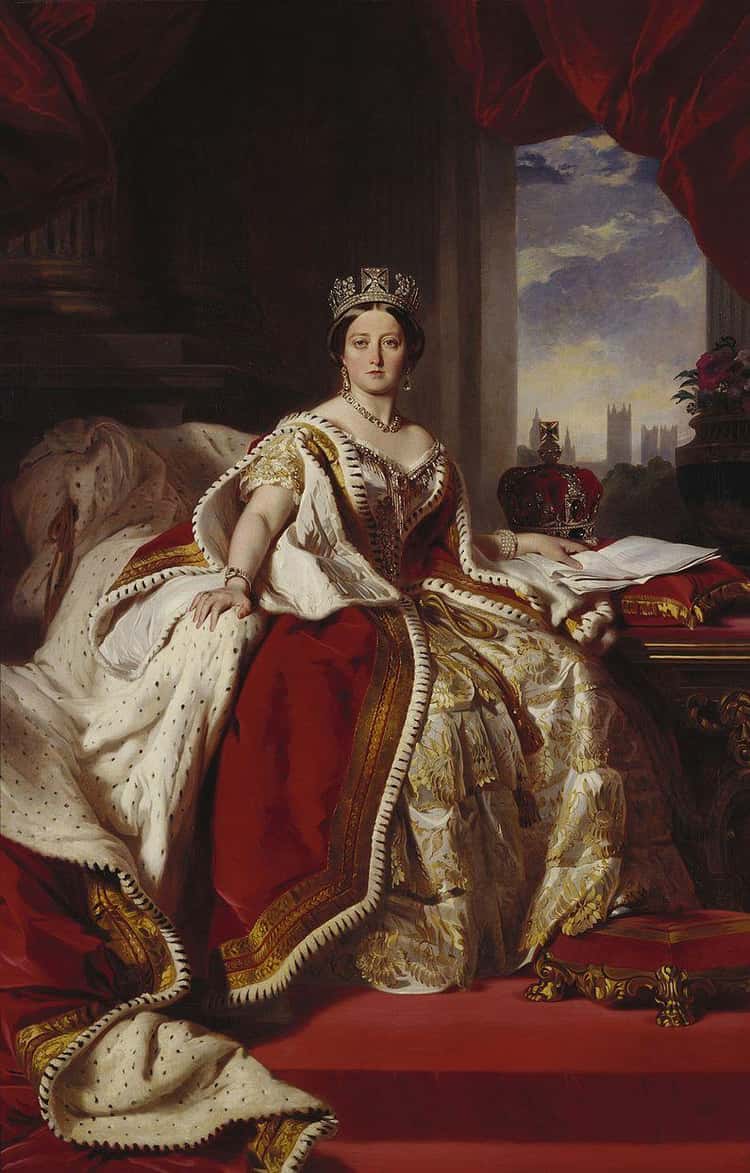 Queen Victoria did not just rule Great Britain for a record-making 63 years. She was known for having children—she had nine, in fact. In order to keep up with the childbearing (she had all her children in a 17 year period, between 1840 and 1857), Queen Victoria hired royal wet nurses for all her children. 
On November 9, 1841, Victoria went into labor with her second child, the future King Edward VII. As a child, he was called Bertie. Queen Victoria was enamored with her heir from birth, Writing "our little boy is a wonderfully strong and large child. I hope and pray he may be like his dearest Papa." But the royal wet nurse Victoria chose to care for little Bertie, named Mary Ann Brou, became Britain's most notorious murderer of children.
Wet Nurses Had To Be Virtuous Because Breastmilk Transmitted Moral Qualities
A wet nurse was a lactating woman who nursed an aristocratic baby. Royal mothers, like Queen Victoria, traditionally turned to wet nurses to breastfeed their children. For centuries, however, wet nurses had come with a warning: the wrong wet nurse could easily corrupt an infant. 
As early as the sixteenth century, men warned women to be careful about trusting a wet nurse. In 1577, Italian author Omnibonus Ferrarious warned that infants would adopt the "nature of the person by whom they are suckled." In short, a sinful wet nurse could harm a child. Many physicians warned that moral qualities could be transmitted through the breast milk to a child.
Future Kings Needed The Best Wet Nurses, As One Image Warned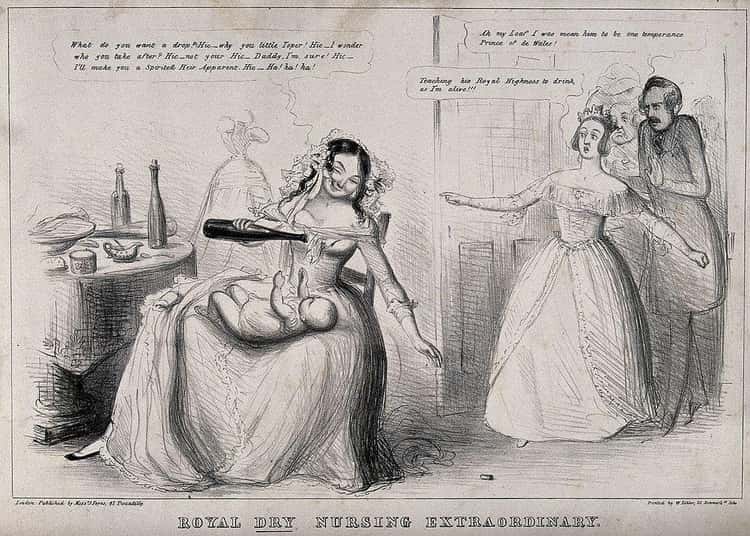 If a bad wet nurse could corrupt a child, it was even more important for a future king to have a virtuous wet nurse. In the 1840s, one image warned about the dangers of a drunken wet nurse by showing an intoxicated woman offering alcohol to the infant Prince of Wales, little Bertie. In the drawing, Queen Victoria and Prince Albert are bursting through the door, horrified at the scene.
In fact, the scene might have had a hint of truth. Mary Ann Brough was Bertie's wet nurse for eight months, but she was fired from the job for unclear reasons. One newspaper later reported that Mary Ann "was discharged for disobeying orders, first in receiving visits from her husband, and next for being caught in the act of drinking ardent spirits." Of course, by then Mary Ann was on trial for killing her own children, so the story might have been untrue.
In 1854, A Stranger Found Mary Ann Brough With Her Throat Cut, But That Wasn't The Worst Part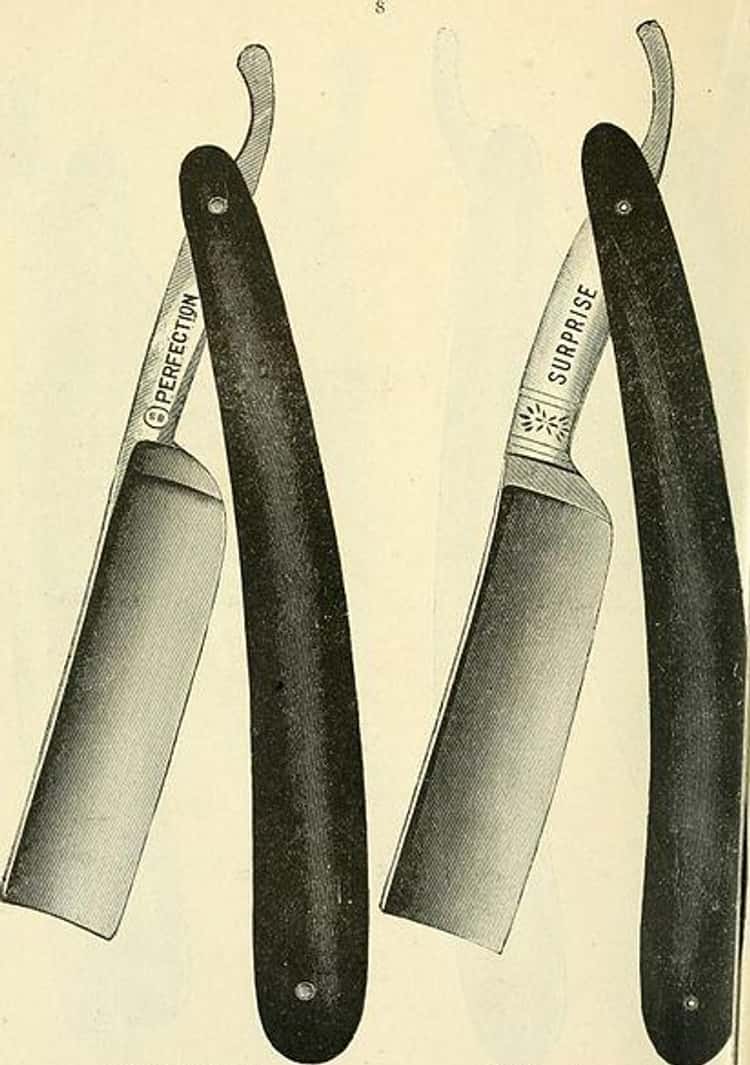 The sun was barely up on June 10, 1854 when Henry Woolgar spotted a bloody pillow hanging from the window a cottage in the quiet village of Esher. After ringing the doorbell, Woolgar found a ladder and climbed up to peek through the window.
When he looked in, he saw a gasping woman with her throat cut. "Her hands and face were covered with blood and her hair hung about her face," Woolgar testified. "She was making a whistling noise, apparently from the wound." And worse, "the blood was spurting from her throat." When Woolgar rushed to her side, he saw something even more horrifying.
Mary Ann Murdered Her Six Children And Tried To Commit Suicide
After he spotted the dying woman, Henry Woolgar swept through the rooms of Mary Ann Brough's house while a neighbor ran for a doctor. Woolgar found body after body. 
The woman who had been the wet nurse to Great Britain's royal heir had killed her own six children. Mary Ann Brough's eight-year-old son William lay at her feet, his throat cut. Nearby lay his sister Georgiana, age 11, Carry, seven, and four-year-old twins Harriet and Henry. Finally, the youngest child: Mary Ann's one-year-old baby George. Each child had been slaughtered with their father's razor. The house was "deluged with blood."
But why did Mary Ann kill her own children?
Unlike Queen Victoria, Mary Ann Brough Suffered From Problems With Childbirth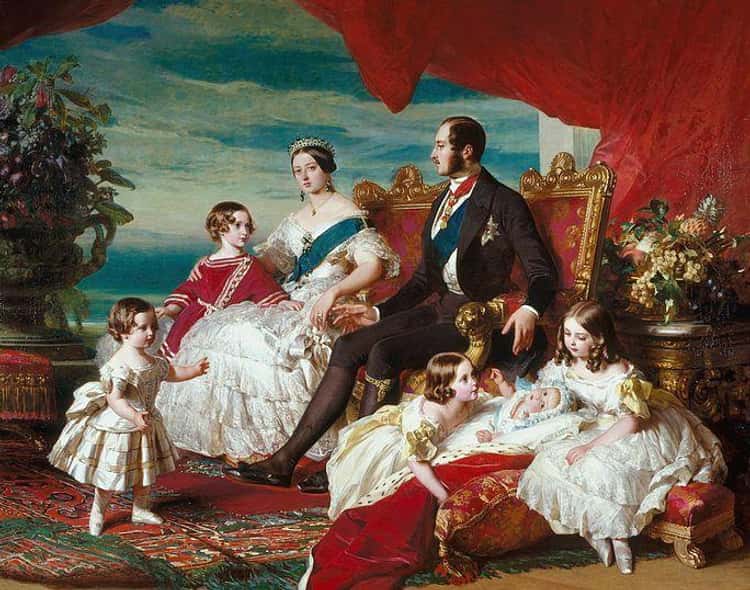 In 1854 when Mary Ann slaughtered her children, Queen Victoria was the picture of familial bliss. She had a one-year-old baby of her own, Prince Leopold, who was her eighth child. But not all mothers were as lucky as Victoria, who had the best doctors by her side during and after childbirth. 
In 1852, Mary Ann had given birth to her youngest child. Her physician, Mr. Izod, reported that "eight days afterward she was attacked with paralysis, and completely lost the use of her left side. She also lost her speech, and her face was distorted." In addition to the physical trauma, Mr. Izod also noted "symptoms of a disordered brain." Not only that, Mary Ann had also suffered multiple miscarriages. Mary Ann might have been suffering from a postpartum psychological disorder when she murdered her children.
Before The Murders, Mary Ann Was In A Terrible Mental State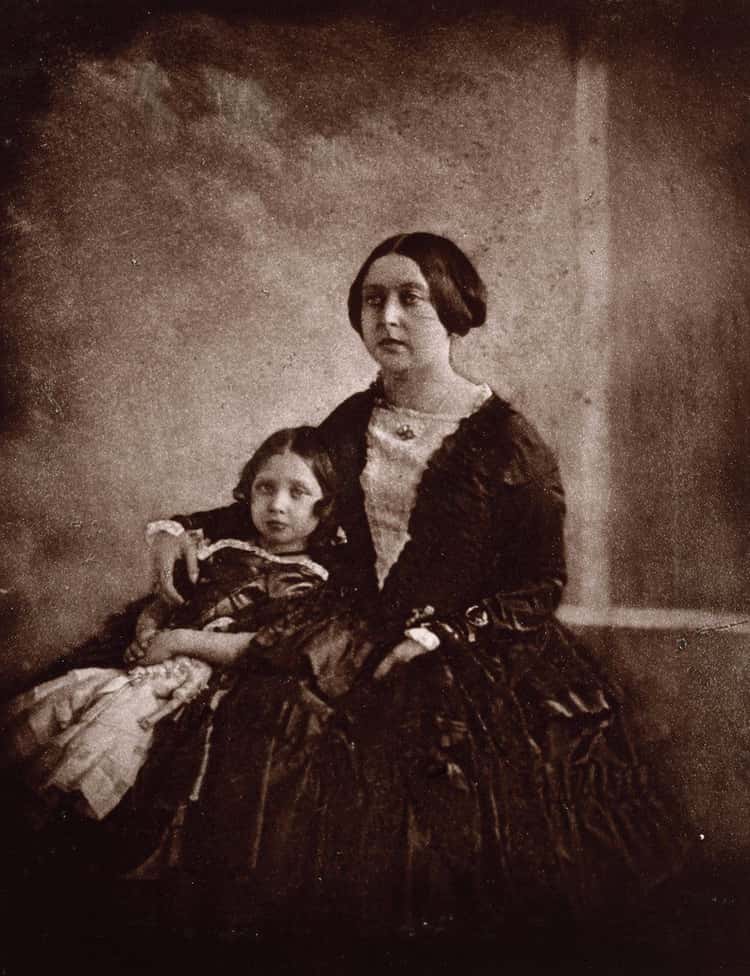 Mary Ann Brough confessed to killing her children right away. But as the police investigated, they began to realize that Mary Ann's life was falling apart in the days before the murder. On June 6th, just four days before she slaughtered the innocent children, Mary Ann's husband, George, had walked out on his family. He thought Mary Ann was unfaithful and hired a detective to follow his wife. When the detective spotted Mary Ann meeting with a man, George flew into a rage and told his wife that he would seek legal custody of the children.
Right after George's threat, the children caught measles, a terrible disease that could prove fatal. Mary Ann cared for them alone. The children were up all night crying, and Mary Ann was unable to sleep. She was stricken with severe headaches. She began to contemplate suicide.
Mary Ann Was A Good Mother, Her Neighbors Insisted, But She Freely Confessed To The Murders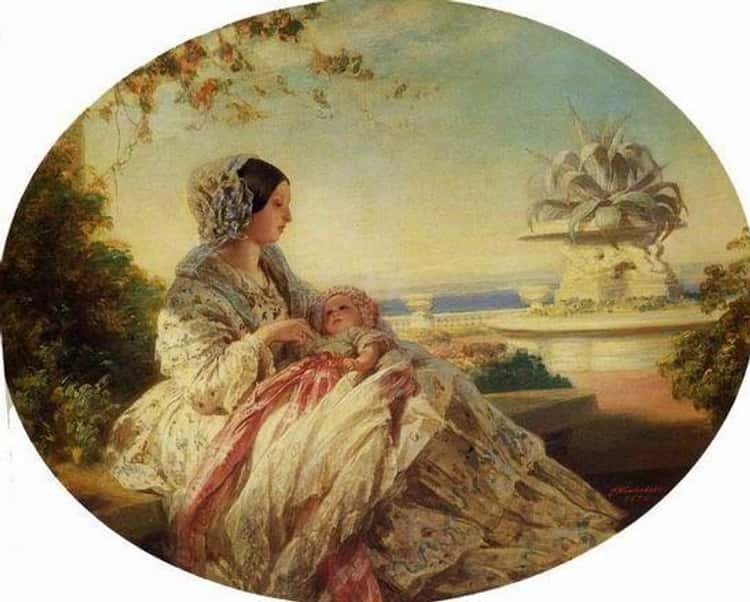 Mary Ann's neighbors described her as a good mother. Sarah Weller said she was "very kind to her children, almost too kind." Henry Woolgar, who discovered the gruesome murders, said "she always appeared to be very good and kind" to her children. Even the local constable said "I considered her as good a mother as ever lived."
But the night before the murders, Mary Ann's children cried out for her for hours. Mary Ann, demented from exhaustion, was struck with insomnia. At some point in the night, she snapped. "There was something like a cloud over my eyes. I thought I would go down, get a knife, and cut my own throat," Mary Ann later confessed to the police.
Queen Victoria Called The Murderer Morose And Stupid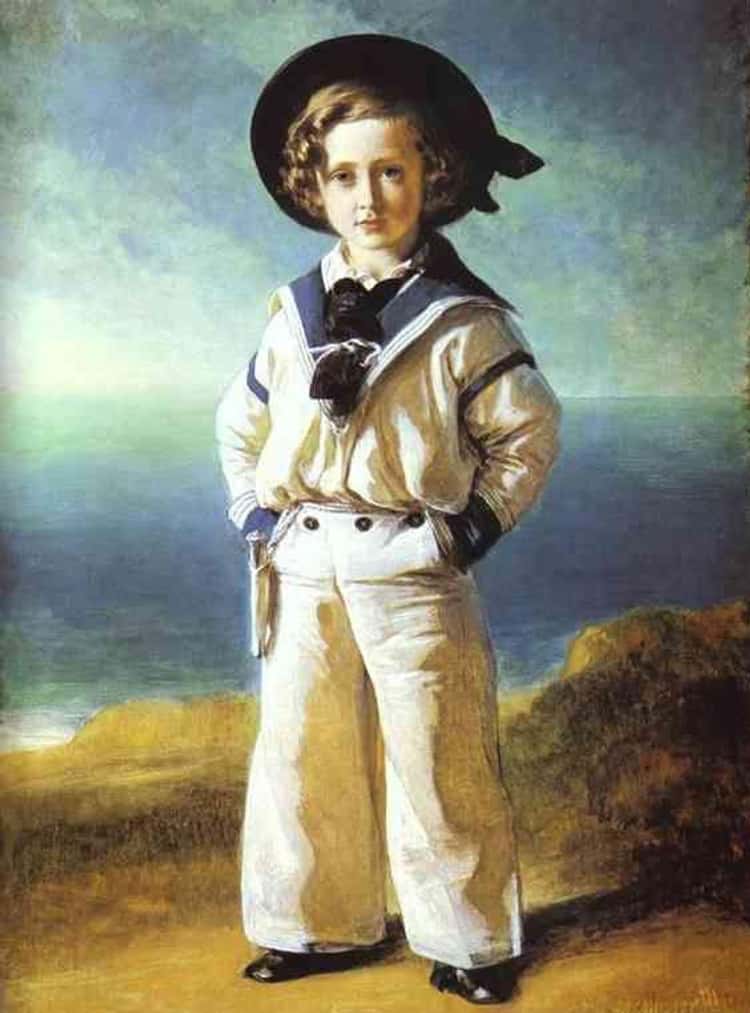 Instead of committing suicide, Mary Ann cut her children's throats one by one, even as her four-year-old son pleaded, "Don't, mother." After slitting each of their throats, Mary Ann lay down and cut her own throat. But she didn't die. As soon as the doctor arrived and sewed up Brough's throat, she confessed to the murders.
The news soon reached Queen Victoria. Mary Ann's gruesome crime made the Queen think of her own son, Bertie, who Mary Ann had nursed. Queen Victoria recorded her thoughts in her diary. "A most awful & horrid tragedy has taken place at Esher. Mrs. Brough, for 8 months Bertie's wet nurse, has murdered her 6 Children!" Victoria went on to add, "The news quite haunts one. She was, it seems, a most depraved woman. Morose, ill tempered & stupid she always used to be, when in our house!"
Mary Ann Went On Trial For Murder And Claimed Insanity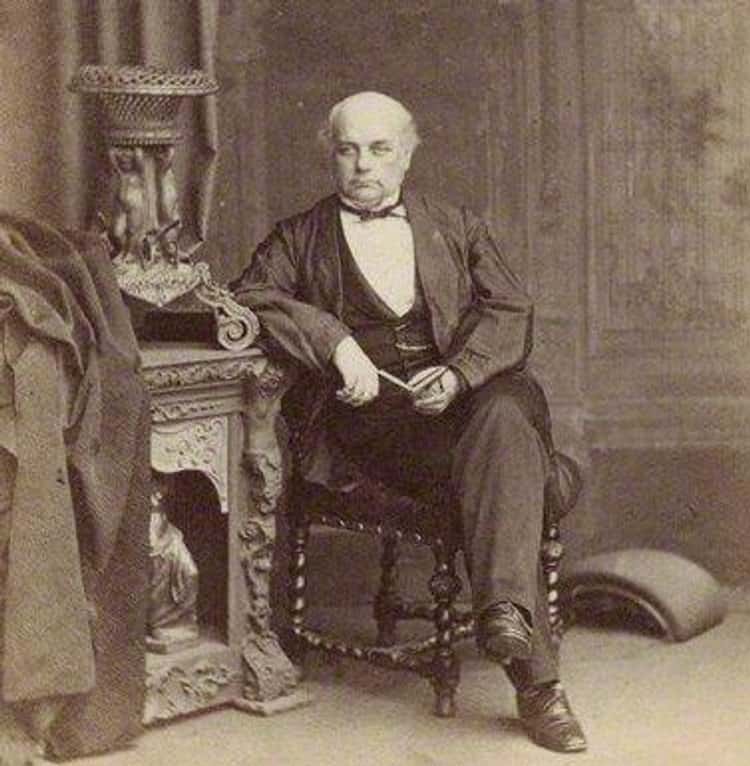 The trial for murder began in August of 1854. Because Mary Ann confessed multiple times, the central question of the case was whether she had been sane when she killed her children. Her lawyer argued that Mary Ann suffered from temporary insanity brought on by her "time of the month." Psychologist Forbes B. Winslow testified on Mary Ann's behalf, arguing that Mary Ann must have been insane because maternal instinct made it impossible for a mother to kill her offspring.
The judge advised the jury to find Mary Ann Brough guilty of murder, but in a shocking decision they found her not guilty due to insanity. Mary Ann was sentenced to life in the mental institution known as Bedlam. She died there eight years later.
The "Esher Murderess" Was Famous In The Victorian Era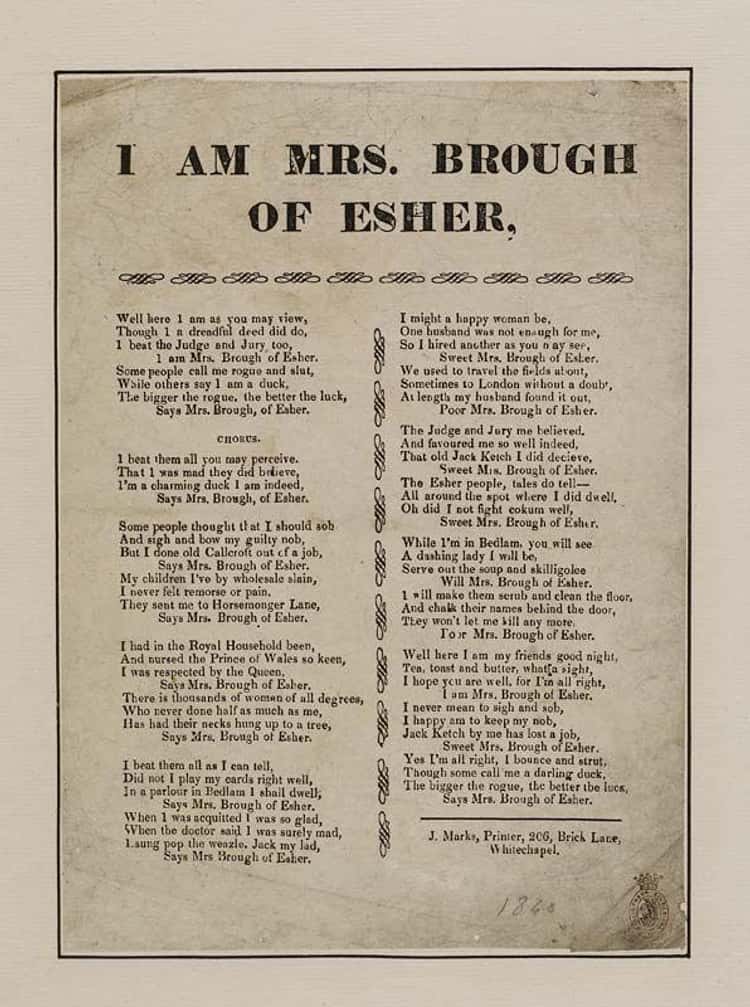 Mary Ann Brough became so famous that a wax museum recreated the gruesome scene of her murders. In the scene, a wax version of Mary Ann stood over her six dead children in a bloody nightdress, wearing a label that said "this woman was nurse to his Royal Highness the Prince of Wales."
A poem titled "I Am Mrs. Brough of Esher" claimed that Mary Ann had tricked the jury.  In Mary Ann's voice, it said, "Though I a dreadful deed did do, I beat the Judge and Jury too." The fact that Queen Victoria had trusted her child, the heir to the throne, with Mary Ann became a scandal. The poem went on to say "I had in the Royal Household been, And nursed the Prince of Wales so keen, I was respected by the Queen, Says Mrs. Brough of Esher." Victorians debated whether Mary Ann Brough was a cold-blooded killer or mentally deranged––and the debate continues today.
Content created and supplied by: MasterMind24 (via Opera News )
Opera News is a free to use platform and the views and opinions expressed herein are solely those of the author and do not represent, reflect or express the views of Opera News. Any/all written content and images displayed are provided by the blogger/author, appear herein as submitted by the blogger/author and are unedited by Opera News. Opera News does not consent to nor does it condone the posting of any content that violates the rights (including the copyrights) of any third party, nor content that may malign, inter alia, any religion, ethnic group, organization, gender, company, or individual. Opera News furthermore does not condone the use of our platform for the purposes encouraging/endorsing hate speech, violation of human rights and/or utterances of a defamatory nature. If the content contained herein violates any of your rights, including those of copyright, and/or violates any the above mentioned factors, you are requested to immediately notify us using via the following email address operanews-external(at)opera.com and/or report the article using the available reporting functionality built into our Platform See More