I never knew my Husband is a ritualist until our only Son died after his second birthday [Fiction]
My name is Nneoma , I am 33 years, although I got married at 25, but currently I have only one child, a son, due to reasons you will get to know as you progress.
I came from a very poor family, honestly, I wouldn't like to say that if not my husband, I wouldn't have been where I am today, because God knows everything , even what would have happened if not for him. My parents were so poor that I couldn't complete my secondary education.
I used to fry Akara( Beans Cake) to support my parents and help in training my younger siblings . Since my parent could not cater for our school fees,I had to allow my younger ones to continue while I dropped out.
One faithful day , as I was returning from grinding Mill, that was were I used to grind beans for my beans cake. I met a young man on my way home. At first he called me "hello girl ! can you help me with direction, I lost my way to somewhere". That was what drew my attention to him, In bid to be of help to him.
Well, I wanted to ignore him but a second thought came, then I had to answer him and as well gave him direction to where he was going. Just 3 steps away from him. He called me again and inquired about my name , address to my home. I wanted to decline but then I replied him" what for ?"
This time he drew closer and apologized for that, telling me that actually he doesn't know anywhere or anyone, he just came to tour the village, adding that it was when he was at the age of three (3) that he visited his grandma, that he didn't recognize anything or anyone anymore . He asked that I should be his guide as he tour round the village, but first we need to inform my parents. So we set off to my house after which he told my parents .
To me I saw the whole thing as a contract, I needed the money, my parents needed the money, my younger brother needed to register for WAEC before the deadline. So I had no option than to agree. 
Then the tour began, we went round the whole village and finally ended. But before going out for the tour, I had already given my grinded beans powder to my mum to prepare akara for that day. 
At the end of every thing he gave me 10 thousand Naira as we agreed. He gave my parent 50 thousand Naira. We were all surprised. "You poverty eeh poverty dee bad". Well , we had no option than to collect the money and thank him, then he went back to the city.
My mother could not control her tears, infact she could not believe it was real. Well, we thanked God and as well happily paid my brother's WAEC registeration fees.  
A week after , the man came back again, and this time to reveal his true intentions. Yes he didn't actually came to tour our community. He was actually looking for a wife.
On coming back from were I went to fetch fire wood, behold him sitting outside with my parents already chatting happily. I was surprised, "how come ! was there anything I missed ?"- I asked myself and as well couldn't answer because I was totally lost about what was actually going on.
At the end of the whole thing, his intention was to marry me. I couldn't believe it. Well we thanked God because it was him that rekindled hope in my family. At first he opted for me to go back and complete my education, which was a welcomed development. I accepted, I took my WAEC and enroll for higher institution , although I couldn't not graduate in my father's house, we got married and I completed my education there after.
At the age of 27, that was 2 years after our wedding, I already had 6 miscarriages, although I wasn't concern much because I was still in my late 20s. It was after 4 years of marriage that was at 29 , God blessed us with a baby boy.
We celebrated , his birth and threw a party. But I made a terrible mistake, I was carried away by affluence and enjoyment, I was blinded by money, I couldn't border to check what was the source of the money , how did it came about.
What will I blame ? Myself? Or my background. Was that due to the fact that we were poor that made me forgot what I was supposed to look out for in a man.
He was loving, caring, mention it . He made me change my thoughts about life. But I never know that the journey of sorrow and pain is still on the way. He was not a bad person but i understood that it was as a result of the too much love for money.
On the second birthday of our son Ikenna, that was the beginning of the sorrow in my life. We celebrated , we spent extravagantly. But at the end, it was Ikenna's blood we are celebrating on , I never know that my husband belong.
The following morning after his birthday, Ikenna my one and only beloved child could not wake up, he was used for rituals by his father, my husband.
As if that was all, ok let me shock you, my husband was the reason behind my miscarriages. How did I get to know about this.
The following year, I conceived again, and this time I was very careful to monitor what was going to happen, infact I bought a dairy to record every single activity that i involved myself in everyday .
It was just a waste of time because after everything , I had the same miscarriage. But I was wise this time and 3 months after i conceived again, it repeated. But through my records I never did anything the could warrant another miscarriage or even the previous one .
This time I disagree , I went back to God, I went into prayers, but I refused to tell my husband because all i wanted was nothing but the true cause if my miscarriage. Medically I wasn't faulty but spiritually I was faulty because I have no relationships with God and so I was blinded spiritually. 
Therefore I followed it up spiritually. I met a pastor, we scheduled prayer , we prayed it we fasted as well, for God to make revelation of the cause of my frequent miscarriage.
Finally God answered, the hidden truth came out and it was actually my husband that has been sacrificing our unborn children, including  my beloved Ikenna according to the revelation. 
As God already knew that I was going to doubt it , so the pastor instructed me on what to do, I did it and I confirm that it was him that has been killing our children. He told me that on the seventh day my husband will go blind for 2 days and after 5 day again he will go blind again. Until he repented he can never see again.
I don't want it look like am causing trouble and so I maintained, and refused to tell my husband about what the pastor said. But I wanted to find out the truth first. So just as I was instructed I followed it religiously and on the seventh day, my husband went blind I couldn't control my tears yet still afraid to ask him if he has anything to do my ordeal.
But that was after he regained his sight. Still within me I was already drying up due to emotional pain as a result of the facts that my husband has been the root cause of my pain and misery.
After he has regained his sight, by then I was ready to tell him his sin . To cut the long story short he kidnapped me and threatened to kill if I ever tell anyone. Well it was just God that saved my life. Although I promise to keep it a secret just for him to release me.
Finally he released me, by then I didn't know who I was anymore, it was as if he charmed me I became deaf and dumb. Infact it was really terrible.
Just like what I have said before, God loves me . I was deaf and dumb for two months , then one day , that was a day before the scheduled date that I will be used as sacrifice. That afternoon, it was as if something touched me , then I remembered the pastor that prayed for me. I decided to sneak out and visit him. 
Finally , the pastor prayed for me and I didn't go back to my husband house after I have regained my ability to hear and to speak. I explained everything to pastor of which he confirmed that God has already revealed somethings concerning that.
It was now my turn to fire back. After our fasting and prayers for seven days my husband became blinded again and this time until he repented else he will die after the seventh day.
Well, in conclusion, he repented that was how God saved him. And a year after God blessed us again with another boy.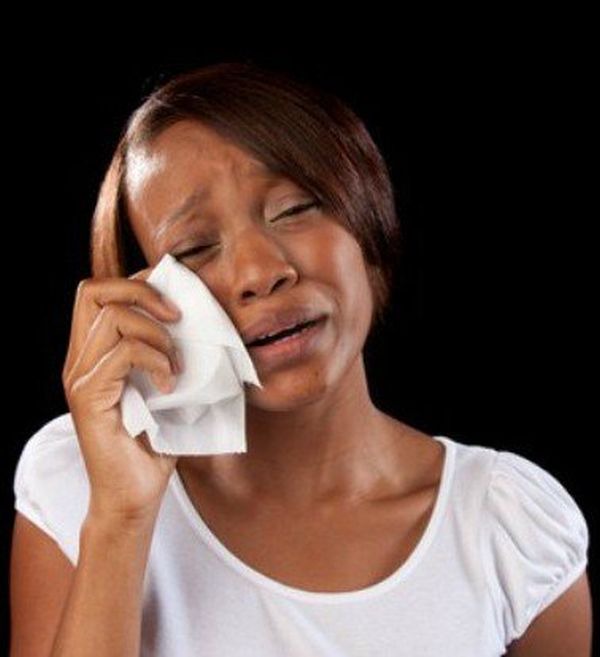 Photo is used for illustration
Lessons from the story. I think you can tell us what you learn in the comments section, meanwhile share and follow me for more stories.
Content created and supplied by: JoshuaNews (via Opera News )