Anyone who knows the genesis of the EFCC will not be surprised at the current antics between our Federation's Attorney General (AGF) and the Minister of Justice, Abubakar Malami, and the suspended Acting President of the EFCC, Ibrahim Magu.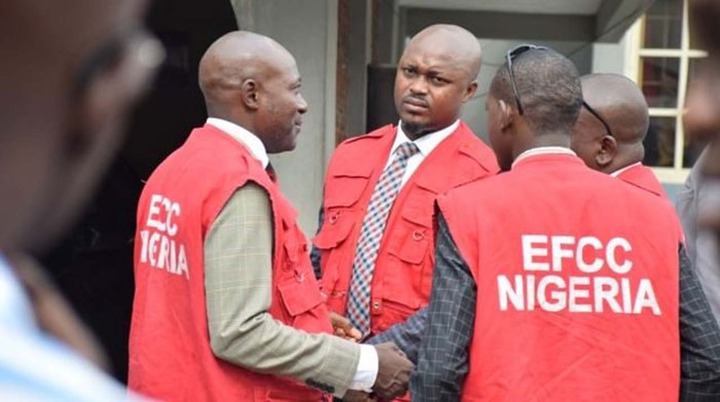 Any EFCC Chief who has not faced the problem Magu is currently facing at one time or another while serving at the anti-corruption agency has accomplished nothing at that agency. For me, the problem Magu is currently facing is confirmation of his successes as the Chief EFCC. To understand what I mean, I will first examine how the EFCC was created.
Why and how EFCC was established.
The EFCC was established in 2003 as an agency to lead the fight against money laundering and advanced fraudulent fraud (419). In 2003, Nigeria was listed as a non-cooperating country by the Financial Action Task Force (FATF), making it difficult for Nigerian banks to complete some international financial transactions.
To solve this problem, the then AGF, Kanu Agabi (SAN), had the idea of ​​the EFCC and named Nuhu Ribadu as president of the newly created agency. President Obasanjo named Ribadu as the first President of EFCC, he was appointed only based on the recommendation of AGF.
What this means is that the EFCC is an agency under the Ministry of Justice and oversight of the AGF and the President of the EFCC is accountable to the AGF. This is ultimately where the EFCC problem started. The EFCC Act also provides that only a serving or retired member of any government public safety agency, who is not under the rank of Assistant Police Commissioner (ACP) or equivalent, may be appointed President of the EFCC. Therefore, just as at the time Ribadu was appointed president of the EFCC, he was an ACP.
Just three weeks after Ribadu was named EFCC BF, he had closed all major foreign letter fraud operations (419) in Nigeria. I have made a well-coordinated arrest of dozens of prominent leaders of these groups who essentially had factories and domestic offices cursing fraudulent documents, and the FATF finally removed Nigeria from its blacklist.
That's how the EFCC was born, he became a cynic of all eyes, and Ribadu became the son of Obasanjo's anti-corruption posters, a reason why he still falls in love to this day.
His first surprising or surprising problem (depending on the angle you look at) came from his boss, the Inspector General of Police (IGP) Tafa Balogun. The EFCC Act made IGP a member of the EFCC board, while the EFCC President is the agency's Chairman of the Board. This means that during the EFCC board meeting, the IGP will sit in on a meeting, chaired by his subordinate, an ACP, and will have to seek Ribadu's permission before speaking, this, the IGP Obasanjo complained.
Not only did he complain, but he also lobbied for Ribadu's removal and replacement with a retired IGP.
Noah Ribadu later revealed that Tafa Balogun wanted him out of a job because Balogun was corrupt and knew him (Ribadu) as someone who would give him the problem. Ribadu promised to go after Balogh and put him in jail for two years. According to him, Balogun was out of work until 2005, he was tried and sentenced to prison.
This has probably explained why almost all EFCC presidents have always been on the brink of IGP, the all-encompassing Magu.
Yar'Adua took over the President, I have appointed Michael Aondoakaa as his AGF and Minister of Justice. Aondoakaa was very uncomfortable with Ribadu's stubborn, uncompromising, and incorruptible leadership that led the EFCC because Aondoakaa was a friend and shorthand to most of the high-ranking politicians investigated and prosecuted by the EFCC, especially the former governor. Delta State James Ibori and former Rivers State Governor Peter Odili.
Ribadu EFCC was prosecuting at least 9 governors simultaneously, shortly after they all completed their terms in 2007, they were the first group of governors to be prosecuted.
Ibori 'bribed' Ribadu and his staff with $ 15 million in money to free him from corruption charges was so serious that no single person could keep them alone, Ribadu raised the money and drove to CBN where the money was counted and kept in a small box and appeared in court against Ibor.
Before Obasanjo left the post of President, he had appointed Ribadu for a second term in office. Unfortunately, he had not sent the Senate nomination for confirmation, this omission was what ended Ribadu's career at the EFCC.
For me, I still insist, up to this point, that MAGU IS NOT A THIEF.
Most of the accusations made against Magu are non-existent, also false to be true, scattered, incredible, false or already confirmed as false and negative.
Magu was arrested on June 6 and released on the 15th, he was held in custody for 10 days, but so far, no one knows who arrested Magu and held him in custody for 10 days.
He was immediately arrested on June 6, the DSS was reported to be his arrest, the DSS immediately denied his arrest. The Presidential Investigation Panel that was investigating him was accused of being after the arrest, the Panel also denied it, saying that he was only a "guest", does the "Presidency" have a detention center? Who ordered the "arrest" of the President? Who was it given to?
So far, neither of the two panels that Magu is investigating has been released to say anything about the investigation, but there has been some public information citing each of the panels.
Magu, after saying on Wednesday June 13 that he had not received a letter of complaint, continued to request a copy of the charges against him so that he could respond to all of them when his request was not fulfilled, Magu responded to almost all the accusations that they flew in the media, even without being asked to.
Now, let's consider some of these statements from a consensus point of view. I will only examine those who deal with "theft and robbery" and not any other form of corruption:
He was suspected of stealing N550bn. The Punch newspaper cited the amount as N500bn, many other news platforms cited it as N550bn.
I know we have some Nigerians who are cruel and who can actually steal that large amount if given the chance, but they honestly oppose the merchandise that an EFCC President who is destined to catch thieves will now steal. unimaginable amounts, even if he wants to steal. How much money has Magu recovered for Nigeria to steal as much as 500 / 550bn?
However, almost all of the media platforms where Magu had allegedly stolen N550 / 500bn later reported that Magu did not steal the money, but only failed to calculate the interest accrued on the recovered N500 / 550bn, a claim that Magu has denied. Magu said the money found has been placed in the Single Treasury Account (TSA) and that the TSA is not earning interest.
He was alleged to have corner 332 (some cited it as 388) claiming property for himself, EFCC officials, and his friends.
While this is possible, it should be noted that this accusation was not linked to any credible source, the source cited by all media platforms that carried such claims as news was another media platform, the Nigerian News Agency (NAN ), if you have seen this in any newspaper or online media platform, go back and check, almost everyone cited NAN, no other reliable source than that. NAN itself cited PCARA as its source of information.
Questions to be answered: where are the properties? What kind of properties are they? Who are Magu's friends and the EFCC officials who obtained it? These questions so far are questions that no one can answer.
Magu was suspected of giving N4bn to Vice President Osinbajo.
Like any other, these claims are without foundation. Its source was not even from any media platform, but was from a Jackson Ude in heat, a well-known apologist for PDP, Magu and Osinbajo have denied it, although it is quite natural. Osibanjo even wrote IGP about him, I think he is going one step further. From the source, claims can be made with a pinch of salt
Magu was also accused of paying 28 million Barr Femi Falana to carry out a case against him, Magu has denied the incident, but if that was not enough, Falana has also denied it.
Falana wrote a pre-trial letter to the Nation newspaper, asking for an apology within 48 hours or suing them in court.
The Nation acknowledged that the event was untrue, apologized almost immediately, like any other allegation without any basis, the Nation cited NAN as its source of information.
The Superintendent of the Divine Hand of God, the Prophetic Ministries, the Prophet Emmanuel Omale knelt while the money was laundered for Magu and the one who acquired the property on his behalf.
Like any other claim, this one originates from NAN and also like any other claim, there is no reliable information on the claimed property, no video or pictorial evidence, no proof of ownership, no address where the property was discovered 'in Dubai.
Now again, in my opinion, Magu will not return to that place as he is unlikely to come out clean from that investigation. As I said, if he is not guilty of anything, he will be guilty of disrespect and disrespect for the reasons mentioned above. But beyond that, the chances of Magu coming out of justice, Ayo Salami (former president of the Court of Appeals), led by the investigative panel, are slim.
We already have a practical example of that at the ICPC, the ICPC was created in 2000 for almost the same reason that the EFCC was created 3 years later.
Today, nobody knows what is happening there and nobody cares, some don't even know it exists, an average Nigerian doesn't know the full meaning of ICPC. The ICCP presidents enter in silence, they both do, they earn money and they leave in peace.
What you hear about the ICCP are only a few, once in a scandal, without real prosecution, without conviction. How can an anti-corruption agency be so good? If well-meaning Nigerians do not stand up to provide Magu with the necessary support (at least until he is convicted or charged), the EFCC will follow the path of the ICCP.
Content created and supplied by: EPLupdates (via Opera News )
Opera News is a free to use platform and the views and opinions expressed herein are solely those of the author and do not represent, reflect or express the views of Opera News. Any/all written content and images displayed are provided by the blogger/author, appear herein as submitted by the blogger/author and are unedited by Opera News. Opera News does not consent to nor does it condone the posting of any content that violates the rights (including the copyrights) of any third party, nor content that may malign, inter alia, any religion, ethnic group, organization, gender, company, or individual. Opera News furthermore does not condone the use of our platform for the purposes encouraging/endorsing hate speech, violation of human rights and/or utterances of a defamatory nature. If the content contained herein violates any of your rights, including those of copyright, and/or violates any the above mentioned factors, you are requested to immediately notify us using via the following email address operanews-external(at)opera.com and/or report the article using the available reporting functionality built into our Platform See More