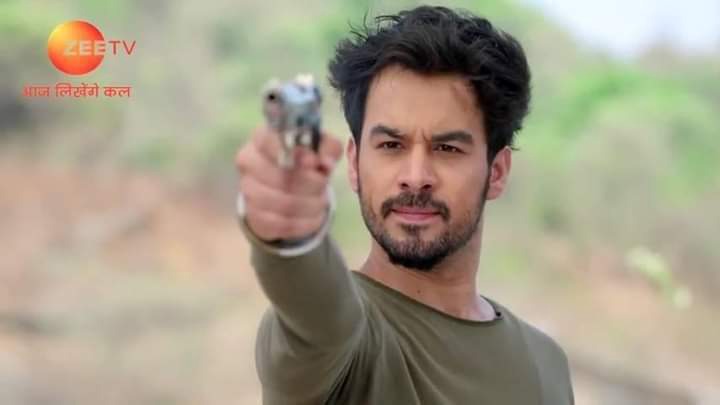 n the room, Vaidika calms herself down. Sahil walks behind her. Vaidika turns to leave the room. Sahil tries to speak to her, but she moves ahead. Sahil turns around. Vaidika had locked the door and comes to hug him.
He hugs her back tightly, and apologizes for all his behavior. He says he only wanted her out of all the negativity in the house. He wanted to get her away from all this tension.
Vaidika says she can't leave him alone to fight all the tensions. Sahil won't stay alone till she is alive. Why would their relation break anyway? Nothing can break them until they are together. Sahil says when love is deep, spouses begin to think similarly as well.
They must save this house and family from the devil Shirtij, and bring Aarya to the right path. Sahil says till Sahil and Vaidika are together, nothing is impossible. He says the idea is good, they will enjoy it a lot.
In the room, Prachi questions Shruti if she has forgotten everything. Shruti asks Prachi if she wish her to believe Vaidika is responsible for all this. But she trusts Vaidika more than Prachi, she is well aware only Prachi wants bad for her. Prachi is behind the false game played against her.
Prachi stammers if she has any proof. Shruti says she will reply Prachi well for her cheap act, just wait and watch.
Aarya announces that they must call the old servants back and appoint a new cook. Prachi and others leave the table with fruits. Sahil thanks Vaidika.
Later, Vaidika calls Aarya to the hall. Everyone gather there. Vaidika says soon Sahil will be back, the reality of Shirtij Asthana would come to everyone now and their scattered family will reunited. She will get her old Aarya back. Aarya questions what Vaidika wants.
Vaidika tells Aarya to stand on a support, soon she might lose her balance out of shock. Sahil opens the main door. A lady comes inside with Sahil. Shirtij and Neelam were left in a state of shock. Sahil tells the lady to introduce herself and tell them all what's true. The lady says she is Shirtij Asthana's wife.
Sahil shows Aarya the photo of their marriage. The lady confess Shirtij was always suffering because of his family. She made a plan with him, Shirtij hypnotized Guddu and later killed him. They had to loot the family, and flee the country. Neelam claims her a liar, but Vaidika says she has a proof of everything they are saying.
Aarya leaves into the room, Shirtij follows her. Vaidika tells Neelam now Shirtij Asthana's game is over, she will now get them punished.
In the room, Aarya sobs badly. Shirtij comes to her and forces her to listen to him. Shirtij accepts his sins, his mistakes and everything; but still he has fallen in love with her.
He doesn't want to leave her. Vaidika comes from behind and hits Shirtij with a vase, then a stick; questioning how dare he touch her daughter. She will kill him. She beats Shirtij badly with a stick, hitting his head. She hugs Aarya. Shirtij gets up and was about to hit Vaidika with the same rod.
Sahil stops the strike in midair. He questions if Shirtij deemed Agarwal family as weak. The police come to arrest Shirtij on charge of Guddu's murder. Aarya was embarrassed and apologize Vaidika and Sahil. She spoke a lot, and even tried to part them. Vaidika and Sahil console Aarya.
Sahil says Aarya is their life, she needn't say a sorry. Vaidika says parents never break their relation even if children make a mistake, she is still her young little Aarya; I love you. She hugs Aarya. Sahil takes both into his hug.
In the police van, Shirtij thinks Sahil and Vaidika are proud of their love. He will call off their existence, to never reunite. He will end this love story.
Vaidika comes to her room, after her children were asleep. Sahil place her head into her lap. She thinks tomorrow will be a new day for their family. She wish Vaidika forgets everything. Sahil tells Vaidika not to worry at all.
All the negativities are out of this house now. Vaidika notices a tattoo over Sahil's wrist, Sadika. Sahil says he wish themselves to be the same lover each life, that's why he got this made. No matter their lives change, their faces and voices are also different in each life but their hearts must stay together.
Vaidika kiss the tattoo and promises to always be his. Sahil intently looks towards Vaidika. Vaidika says they are together even in this life, why discuss the next lives then. She loves him dearly, and will always life together with him. Sahil asks what if something happens to him.
Vaidika was at once annoyed at his mention of falsehoods. Sahil apologizes as it was only meant to gather a little attention from her. Soon, there was a wind storm and a vase on the table breaks. Sahil assures nothing is wrong, and goes to shut the window pane. Vaidika was terrified.
Aarya and Ved planned a celebration for Sahil and Vaidika. A film about their love story was played in front of the whole family. Vaidika and Sahil dance together. Soon, the lights go off. They hear Ved screaming for help.
The lights were on, and they notice Ved and Virat were missing. Sahil looks into the house when they soon get a phone call. It was Shirtij.
Shirtij says now Ved and Virat would sacrifice in place of their parents. They had snatched Aarya he fall for, now he won't spare their children. Sahil deters to kill Shirtij otherwise. Shirtij cuts the call. Sahil turns to leave but Vaidika insists upon accompanying.
At the venue, Sahil beats Shirtij badly near the cliff. Vaidika protected Ved and Virat. She leaves Ved near Virat and heads towards the gun. Shirtij hit Sahil with a brick over his head and grabs the gun himself. He asks who would get the first bullet, if Sahil or Vaidika.
Vaidika was protective of her children. Sahil runs to Vaidika but Shirtij fires a bullet over his leg, deciding Sahil must die first. Vaidika covered Sahil in the next bullet and was hit; another bullet goes straight to Sahil.
Aarya had reached the venue and watch Sadika fell over the cliff. Shirtij had just pointed the gun towards Ved but police shot a bullet over his hand instead and arrests him.
Down the cliff, Sahil and Vaidika flew in the air. Sahil asks Vaidika's promise to always be his, in all their lives. They vow to meet again and continue to love each other.
Aarya slaps Shirtij. Shirtij laughs devilishly as he has ended the love story of Sahil and Vaidika. He was taken by police. Aarya mourns for her parents.
Twenty Years Later…
A young Vaidika walk down the cab, busy with her phone call. The young Sahil was busy with some friends, steps backwards and hits Vaidika. Both share a prolonged eye lock.
Content created and supplied by: Gangara2 (via Opera News )
Opera News is a free to use platform and the views and opinions expressed herein are solely those of the author and do not represent, reflect or express the views of Opera News. Any/all written content and images displayed are provided by the blogger/author, appear herein as submitted by the blogger/author and are unedited by Opera News. Opera News does not consent to nor does it condone the posting of any content that violates the rights (including the copyrights) of any third party, nor content that may malign, inter alia, any religion, ethnic group, organization, gender, company, or individual. Opera News furthermore does not condone the use of our platform for the purposes encouraging/endorsing hate speech, violation of human rights and/or utterances of a defamatory nature. If the content contained herein violates any of your rights, including those of copyright, and/or violates any the above mentioned factors, you are requested to immediately notify us using via the following email address operanews-external(at)opera.com and/or report the article using the available reporting functionality built into our Platform See More