The Perfect Theft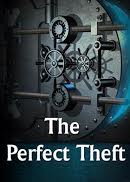 "Start speaking", Captain Davidson said, looking calmly at Henry who, along with 3 others, was convicted for a bank robbery. 
"I only did what I was told to do. The owner, Mr James, told us to rob his bank and take away all the currency. Rest assured, we were supposed to be paid for this job....! But instead, we all got caught...!" frustrated, Henry answered back, in an accent. 
"How did you rob the bank?" James asked, looking cool and calm. 
"It all started with this phone call one day. The person on the other side instructed us to do a work for him. He needed us to rob a bank, and in turn he promised us that he'll remove all the charges upon us once the work is done. We were already convicted for certain other smaller crimes, we had lot of money in debt and having no option, we readily agreed. The task was quite simple. Disguise yourself, rob the bank,take the money, and reach the planned location." Henry answered hastily. 
"And how simple it was, will you please guide us..? " Captain James replied calmly. 
"This Bank is in a parking Lot in the basement. We were 4 of us, myself and my 3 other friends. As planned, we were told to wear Black coloured masks, with normal clothes and no weapons, except a hammer, if required. We reached the bank during night time, after the closing hours. With all the available duplicate keys that were provided to us, we entered the bank through the back door. We collected all the hard cash and certain stamp documents from the safe. We never broke or damaged anything, just used the keys provided. We escaped out, kept all the loot in the CRN Black Pickup truck and reached the outskirts of the city, and hid the loot in the Dumping Yard" Henry explained the planning.
"What happened after that?" deeply sceptical, Captain James asked.
"The next day, me and my 3 other friends, we all got arrested. After that, we are still locked here in the prison. We just did what we were told to do….why ain't you letting us go?" Henry questioned back.
"Where's the real money?" Captain James, again staying calm, asked.
"It's the one which you guys caught in the Dump yard..!! We have just that..!!"
"Don't you fool around with me, Henry…..answer my question. Where is the real money?"
"I am only giving you all that I have looted, and all that was present in the bank. I still don't know what are you talking about…!!"
"ENOUGH OF THIS SHIT, HENRY…!!! YOU LOOTED THE BANK,EXCAHNGED ALL THE REAL MONEY WITH FAKE ONES,SO THAT YOU'LL ENJOY THE REAL CASH AT A LATER STAGE,& NOW YOU'RE SITTING HERE & TELLING US THAT YOU DON'T KNOW WHERE THE REAL CASH IS…..??? YOU THINK I'M A FOOL?" Captain James, who kept his calm all around till now, lost his control and blasted at Henry.
"So…You mean…the money that we looted was..?" Henry questioned.
"Absolutely .ALL THE MONEY THAT WAS RECOVERED FROM THE BANK WAS FALSE..!! Every single piece of currency that we found is absolutely fake…!! Now answer me, where have you kept the real cash..?" Captain James, losing his control, replied back.
"I am again telling you, I DON'T KNOW…!!" Henry screamed back.
"Mr Davidson, I've heard that you do a lot of charity and philanthropy work. Since how many years are you running this bank?" Captain James asked the owner.
"More than 15 years…" Davidson answered back.
"Ok. What exactly happened that day, can you tell us?"
"I got a call in the morning at my residence from the securities outside my bank. They informed me of the heist. They also informed that the night security saw 3 guys in a car, running away with all the loot. That's when I called you and informed the matter. It's good they got caught & the entire money was retrieved from them." Mr. Davidson, answered back.
"STOP THE NONSENSE, DAVIDSON…!!!" Captain James screamed, "Our enquiry has shown that you were in constant touch with a government official. The reason? You wanted more money and exemption from payment of extra taxes. So if someone loots your bank, you will be paid by the government and you will also receive exemption from tax payment….SO THAT'S WHY YOU PLANNED A ROBBERY ON YOUR BANK…..?"
Davidson was silent and shocked.
"I…I had no other alternative." Perspiring badly, Davidson answered back, "With my bank under huge debt, I still had to pay the taxes. I ..I had no other possibility but to listen to this anonymous caller, who called me one day and suggested this option to come out of all the debt. He also suggested me to replace all the real currency by fake ones, and keep the real one at a certain hidden location, which can be retrieved later…I have no proper idea who was appointed to loot the bank, I only trusted this Advisor, who promised me to pull out of debt."
"So you got your own bank robbed. Now tell me, WHERE'S THE REAL CURRENCY?"
"I don't know…! This unknown caller, somehow came to know of the real location where I had hidden the real money….he took all of it…leaving only the fake ones for me….he took all the real currency of the bank & now I don't know where he is…!!" Davidson replied back, feeling agitated.
"So you are now left with only fake currencies for yourself…" Captain James said, "Don't fool with me, Davidson…! I know you are having absolute knowledge of where the currencies are kept. I'm sustaining your custody with us. Tell us the truth, or face the charges…!" Captain James answered back, furiously.
Mr. Davidson was arrested against his charges. They questioned him regarding the money, but he remained fixed on his answer of not knowing where the real money was. His custody was continued for some days till the trail was over. Some days later, Henry & his 3 friends were released, as they were doing exactly what they were told to do & no proper evidence against them was detected.
Couple of months later, a guy in a Pick-up truck was arrested for Rash Driving.
"You are held up against driving Rash, Mr. Albert. Your car had exceeded the desired speed limit. In your enquiries, you mentioned that you purchased the car from a known source." Captain James was questioning Albert.
"A rich guy sold this CRN Black Pickup truck to me, saying he's moving out of the country and he never needs that vehicle." Albert answered back.
"Can you tell us the name of the owner?" on hearing the Truck's name, Captain James got curious.
"I don't remember, it was probably Henry Wilson or something like that…" Albert replied retrospectively.
Captain James was stunned. Was he hearing it right?
Producing a picture of Henry that he had taken during his enquiries, he asked Albert whether he was the same guy.
"Yes of course, it was this guy who sold his Pickup truck to me." Albert replied confidently.
Captain James was shocked .How could a poor guy caught in debt earn enough money to leave the city?
As the Captain initiated detailed enquiries regarding Henry, some shocking info came back to him.
"Henry was involved in the bank loot that had happened some days ago, Sir," Captain James was reporting the information to his seniors, "Henry placed all those anonymous call to Mr. Davidson, suggesting him the alternative to get his bank robbed and replace every real money by fake money and documents, so that the robbers will not be able to use them. He suggested a safe place where Davidson can keep the money. After the heist, he placed a call to Police & got himself caught to avoid any uncertainty on himself. Later, after he was released, he replaced the real money of the bank that Mr. Davidson had hidden, with fake once, as he knew the exact location. Davidson in this way lost all of his Bank's money. This has made Mr Davidson totally in debt, as he is charged for keeping Fake currencies and also to rob the bank."
"So he plotted Mr. Davidson rightly. Leaving no evidence behind for himself." The Senior Police officer asked.
"That's right sir. Mr Davidson is also involved in other crimes of forgery and false money lending, which are now coming in limelight. Henry looted every single penny from Davidson, as his intention was to frame him and expose what a bad person Davidson is, after excluding all the philanthropy and charity work that he does. So Henry is the real mastermind behind all of this.Most importantly, Henry, or whatever his name is, has escaped taking all the real money with him. We are still tracking his whereabouts."
At the same time, the guy who called himself Henry was standing at the immigration counter of the airport.
"Your name sir?" the girl at the counter asked.
"Jeff Robinson." He answered back. Sometimes fake passports are so very helpful, he thought to himself.
"Welcome to our city, Mr. Robinson. Enjoy your stay." the girl said, handing his passport back.
Mr. Davidson deserved this, he thought as he sat back in the Cab, relaxing himself and enjoying the view from the hill.
Content created and supplied by: Oloruntoba139 (via Opera News )
Opera News is a free to use platform and the views and opinions expressed herein are solely those of the author and do not represent, reflect or express the views of Opera News. Any/all written content and images displayed are provided by the blogger/author, appear herein as submitted by the blogger/author and are unedited by Opera News. Opera News does not consent to nor does it condone the posting of any content that violates the rights (including the copyrights) of any third party, nor content that may malign, inter alia, any religion, ethnic group, organization, gender, company, or individual. Opera News furthermore does not condone the use of our platform for the purposes encouraging/endorsing hate speech, violation of human rights and/or utterances of a defamatory nature. If the content contained herein violates any of your rights, including those of copyright, and/or violates any the above mentioned factors, you are requested to immediately notify us using via the following email address operanews-external(at)opera.com and/or report the article using the available reporting functionality built into our Platform See More