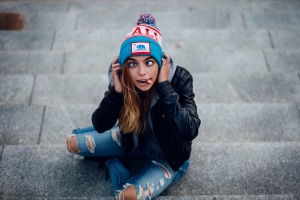 Classroom Chaos:
So in eighth grade I used to peruse during class a ton. At the time I was perusing an Artemis Fowl book, and for reasons unknown I had two duplicates of a similar book. So one day in my English class we were perusing this other book (which I had just completed the process of perusing three days sooner), I was perusing my own book and when it was at last my chance to peruse, I had no clue about where we were. So the instructor removed my book, I discovered my spot, read the part and passed it to the following individual to begin perusing. 
So after I read my part, I took out my second duplicate of Artemis and got right the last known point of interest. Skirt a couple of moments ahead, returns to my chance to peruse, and again I don't have the foggiest idea where we are. So instructor investigates me, sees the book in my grasp, at that point back to her work area clearly mistook briefly. In any case, disregards it realizing it's me she's managing (I've caused comparative issues like this previously), requires my subsequent book and puts it around her work area, and makes me read my part. 
Presently my companion that sat two seats down from me was additionally perusing Artemis simultaneously as me and with a brief glance to him he knew precisely the thing I was arranging. He took it out and ignored it decisively. I opened to an irregular spot and just imagined like I was perusing. (Now it was simply to meddle with my educator.) 
So avoid forward again and my instructor sees me with the book again and says, "The number of those do you have?" I gave my smartass comment as "enough." She removed that book, as well. However, presently now I was out of books, and the remainder of my group knew it. Yet, the educator didn't realize I was out. So she proceeded with her exercise and another companion of mine took two of her books and changed out two of the Artemis books around her work area to make them appear as though they were still there. 
He passed the books gradually around the room, each in turn, until they were back to me. At that point I took one out, opened to an arbitrary spot and just kept it open, holding back to get captured. I quietly motioned to a couple of individuals in class and they began giggling. The educator took a gander at what they were giggling at and saw me with one more book. She took a gander at her work area where there were apparently 3 Artemis books and saw me with a fourth. She took it, strolled back to her work area, put it down, convoluted, and saw me with the second book that got reclaimed around my work area!!! 
The educator thought she planned to dominate this match however belittled my collaboration with my schoolmates. So the subsequent she approached me to take the apparently fifth book, another cohort reclaimed the other two books from her work area and split them up—sending one to me one way, and the other another way. 
The instructor was exceptionally bothered and chuckling madly now and there was no seriously showing going on. The whole class was likewise going ballistic attempting to see who might win. It was only a round of "What number of books does this one eighth grader have?" 
So toward the finish of the class she thought she had taken 11 books from me. I showed compassion for her and mentioned to her what was truly occurring. I disclosed to her that I had just perused the primary book, and all the collaboration that went on. We were both snickering and making jokes. In the end she consented to allow me to peruse my own books as long as I monitored the genuine book we were perusing. (Which means, I ask the individual close to me reveal to me when it's my turn and they bring up my spot to peruse so I don't really need to follow along.)
Content created and supplied by: Marshalnews (via Opera News )