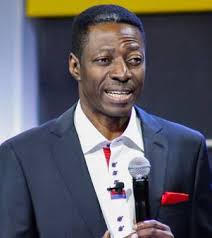 According to Sam Adeyemi:
"You can never be poor if you:
*Line up your thinking with the Bible.
*Read the books rich people write.
*Associate with rich people.
*Are careful about those who advice you."
(1) Line Up Your Thinking With The Bible
According to Sam Adeyemi:
"In your finances you will experience transformation literally if you renew your mind;if you change your thinking..The level of thinking that brought us to where we are can't carry us beyond where we are.We need to change our thinking.lf you must be rich, you must stand out in your thinking.
Continuing Adeyemi added:
"Use the word of God (the Bible) to change your thinking... The Bible is the book of opportunities;it sees opportunities when people see problems;it talks about resurrection when others talk about death;it sees miracles where others see obstacles;it sees abundance where others see scarcity".
(2) Read The Books Rich People Write.
According to Sam Adeyemi:
"If you are still struggling with financial Independence, many of the things you know about money are assumptions and assumptions are the lowest form of knowledge....Dr.Mike Murdock recommended that if you are serious about your finances,the number of books you have about finances must be equal to your age.Hence if you are forty years old, you should have forty books on finances".
(3) Associate With Rich People:
According to Sam Adeyemi:
"If you come around rich people it is definite that they will change your thinking pattern.They will stretch your mind.That is what usually scares people from rich men.When l seek advice from my mentors,the things they tell me to do are sometimes completely different from what l think l need to do to succeed."
(4) Careful About Those Who Advice You:
According to Sam Adeyemi:
"When I started out in Ministry there were people l talked to who made me feel like l made a mistake.Of course l didn't stay around such people... You should note that not so many people can mentor you financially.There aren't so many rich people around.You therefore need to challenge conventional thinking".
Thanks for reading this piece.
Content created and supplied by: ThomasUsigbe (via Opera News )