Nigeria is made up of several ethnic groups, the majority of which are the Igbo, Hausa and the Yoruba. Within these ethnic groups there are several tribes numbering about 371. Therefore, this article will expose us to all the States of Nigeria and the tribes in each of them.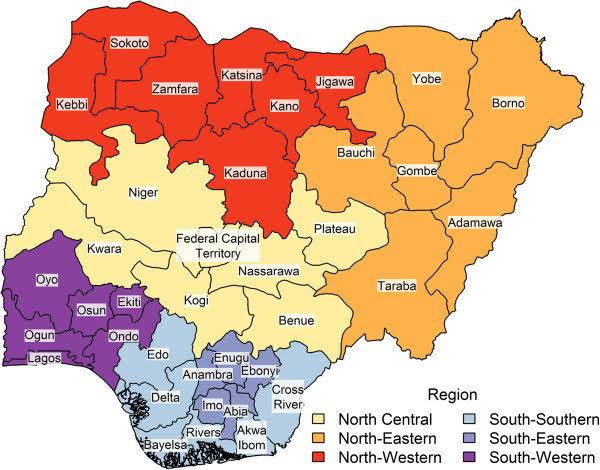 Photo Credit: Researchgate.net
1.) Abia - Igbo
2.) Adamawa - Babur, Bachama, Banso (Panso), Batta, Baya, Bilei, Bille, Botlere, Bura, Bwatiye, Bwazza, Daka, Palli, Ga'anda, Gira, Gizigz, Gombi, Gude, Gudu, Gwa (Gurawa), Gwamba, Hausa, Higi (Hig), Holma, Hona, Ichen, Jibu, Jirai, Kaka, Kambu, Kanakuru (Dera), Kanuri, Kurdul, Lakka, Lala, Ubbo, Longuda, Mambilla, Margi, Matakarn, Mbol, Mbula, Muchaila, Mundang, Ngweshe, Njayi, Pire, Shuwa, Sukur, Teme, Tigon, Tur, Vemgo, Verre, Wula, Wurbo, Yungur.
3.) Akwa-Ibom - Anang, Andoni, Eket, Ibon, Ibibio, Igbo.
4.) Anambra - Igbo.
5.) Bauchi - Angas, Bambora (Bambarawa), Banka (Bankalawa), Bara, (Barawa), Barke, Bele (Buli, Belewa), Bole, Boma (Bomawa, Burmano), Bomboro, Buli, Burak, Buta, Chamo, Chama (Chamawa Fitilai), Daza (Dere, Derewa), Deno (Denawa), Oougri, Duma, Pulani, Galambi, Gera (Gerawa, Gere), Geruma (Gerumawa), Gingwak, Geji, Gururntum, Gyem, Hausa, Baku, Jara, Jere, Jukun, Kamo, Karekare, Kariya, Kirfi (Kirfawa), Kubi, Kushi, Kwanka, Kwami, Kwanka, Limono, Miya (Miyawa), Ngamo, Ningi, Polchi-Habe, Rebina (Rebinawa), Sanga, Saya, Segidi, Siri (Sirawa), Tangale, Tera, Tula, Waja, Warji, Baranda and Zul (Zulawa).
6.) Bayelsa - Igbo, Ijaw, Kolokunu, Ekpetiama, Atissa, Biseni, Igbriran.
7.) Benue - Akweya-Yachi, Igede, Etilo, Idoma, Igbo, Jukun, Tiv, Ufia, Utonkong, Yalla.
8.) Borno - Babur, Pulani, Gamergu-Mulgwa, Gavako, Gwoza (Waha), Kanakuru, Kanembu, Kanuri, Mandala, Margi, Mobber, Ngweshe, Shuwa, Tera.
9.) Cross-River - Abayon, Adim, Adun, Agbo, Akaju-Ndem, Anyimi, Bachere, Bahumono, Bekwara, Bette, Biko (Nki), Efik, Ejagbam, Ekajuk, Ekoi, Etung, Ikorn, Mbembe, Mbube, Nkim, Nkun, Ododop, Olulumo, Qua, Ukelle, Uyanga, Yache, Yakur.
10.) Delta - Igbo, Isoko, Itsekiri, Izondjo (Ijaw), Ukwani, Urhobo.
11.) Ebonyi - Igbo.
12.) Edo - Bini, Egbira (Igbirra), Ebu, Esan, Etsako, Etuno, Igbo, Okpamheri, Owan, Uneme.
13.) Ekiti - Yoruba.
14.) Enugu - Igbo, Mbembe.
15.) Gombe - Hausa.
16.) Imo - Igbo
17.) Jigawa - Angas, Auyoka (Auyokawa), Pulani, Hausa, Kurama.
18.) Kaduna - Attakar (Ataka), Ayu, Bassa, Bina, Pulani, Gure, Gwandara, Gwari (Gbari), Hausa, Jaba, Kafanchan, Kagoro, Kaje (Kache), Kamaku (Kamakuwa), Kanikon, Kanuri, Katab, Kiballo, Koro (kwaro), Kurama, Manchok, Rishuwa, Rumada, Rumaya, Srubu (Surubu), Uncida.
19.) Kano - Pulani, Hausa, Kanuri, Shira Teshena.
20.) Katsina - Pulani, Hausa.
21.) Kebbi - Dankarkari, Danda (Dandadawa), Duka, Pulani, Hausa, Kamaku, Kambari, Reshe, Uncida, Zarma (Zarmawa).
22.) Kogi - Bassa, Bunu, Ebira (Igbirra), Ebu, Gbedde, Hausa, Igala, Igbo, Ijumu, Yoruba.
23.) Kwara - Hausa, Ogori, Owe, Oworo, Yagba, Yoruba.
24.) Lagos - Awori, Egun, Yoruba.
25.) Nasarawa - Hausa, Tiv.
26.) Niger - Baruba (Barba), Bassa, Baushi, Boko (Bussawa, Bargawa), Dankarkari, Gade, Pulani, Gurmana, Gwandara, Gwari (Gbari), Hausa, Kamaku (Karnukawa), Kambari, Kanuri, Koro (Kwaro), Kurama, Laaru, Lopa, Nupe, Reshe, Rubu, Ura, Yumu, Zabara.
27.) Ogun - Awori, Egun, Yoruba.
28.) Ondo - Egbira (Igbirra), Yoruba.
29.) Osun - Yoruba.
30.) Oyo - Yoruba.
31.) Plateau - Afizere, Afo, Alago (Arago), Amo, Anaguta, Angas, Ankwei, Bada, Bashiri (Bashirawa), Bassa, Birom, Buji, Burma (Burmawa), Bwall, Challa, Chip, Chokobo, Doemak (Dumuk), Eggon, Qanawuri, Geruma (Gerumawa), Goeornai, Gusu, Gwandara, Gwari (Gbari), Hausa, Irigwe, Jere, Jimbin, Jukun, Jida-Abu, Kantana, Kanuri, Kurama, Kwalla, Kwanka, Kwaro, Kwato, Limono, Made, Miango, Montol, Mushere, Nokere (Nakere), Nunku, Pai, Pyapun, Rindire, Ron, Rukuba, Shangawa, Shan-Shan, Sura, Tarok, Tiv and Yuom.
32.) Rivers - Abua (Odual), Andoni, Degema, Ebana (Ebani), Egbema, Engenni (Ngene), Epie, Etche, Gokana (kana), Igbo.
33.) Sokoto - Pulani, Hausa, Kyenga, Shanga (Shangawa), Uncida.
34.) Taraba - Babur, Bakulung, Bali, Bambuko, Banda (Bandawa), Betso (Bete), Bobua, Chamba Chukol, Dangsa, Dida, Dangsa, Diba, Pulani, Gengle, Gornum, Gonia, Gwom, Hausa, Idoma, Jahuna (Jahunawa), Jero, Jonjo, Kaba (Kabawa), Kadara, Jukun, Kanuri, Karimjo, Kenton, Koma, Kona, Kugama, Kunini, kuteb, Kutin, Kwanchi, Lama, Lamja, Lau, Mbum, Mumuye, Ndoro, Nyandang, Panyam, Pkanzom, Poll, Potopo, Sakbe, Sate, Shomo, Tarok, Tikar, Tiv, Vommi, Waka, Wurkun, yandang and Yott.
35.) Yobe - Affade, Babur, Bade, Bole, Buru, Pulani, Hausa, Kanuri, karekare, Manga, Ngamo, Ngizi.
36.) Zamfara - Hausa.
37.) FCT Abuja - Gwari (Gbari), Hausa.
Reference Sources:
https://www.vanguardngr.com/2017/05/full-list-of-all-371-tribes-in-nigeria-states-where-they-originate/
https://www.pulse.ng/lifestyle/food-travel/200-nigerian-tribes-and-where-you-can-find-them/mebrsr9
Content created and supplied by: FrankChukwu (via Opera News )
Opera News is a free to use platform and the views and opinions expressed herein are solely those of the author and do not represent, reflect or express the views of Opera News. Any/all written content and images displayed are provided by the blogger/author, appear herein as submitted by the blogger/author and are unedited by Opera News. Opera News does not consent to nor does it condone the posting of any content that violates the rights (including the copyrights) of any third party, nor content that may malign, inter alia, any religion, ethnic group, organization, gender, company, or individual. Opera News furthermore does not condone the use of our platform for the purposes encouraging/endorsing hate speech, violation of human rights and/or utterances of a defamatory nature. If the content contained herein violates any of your rights, including those of copyright, and/or violates any the above mentioned factors, you are requested to immediately notify us using via the following email address operanews-external(at)opera.com and/or report the article using the available reporting functionality built into our Platform See More