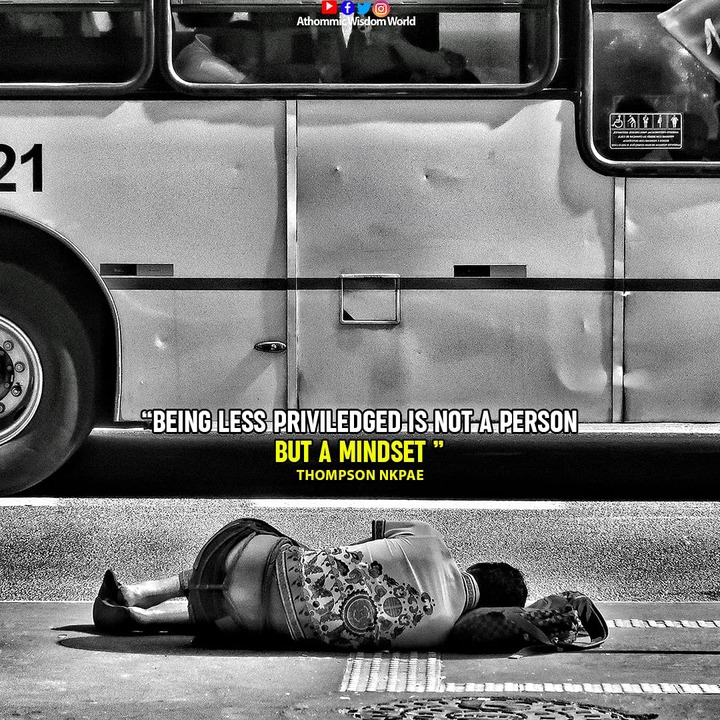 Life is made up of different kinds of people at different levels, but one significant thing about life is that everyone has power to choose the exact position or level he intend's to occupy.
The sun comes at it own time... No one can change it.
The night comes at due time... No one has the power to change it.
The summer and the winter... No one can change it.
Though, you can turn the hands on your wrist watch, yet, you can't bring back the past events or happenings.
All these are natural except one thing and that's the only thing we all desire.
Both the past and present centuries have proven to us by their achievements that no one is less privileged.
Blind, cripple, deph, dumb, widow, fatherless or motherless.
"We all have the power to effect the change we desire in our lives "
"one may be physically challenged, yet become super productive"
"The only one person that is less privileged is one without the mind, and there is no such person on earth"
The greatest asset to mankind is the Mind.
Right from the mind we create, manufacture, invent, and also discover.
"The mind is the only secret place on earth where only one person can access "
"The mind is the only secret place where one meets with success, prosperity, health, pain, sickness and failure but you decide what you meet with in your mind per-time"
Choose to positively develop your mind and you will meet with wealth, success, long life and peace.
Content created and supplied by: Wisdombank (via Opera News )