Seldom do we ever associate martial arts with the African continent as it's largely associated with Asia. However, most people around the world have their own form of it. Self-defense is a human tradition for our community. Martial arts was largely made popular during the black exploitation films of the 70s, black heroes performing martial art techniques became such an inspiration. Ironically, while we were busy emulating the great Asian traditions we forgot to look back at our own.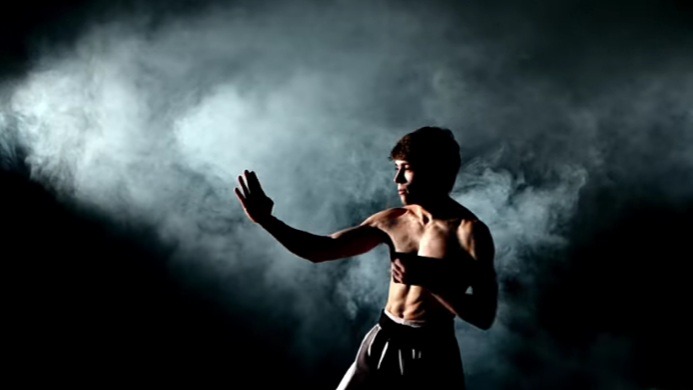 We wanted to discuss martial arts on the continent of africa. First let's define martial arts. Traditionally, martial arts has been defined by a system created for self-defense, whether it be for an individual a group or a nation. Now most people don't consider entertaining or competitive art forms of self-defense as a martial art, but it can still be included, and i'll be including one in this article today. But most of these martial art forms mentioned today will be along the lines of individual and military self-defense.
Our first martial art is perhaps one of the oldest forms of self-defense in human history, and that's wrestling. Africans have been wrestling since ancient times. We know this because they kept records of it on wall reliefs in Egypt. Wrestling from an African perspective was a sport of kings, if you will. Meaning that Nile valley rulers took the time to observe it. These wrestling contests were apparently done in their honor, and also a tool to symbolize the strength of the nation.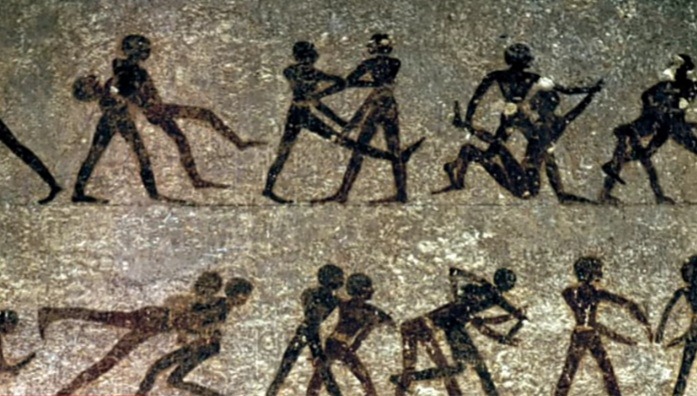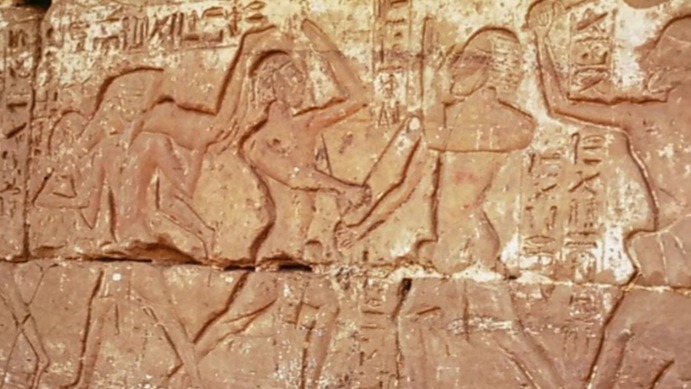 The first record of wrestling in Africa dates all the way back to 2300 BC. This is very old, as many places around the world didn't even have a recognizable civilization. The so-called Nubian wrestlers seem to have been popular, as they appear frequently on wall reliefs. Some scholars suggest that wrestling along the Nile helped to prepare men for battle mentally and physically, and so it may have been seen as a national duty to invest in the tradition. Oftentimes, we see gourds dangling from wrestlers, which is supposed to indicate the loser according to some scholars, because once a wrestler is taken to the ground the gourd breaks. Interestingly enough, this can still be observed among Sudanese wrestlers today. It's also interesting that according to oral tradition, the origin of wrestling amongst the Nubian people came from a desire to imitate certain animals and insects which were abundant in the hill country. The Nuba people observed how some monkeys and insects wrestled each other, especially how the monkeys played with each other by attempting to overthrow the other. The Nuba were fascinated by the techniques the monkeys used. As an example, apparently, the monkeys would rub their hands on the ground, collecting dirt which ultimately helped their grip. This oral tradition seems to be very similar to other martial arts traditions in Asia, as some of their forms mimicked animals.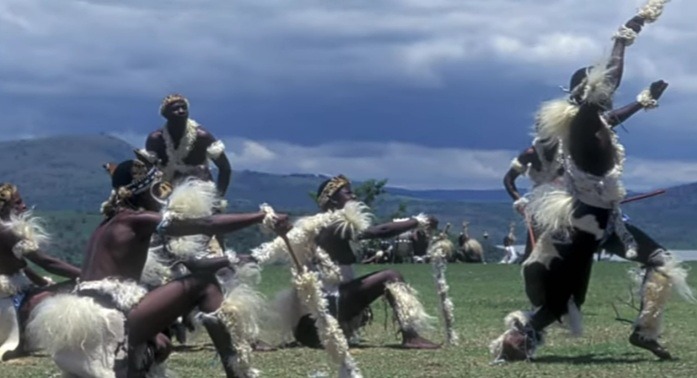 Our next form is Zulu stick fighting, which is more of a martial art that is used for the military. Shakazulu, apparently, used this long tradition of stick fighting in the region as training for warfare, and as a way for his men to earn themselves positions in his military. The techniques and maneuvers used in Zulu stick fighting are similar to those incorporated in zulu warfare, with the biggest difference simply being the weapons used. Today, stick fighting provides an opportunity for men in Southern Africa to build confidence, improve their skills and earn respect in their communities. One of the things I find fascinating about Zulu stick fighting is that it's not taught via a formal training program or process. It's supposed to be learned via assimilation, observation and experimentation. Individuals are to create their own way by observing effective techniques and modifying to suit their physical needs or talents. In this way, the enemy cannot simply learn the format of a particular group. Each member he faces will bring something slightly different to the table. In other words stick fighting is supposed to evolve and not be barred down by traditional concepts or ideas. This is very similar to Bruce Lee's concept of jeet kundo. It's incredible that the zulu incorporated something similar centuries before.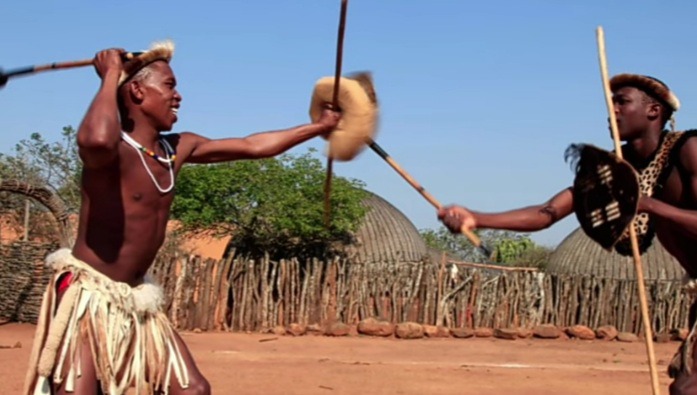 Our next martial art is called Engolo, which comes from the modern day region of Southern Angola. Engolo is one of the most unique martial arts in human history. Its descendant, capoeira, has even been featured in movies and video games. Unlike the origins of various martial arts throughout the planet, one scholar suggests that engolo did not originate from animal observation, but local African cosmology. The origin of engolo according to this scholar, is believed to have been a sacred pastime handed down from the ancestors. It was only later that the engolo took on a self-defense aspect, in which it may have imitated the finesse and power of the zebra. The zebra had an ability to evade and deliver powerful kick attacks.
" In general, the martial art aspect of Engolo, with its characteristic inverted kicks, can be understood as a stylistic manipulation of ancestral power. The ancestral plane or world was inverted, one then emerged into the world of spiritual power where the ancestors walked inverted with their feet up and hands down". This quote exemplifies the spiritual aspect of engolo accessing the spiritual realm through inverted techniques, such as the powerful angolo or capoeira kicks. The circle spaces used in engolo are in association with local kalunga cosmology. Engolo shined in helping fighters evade and dodge, while also assisting in attacking in a seamless flow of energy with very little pauses. This is one of the reasons why enslaved Africans in Brazil who came from Angola were able to hide this martial art as a form of dance, and finally as an honorable mention.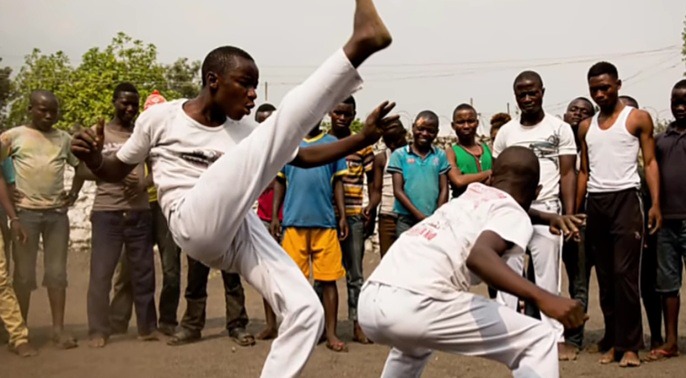 We have the African martial art of Dambe. Now many people wouldn't necessarily call this a martial art in the pure sense, but it's more of a combat sport used for entertainment purposes, originating amongst the Hausa people. The dambe fighter's dominant hand is wrapped and is used primarily for striking, the other hand is usually used for holding, blocking or guiding one.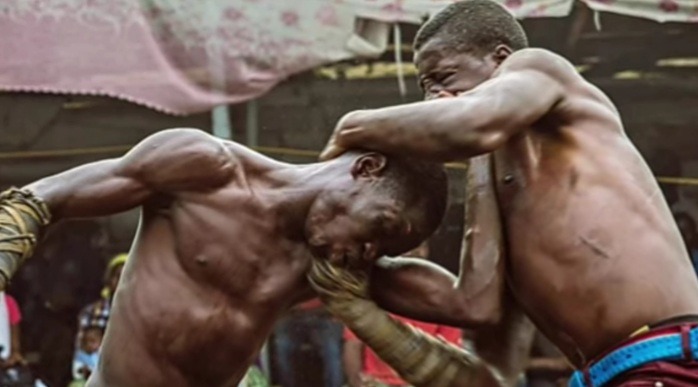 Interesting note about the history of dambe comes from Edward Poe, the pioneering researcher in the area of Nigerian martial arts. Here's what he has to say, "One should also note that the single bound fist and salute in dambe bears a remarkable resemblance to pictures of Egyptian boxers drawn on the walls of the tombs of the ancient pharaohs". Unfortunately, however, reliable information on the origins of dambe hasn't really survived, but Edward's observation is nonetheless fascinating. For the most part, modern day dambe has been credited to Hausa butchers with an intent to teach military skills to beginners.
I hope you enjoyed readings. Kindly like and share this article and follow me for more historical contents.
Content created and supplied by: Technome (via Opera News )