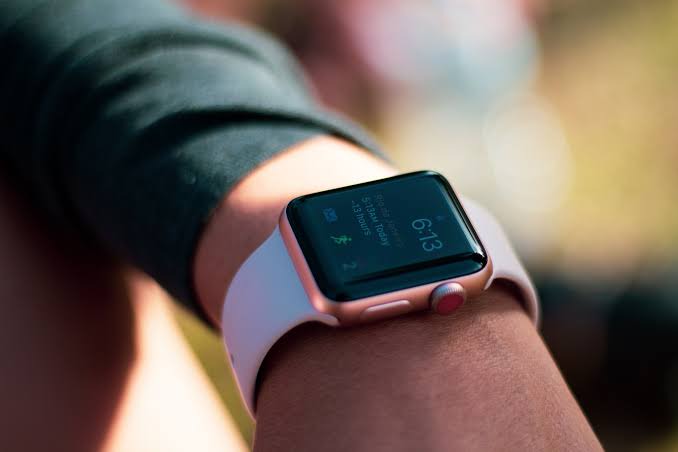 Things have changed. Technology is evolving and things are getting better. As new things are coming up, old things are phasing out. Everything is now being computerized. This is true in the case of the wristwatches we wear. Science has transformed our wristwatches that only tell the time to computers that are worn on our wrists.
Smartwatches offer features that are similar to those of smartphones. They're designed to either work on their own or they can be paired with a smartphone. Smartwatches offer features like connecting to the internet, checking notifications on our phones, making calls, sending texts, checking weather updates, providing fitness features, etc. They reduce the need for always taking out your smartphone.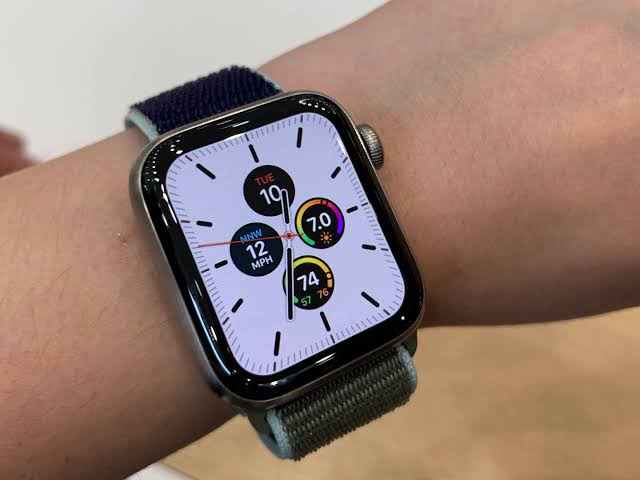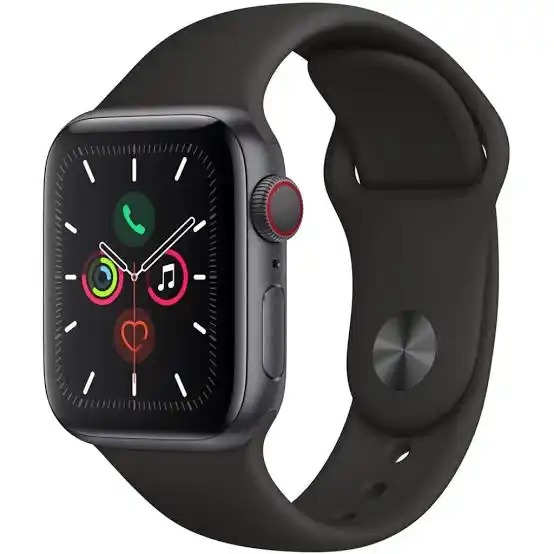 Smartwatches come in different specs, designs and prices. In this article, I'll looking at the top 4 smartwatches in Nigeria. Here they are:
1. Apple watch series 5: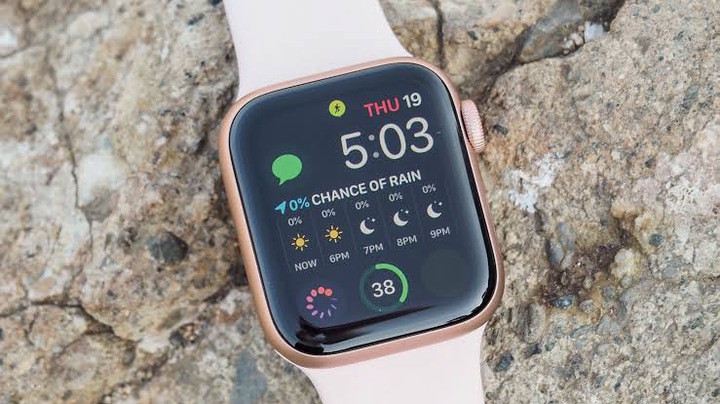 Apple series 5 watches come in two band sizes: 44 mm band size and the slightly smaller 40 mm size for those with thinner wrists. This smartwatch has a 1.78 inches, LTPO OLED capacitive touchscreen, 32GB ROM and an 18 hours battery life.
This smartwatch has some interesting features. The Noise app is an interesting continuation of Apple's health care. It will warn you when you are in a noisy environment and how prolonged exposure to loud noise can damage your hearing. It has also has Electrocardiogram (ECG) for heartbeat monitoring and it will alert you if there's any abnormalities in your heartbeat.
This smartwatch can only connect to an iPhone. You can connect a Bluetooth headphone to the watch for listening to music, you can reply messages and emails, check the weather, etc.
The watch starts at ₦214,000.
2. Samsung Galaxy watch: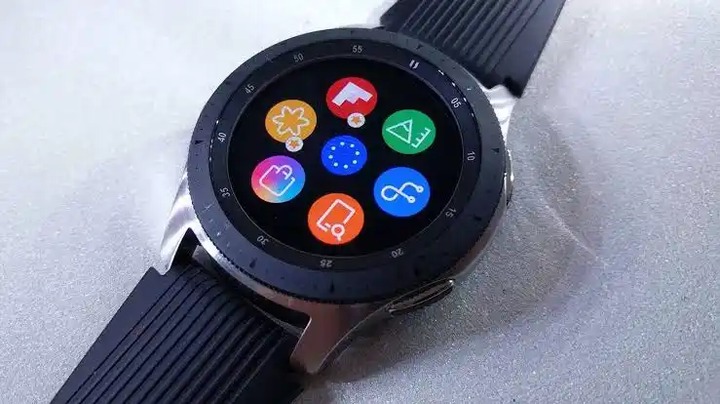 You can use the Galaxy Watch with almost any Android phone by downloading the Samsung Gear app on the phone. The watch can also work with iphones. This watch has a 1.3 inches Super AMOLED capacitive touchscreen, 768MB RAM, 4GB storage and a standby battery life of up to 72h (around 2 days with normal usage). The watch also supports Qi wireless charging.
You control the watch by rotating the bezel of the screen inorder to quickly and easily navigate the menu, instead of pushing and touching the tiny touchscreens.
This watch is packed with many fitness features, including a heart rate sensor, automatic recognition of workouts, physical movement tracking, built-in GPS and a number of fitness apps available on the Samsung app store.
There is a 4 GB of internal memory in the watch for storing music. The watch supports spotify music playlists, and you can connect it to a bluetooth headphone so that you can be able to exercise without connecting to an android phone.
The watch cost around ₦178,000.
3. Samsung Gear S3: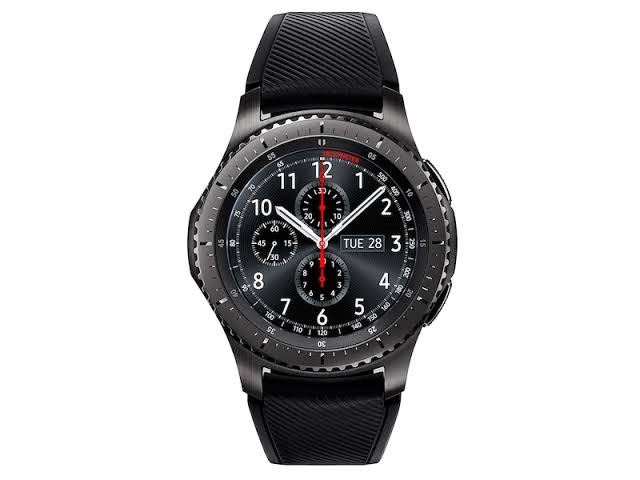 To begin with, the Samsung Gear S3 has a nice design. It has two different versions: the Frontier variant and the Classic variant. The frontier variant looks more sporty while the classic variant looks slightly more elegant. Both watches have the same functions. Both have a 1.3 inches touchscreen, 768MB RAM and 4GB of inbuilt storage. The watch is very similar to the Galaxy watch and has the same fitness features found in it's Galaxy watch sibling.
Just like the Galaxy watch, you can download apps like Spotify and listen to music via the watch. You can also call via the smartwatch.
The watch is quite easy to operate. By rotating the watch's bezel, you can easily turn through the main apps. Via the bottom right button, you switch to the app menu and switch easily with the top button back to the main menu.(the clock view). With normal usage, the watch would last around 2 days. But unlike the Galaxy watch, this watch can only work with Android phones. It can't work with iphones
The watch starts at ₦90,000
4. Xiaomi Amazfit Verge: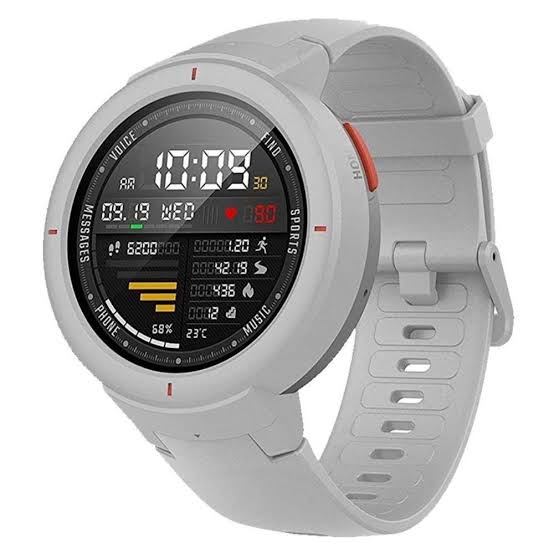 The Amazfit Verge has a circular 1.3-inch AMOLED display that is protected by a Gorilla Glass 3, 512MB of RAM, 4GB of internal storage.
When it comes to it's tech features, the Amazfit Verge has just about everything you could ask for — including NFC for mobile payments via AliPay, Built-in GPS, Heart-rate sensor, sleep monitor, IP68 waterproofing, and voice assistance.
Even with all that tech crammed inside the Amazfit Verge, when it comes to its battery life, it is still promising and can last around 5 days of battery life normal usage on a single charge.
This watch costs around ₦50,000
For people who exercise a lot, these smartwatches would help you track your progress. If you own an iPhone, you can go for the Apple Series watch. If you're interested in a watch that has a lot of features and looks good, go for the Galaxy watch. But if you're shopping for a smartwatch that looks almost like a standard watch or a watch that isn't too expensive and you don't mind getting fewer features, you can go for the Amazfit Verge watch.
Thanks for reading. If you have any experience with these watches or you have any comments, please do share them in the comments section. Also, please do like the article and please do follow me for more articles. Thanks again.
Content created and supplied by: Josephlase (via Opera News )