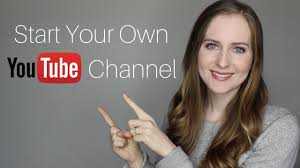 As a YouTuber your job is to create quality videos that add value to your viewers. People will only subscribe to your channel when they know it will help or educate them.
Also an atom of creativity and humour is needed to survive in this niche. So if I were you I will watch and listen to professionals who are already established in this field to learn about their strategy and tactics. 
1. A good video camera
From the beginning if you know you can afford a good and quality camera. I will advise you do so. But if don't, then make sure you get a smartphone that has a good and quality camera to begin with. Then when you are already established and earning enough income from it you can then dive to buy your equipments.
2. A Microphone
This is another very important equipment that you need to have as a YouTuber. You don't want your audience or subscribers to be bombarded with noise while watching or listening to you. So you need to make sure your microphone is available and working fine. But if you don't have, make sure where you are filming isn't noisey.
3. A Laptop
Yes you need a very good laptop to do your editing. Most of the best software you will need require a P.C. so if you don't have a laptop how do intend to edit your videos? So it is advisable you get one before starting your YouTube channel. 
Content created and supplied by: Evinsian (via Opera News )