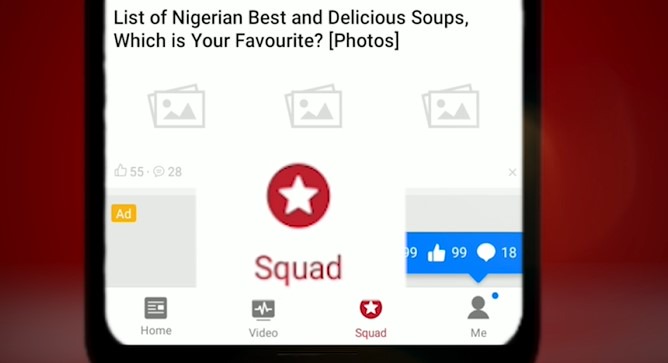 Opera News Squad is a self-posting platform. Account creators are responsible for the content that he/she posts or uploads on the Squad feature of the Opera News app. However, Opera News reserves the right to remove content or ban members who violate community standards. All account holders are expected to adhere to these guidelines:
1. Clickbait/Fake information
* Don't post contents that would trick other users into clicking, especially if the cover contains vulgar hints. Such contents would not be recommended for users on Squad or on the app. 
* Owing to the fact that users would want to engage with each other, It is wise to use correct details in the account information to enable users to receive prompt notifications when they drop. 
* When it is seen that the description of uploaded posts/contents do not match the associated media to it, it would be flagged and not recommended to users. This is to prevent the spread of fake or unverified information in Squad, the app and the entire media space at large. 
* Using a private individual's pictures or videos to depict a negative story that bears no relevance or context to a post/content is not allowed and will be considered a violation under wrong use of image. Such posts would be demoted and multiple violations of this would result in a ban of the uploader using the platform. 
2. Low quality/Errors 
Before uploading any content, please check for grammatical errors along with other issues that could reduce the reach of your post. Posts with more than 10% grammatical errors will not be recommended to the wider reach despite it being a trending topic or content worthy of a lot of engagement.  
3. Public impact of the content
* A topic of legitimate public interest is different from a topic in which the public may be curious. We will consider what the impact is to users if they do not know about that content. If the post does have the potential to impact the lives of large numbers of people, the running of a country, and/or it speaks to an important societal issue then we may allow the content to remain. Likewise, if the impact on the public is detrimental to the safety of law and order, we will most likely remove this content in violation of our safety policy. 
* Some people, groups, organizations and the content they post on Squad may be considered a topic of legitimate public interest by virtue of their being in the public consciousness. This does not mean that their posts/contents will always remain on the platform. Should there be a legitimate public interest for that particular post/content to still be recommended to users on the platform to engage in, this would be considered.
* It is also important to desist from posting unverified claims or information or try to spread rumors that relate to personal individuals or organisations which in turn can endanger lives and properties. Though everyone is free to express themselves in whichever of the available media that are available on the Squad feature, caution should also be exercised as the consistent uploads of posts/contents that are not verifiable will be removed. 
4. Porn, Child pornography, Gory Disgusting, Uncomfortable Contents 
* Don't post contents (pictures, audio, music, videos) that contain full blown pornography or extreme exposure of parts of the body deemed to be private as this would be rejected. 
* Any form of child pornography or abuse would be rejected and the account banned after repeated violations. 
* Contents deemed to be racy and/or considered to be of a soft sexual nature would not be recommended to our users as this would be limited to users that are interested in seeing such contents. 
* Content showing gory scenes of persons/individuals being slaughtered, killed in the advent of an accident or public unrest, tortured, or having excessive injuries will not be permissible. 
* Gory and disgusting contents such as but not limited to gore, violence, and horror pictures in social reports, uncovered corpses, images that can easily cause readers to feel unwell, such as faecal matter, eating of live animals, abnormal people and animals would be rejected by the Quality team unless it is found to be of content of legitimate public interest.
5. Violence, Drugs, Blood
* Every content that contains bloody scenes, such as slaughter of animals, the display of human or animal limbs, bloody scenes such as surgery, riots, rape, abductions, murder, drugs, Military or police crackdowns on rebellion would be reviewed by our Quality team. 
* Display of prohibited items such as guns and controlled knives in posts would also be reviewed by the Quality team. The current exception to this rule is for Museum displays or involving security personnels legally equipped to carry these prohibited guns
* Threatening violence against an individual or a group of people or inspiring others to take part in similar acts of violence irrespective of race, ethnicity, national origin, sexual orientation, gender, gender identity, religious affiliation, age, disability, or serious disease is not allowed. Users who feel in any way threatened can report these posts/contents which would be reviewed immediately by the Quality team. 
6. Improper Religion, Ethnicity
* As much as we would want to encourage the right to worship in any religion of choice as well as freedom of expression irrespective of tribe or race, we caution that users be wary of uploading contents that do not have any verifiable fact or was directly attributed to the person(s) of interest. 
* Any form of illegal religious propaganda in the form of religious affiliations, leaders, flags, slogans and other symbols, along with misconducts against legitimate religious affiliations and its entities would not be recommended to other users on Squad. 
* Any statement or content deemed to be inappropriate to other ethnic groups would also not be tolerated. If it has to be uploaded, such contents would be critically reviewed by the Quality team for more recommendation to users of the platform. 
7. Intimidation & Abuse
* Don't upload or create posts/contents that are deliberately targeted towards harassment and intimidation of persons or incite other persons to do so. This includes but not limited to improper political opinions, public appeals, deliberately discrediting governments, political parties, and politicians without recourse.
* Do not upload or create posts/contents that are directed to a person(s) or group deemed to be libelous, defamatory, and insulting irrespective of the class or the personality be it public or private. 
* Promotion of any form of terrorism, violent extremism and violent organisations is not allowed. This includes and not limited to deliberate attacks, bombings, spread of dangerous substances and activities of terrorists. 
* Violent extremist groups are those that meet all of the below criteria:
- identify through their stated purpose, publications, or actions as an extremist group;
- have engaged in, or currently engage in, violence and/or the promotion of violence as a means to further their cause; and
- target civilians in their acts and/or promotion of violence.
 * Violent organizations are those that meet all of the below criteria:
- a collection of individuals with a shared purpose; and
- have systematically targeted civilians with violence. 
8. Violations of National laws
* This relates to any posts/contents that object to the basic principles as determined in the constitution of Nigeria and/or endangers the unity of the nation, threatening national unity, sovereignty or territorial integrity. Such posts/contents could be but not limited to:
- posts/contents advocating for separation of Nigeria.
- posts/contents that threaten violence, killings against people of other ethnic groups. 
- posts/contents calling for violent overthrow of the government. 
- posts/contents calling for the foreign invasion of Nigeria.
- posts/contents that falsely claim or wrongly quote to claim the death of Nigerian leaders -President etc. 
- posts/contents that falsely allege or (falsely quote another publication) crime, fraud, murder against the national leaders without proof.
- posts/contents making false claims about national security.
- posts/contents making false remarks and claims about the Armed Forces.
* It should be noted that posts/contents that relate to the violation of current National laws would be strictly scrutinized by our Quality team irrespective of public interest in such posts/contents as we owe it to ourselves and the entire community to only share authentic information that is related to national security.
9. Not Safe For Work (NSFW)/Not Safe For Life (NSFL)
Don't post any content that is inductive, such as causing users to imitate behaviours that would put them in danger. These include but are not limited to dangerous challenges that can cause bodily harm.
10. Advertisements
We do not promote adverts on the community platform neither do we encourage it and as such, advise that users desist from uploading such in our different community groups. Should you want to place an ad on the Opera News app, please contact: [email protected].
For all Squad community related issues, do not hesitate to send an email to this email: [email protected] and our team would reach out to you. Kindly note that all news hub related complaints that require the attention of an Opera News official should be sent through the official feedback channel: [email protected] 
Cheers. 
Content created and supplied by: OperaNewsSquad (via Opera News )
Opera News is a free to use platform and the views and opinions expressed herein are solely those of the author and do not represent, reflect or express the views of Opera News. Any/all written content and images displayed are provided by the blogger/author, appear herein as submitted by the blogger/author and are unedited by Opera News. Opera News does not consent to nor does it condone the posting of any content that violates the rights (including the copyrights) of any third party, nor content that may malign, inter alia, any religion, ethnic group, organization, gender, company, or individual. Opera News furthermore does not condone the use of our platform for the purposes encouraging/endorsing hate speech, violation of human rights and/or utterances of a defamatory nature. If the content contained herein violates any of your rights, including those of copyright, and/or violates any the above mentioned factors, you are requested to immediately notify us using via the following email address operanews-external(at)opera.com and/or report the article using the available reporting functionality built into our Platform See More