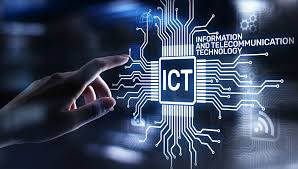 A good way to think about ICT is to consider all uses of digital technology that exist to help individuals, businesses and organizations. ICT covers any product that store, retrieve, manipulate, receive and transmit information electronically in digital form. 
What is Information and Communication Technology (ICT)
ICT is an acronym for Information and Communication Technology. There is no specific definition for ICT. It is an umbrella term that includes any communication device or an application which include the radio, television, computer network hardware and software, phones and satellite systems. It is also concerned about how different applications works together with each other.
Types of ICT in business 
ICT is often categorized into two broad types which are 
1. Traditional computer based technology 
This technologies are things we can typically do personally on computers on our own without a supervisor at home or at work. Examples are:
A. The standard office applications which includes:
I. Word processing
II. Spreadsheet
III. Database software 
IV. Presentation software 
V. Graphic software
B. Specialist applications 
I. Accounting packages 
II. Computer Aided Design 
III. Customer Relations Management 
2. Digital communication technologies
This is the communication of data by electronic means. It is used for sending and receiving data via network and it allows people and organizations to communicate and share information digitally.
There are aspects of digital communications we need to be awear of and this relate primarily to the two types of network which are 
A. Internal networks 
These are usually referred to as a Local Area Network (LAN). They are involve in linking a number of hardware items both the input and output devices with the computer processing together within a building or an office. The aim is to be able to share hardware items such as printers, scanners, software applications and data.
B. External networks
This help to communicate with someone outside the internal network. In this case one will need to be part of a Wide Area Network (WAN). 
Benefits of ICT 
Some of the benefit include:
1. It allows access to information.
2. Communication channels are increased through e-mail, discussion groups and chat rooms.
3. ICT facilitates sharing of resources.
4. It has a beneficial moltivational influence on transaction.
5. Greater flexibility when and where tasks are carried out.
Content created and supplied by: Tobeeseun (via Opera News )