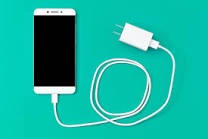 No matter how poor you are, avoid buying those 500 naira USB cords/chargers from traffic.
You'll buy a charger from traffic and when you plug it to your phone, your phone starts to malfunction. You plug a charger into your phone and suddenly your phone starts to act excited like radical feminists when they finally see a tweet to get mad about.
Plug charger to phone and your screen starts to dance. You tap on WhatsApp app but your bank app opens instead. You have to unplug it to be able to type anything coherently. When you even leave the phone to charge, the phone starts to operate itself.
You leave your phone charging to have your bath and next thing your charger unlocks your phone, texts your ex-girlfriend, sends the conversation to your current girlfriend who will in turn break up with you. As if it's not bad enough, it sends porn to your church group and then posts a suicide message on Facebook, on your behalf.
By the time you get back to your phone you're single and unemployed and have taken a loan of 2 million from Union Bank.
©2021
Content created and supplied by: Dhvyd (via Opera News )