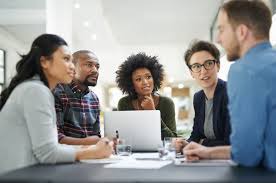 Communication is the foundation of every relationship in your life. Poor communication can causes misunderstandings, problems, and conflicts among your staff, your clients and everyone else you come into contact with.
In contrast, effective communication increases productivity by decreasing stress and conflict. It ensures the right tasks get done within the right timeframe. It enables good work relationships. And it creates a positive environment that fosters successful business practices.
So, how can you develop the skill and help your business reach true potential? Here are some helpful tips for improving your business communication skills.
1. Respond promptly:
Respond promptly when asked a question by a team member or customers. Let them know that they are important to you and your business by listening and acting on issues. Ignoring email or an in person request to meet can cause a positive atmosphere to wilt. Be sure to establish an open-door policy so that everyone can feel comfortable coming to you.
2. Actively listen:
There's a difference between hearing what someone is saying and actively listening. Active listening is a skill and it requires focus.
3. Recognize and reward:
There are few things that make an employee feel appreciated than recognizing stellar work. Instead of just verbal praise, look at cost effect ways to reward your employees.
4. Establish customer service best practices and use feedback constructively:
A little research can uncover a lot of information out there about customer service best practices. Failing to respond to a customer can be a deal-killer for many consumers.
Also, create a system for collecting comments. The data you uncover can be invaluable to help strengthen and grow your business.
5. Work on your body language:
We don't communicate solely with words. Everything about our demeanor expresses a specific point, from our eye contact to our facial expressions. Understanding what your body language says and interpreting others' body language correctly will help you communicate more effectively.
Practice using body language to make others feel like you're actively engaged in the conversation. Make eye contact and sit up straight.
Ultimately, effective communication can be one of the most important skills you can use to build your business.
I hope you find this helpful? Don't forget to share.
Content created and supplied by: Upzy (via Opera News )