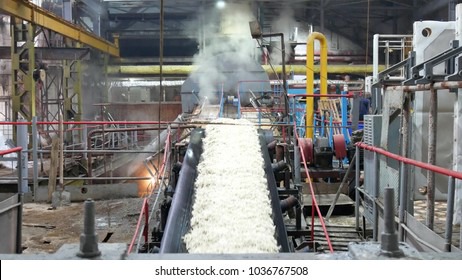 Here in the post we are going to give you a detailed guide on the steps for sugar production in Nigeria. We hope this is helpful for you.
 Sugar is an everyday household currently consumed in Nigeria; It is also used in bakeries and restaurants where pastries, snacks and bread are produced.
 Many people may not know that this sugar that we use almost every day is formed from sugar cane, yes, its sugar cane. The sugar cane we get from the melam that brings it north to other areas in the country.
 North is the main producer of sugarcane in Nigeria because they are able to produce it in commercial quantities.
 Every day people use sugar for many purposes in Nigeria, making it an expensive product in the market. Do you know that you can be a producer of sugar?
 But it will cost you a lot of money to set up the factory with the necessary equipment, hire workers and also run it, so it will be a huge investment worth investing in because you are sure to get a sale every day.
 Business profitability
 There are things that need to be examined in this business to find out its profitability. Sugar is produced every day and also sold every day because there are people who need it.
 Sure you have customers in homes, bakeries, confectioneries and catering. With very few producers of this commodity, you will be able to walk around it and make a great name for yourself in good time. All you need is to start your own business.
 Just like I said there are few sugar manufacturers in Nigeria, if I may say so, there is only one sugar manufacturer in Nigeria which is Dangote, as there is no other known manufacturer of sugar other than Dangote Sugar.
 Although in the past this popular sugar was called St. Louis, but as the years have passed, there is only one producer named Dangota.
 Market opportunities
 There are good opportunities for the prosperity of this business in Nigeria, due to the fact that there is only one major sugar producer in Nigeria with a lot of sugar consumers, it provides a wide market for sales and entry into the market.
 It will require operation from a particular area, being a major name with good and efficient distribution of products, which will help in increasing sales and entering the market.
 Competitions
 The current competition is a small but strong competition; Small because there is only one competitor in the market, strong because the manufacturer has been a household name for years with a distribution network spanning Africa and Nigeria itself, which will make it a fierce competition if you enter the market.
 But it is necessary to capture a certain area first before moving on to another area, and slowly you will have a home name.
 You want to know by now how to carry out this huge task of sugar production in Nigeria and what you need and what it takes to produce sugar in Nigeria, if you are ready, let's get to the business details of how to start a business.
 How to start a business:
 1. Knowledge or experience required
 For any business that is interested in going out, it must have complete and complete knowledge of the business and how it operates; You need to know the equipment needed for manufacturing, where to get them, how they work and any other necessary factor that you will need to gather for effective business management.
 2. Get your factory location
 You will need to purchase your location that will be your factory website to begin the production process of your business. This location will include not only your factory but also an administrative building for performing management and management duties of the business. To do this you may need huge acres.
 3. Registration and business names and licensing
 You will need to obtain all the necessary documents before bringing the heavy equipment you need for production.
 Get your registration from the Corporate Affairs Committee which will make your business legal and your business name secure so that another will not use it in any other business venture.
 Since you are producing an edible product, you should meet with the food inspector in the country that is NAFDAC and find out what is required as a document or license to set up your business and if there is any license you need from any other body you do not know.
 4. Technology is needed
 The production process of sugar requires a lot of technologies, as there are equipment that you can not easily obtain in Nigeria for the process.
 5. Equipment / tools needed
 There is some equipment you will need to start your production process, and I will detail here:
 Steam transformer
 Evaporation system
 Vacuum pans
 Centrifugal machines
 Clarification system
 Sugar drying equipment
 Accept the surface
 A glass in his robe.
 Each of these equipment has its specific duties to perform in the process and all the equipment is seriously needed. You can get all the equipment online in Alibaba, or you will have to travel to China or India to purchase this equipment and bring it to Nigeria and install it in your factory.
 6. Raw materials are needed
 Now that you've got all the equipment you need, you need to get the raw materials needed to make the sugar he bought. There are many farmers in the north who produce sugar cane in commercial quantities especially in the kebab and sokoto countries.
 Let me give a breakdown of how sugar is produced
 The first step is to prepare the stick in which the stems are cut and shredded with heavy equipment to break down the materials.
 The second step is to extract the juice rich in sucrose and extracted from the barrel by rinsing it with sprinklers. Then the leftovers called bagasse are left behind.
 The third step is to clarify the juice, the juice must be purified and this is done by heating it and adding lime to it. Then it is permissible to sit in utensils called clarifiers
 The fourth stage is evaporation, and the juice which is the compound consisting of water is mainly allowed to evaporate in the evaporators which produce a thick syrup.
 Then the fifth stage is called crystallization of sucrose into sugar crystals, the syrup is cooked further in a vessel called vacuum molds and then tiny seed crystals are added.
 Here centrifuges are used to separate the sugar crystals which is the sugar itself from all other things, it actually comes out hot but is preserved and dried for further processing into white sugar, there are still some processes it goes through which means removing impurities to get the purified and refined sugar.
 Financing and tips on how to find funds are needed
 A huge investment is needed for this business. Therefore only those who have more than enough resources are advised to carry out this business.
 There has to be a savings of his own that will be over millions to be able to start and maybe secure loans from commercial banks or an industrial bank that is open to producing and producing business ideas that will help them in setting up the business. You can apply for a loan from the Industrial Bank online or locate their office in your country.
 Tips for packaging / distribution and marketing
 What makes a product attractive and in demand by people is the product packaging. What sustains it in the market is the distribution and marketing network.
 So for your business to gain a lot of space and appreciation in the market, there must be good and attractive packaging, with a good distribution network to put your product into any market and then combine it with a good marketing strategy to allow the market to get it to be aware of your product.
 Use social media and advertising companies to help promote your product and effective distributors who will deliver your product to any market available in your area.
 Management / Personnel
 There is a need for a large workforce for your business, both skilled and unskilled workers, and an administrative and managerial staff that will help in the management and management roles of your business.
 Summary
 The business will be a huge investment with great risk, but in business it is said "the greater the risk, the greater the profits". In order for you to thrive in this business, you must be open to the fact that there will be competition based on the fact that you are entering a monopoly market, however, keep in mind that you are creating employment for those who are not unemployed.
 Sugar is needed all over the country so you can be sure of promotions and before it is up to 3 years you will see your big income coming in.
Content created and supplied by: BusinessBoy (via Opera News )