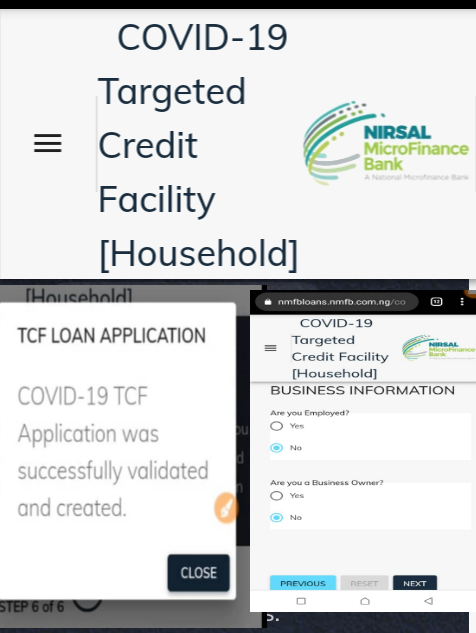 The household loan is one of the COVID19 Targeted Credit Facility (TCF) made available to all household that was badly affected by the covid19 pandemic in Nigerian which also includes MSMEs and SMEs.
Just last week, it was announced that the CBN has approved an additional 150billion Naira to enable more household and SMEs to benefit from it.
However, each household can apply from N50,000 to a maximum of N1,000,000 with a tenure of 36months and a moratorium of 12months maximum which you can choose from.
The household components of the targeted credit facility can be accessed directly through the NIRSAL Microfinance Bank website which is https://nmfbloans.nmfb.com.ng/covid19tcfhousehold
Please note that any site other than the one stated above is not genuine and the covid-19 support facility application portal is online not by form submission.
Before we proceed to the six registration steps, you should bear in mind that the Bank Verification Number BVN is the most important requirement in the application process.
So, we start by logging in to the portal through; https://nmfbloans.nmfb.com.ng/covid19tcfhousehold with our smartphone or PC browser.
Step one: APPLICATION STATUS
select new and click on NEXT. copy the code that is displayed on the screen for reference purpose and click o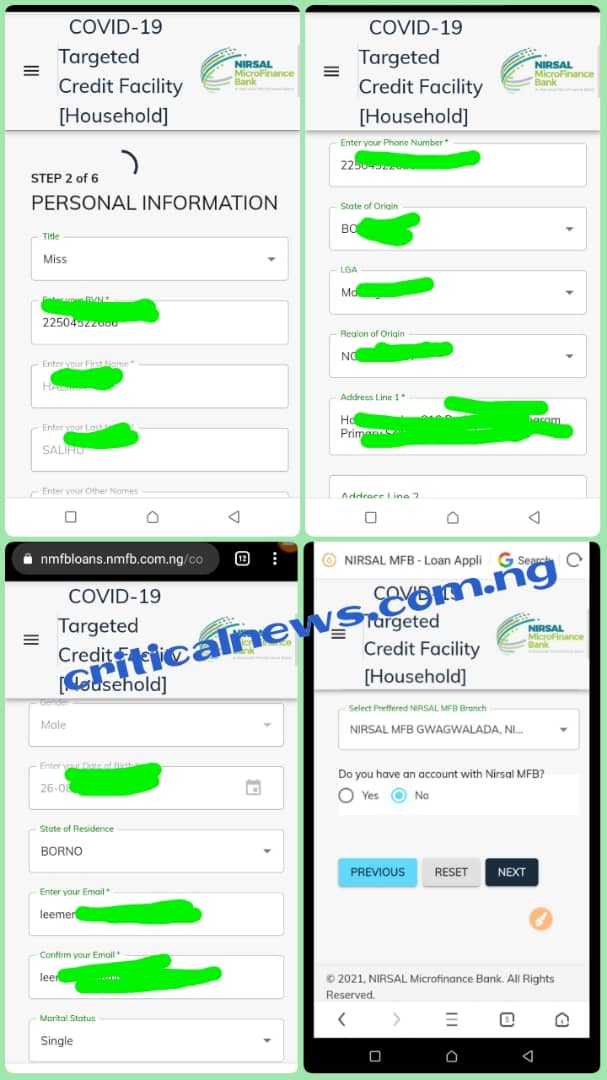 n CONTINUE the NEXT. However, if you have already started the application before and want to continue from the step you stopped at, then select "returning" instead.
STEP TWO: PERSONAL INFORMATION 
Here you input all your information accurately on each bar provided. If you are a male select Mr, for female Miss or Mrs as the title. 
Importantly input your BVN number in the space provided and wait for few seconds until it finishes fetching your detail. This will automatically display your full name, date of birth and gender.
Now fill in other details and make sure the spaces marked with [*] must be filled otherwise you can't continue to the next step. 
For the preferred NIRSAL MFB branch, simply select the one closest to you. Note that your preferred branch is displayed based on the state of residence you inputted above. 
After that, select NO if you don't have an account with NIRSAL microfinance bank and click on NEXT.
STEP THREE: BUSINESS INFORMATION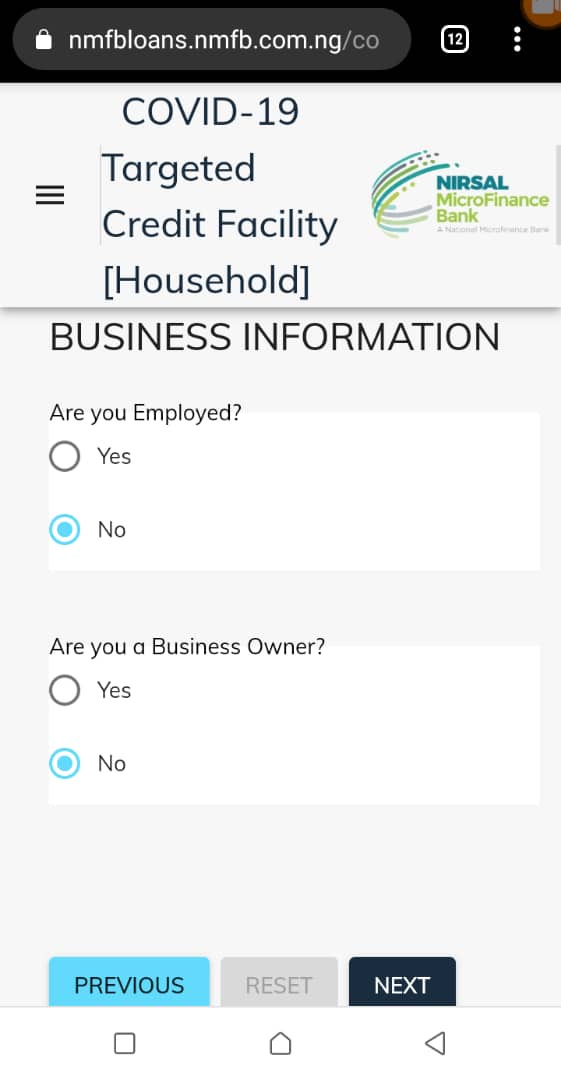 if you are employed select YES and fill in your employment details otherwise select NO if you are not.
if you are a business owner select YES and fill in your business details otherwise select NO if you are not.
Click NEXT to proceed to the next step.
STEP FOUR: REQUIRED DOCUMENTS 
Just select the only option there. N50,000 - N1,000,000
STEP FIVE: LOAN INFORMATION
this step is very important. The amount you want to request has a relationship with the purpose you are choosing it for. You can choose a maximum of two purposes. 
It is advisable not to request a high amount of loan as it may increase your chances of approval. 
Sometimes, the loan amount option will show an error if you choose low purposes and request a high amount of loan. Keep it correlated. 
For tenor months and moratorium, write the maximum which 36 and 12 months respectively.
STEP SIX. DECLARATION 
If you are sure of all the information you provided, accept the terms and click on SUBMIT and wait for A successful message to be displayed to you.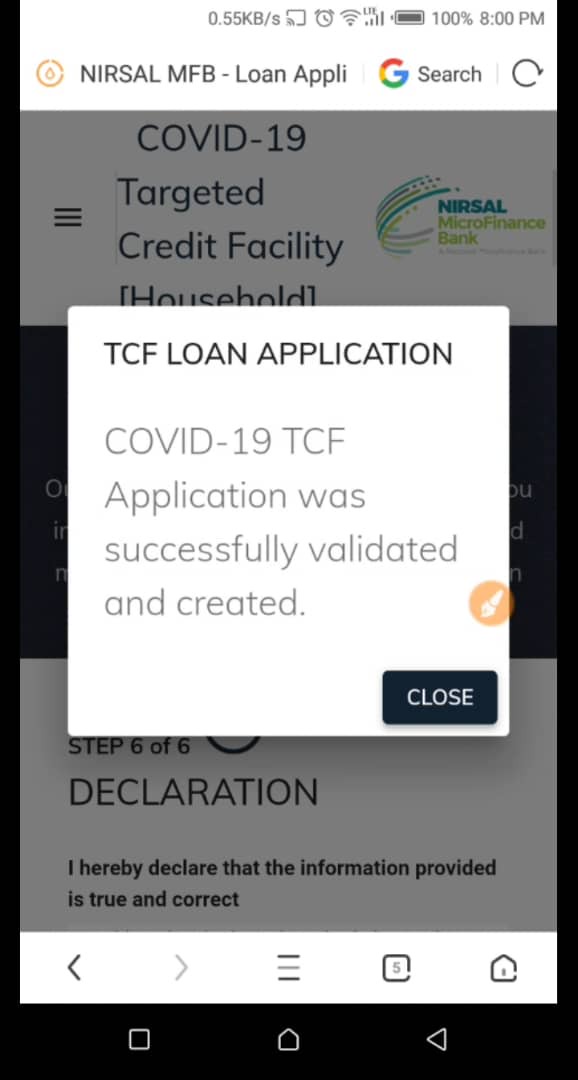 That's all on how to successfully apply for covid 19 household loan batch b 2021.
Source | critical news
If you still have an issue regarding any step, let us know in the comment box below for further assistance. 
You can also join the critical fact WhatsApp group to interact with others
If this post is helpful, kindly share!
Content created and supplied by: ramaconcept (via Opera News )