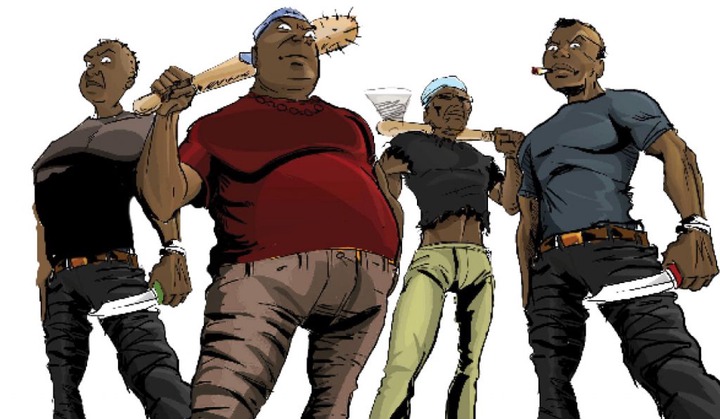 I think I've moved to the wrong neighborhood again.
So last night on my way back from the day's hustle, I stopped by a shop in the hood to get something for dinner only to be greeted with the news of a cult clash that happened in the area earlier in the day.
The shop owner told me everybody had to lock up their shops and scamper for safety as the young boys (and girls) unleashed all manner of weapons including guns against their opponents. The fight lasted for nearly 2hrs until the police and soldiers arrived to quell the crisis.
Just this morning, on my way to work, I stopped by another shop to get recharge card and this young man who was standing close to the entrance of the shop upon seeing me starting hailing, "chairman wey you be.... Only you like this na full barracks.. See as you fresh diiee..."
I was confused at first. If there was another person around the shop, I'd have assumed he was referring to them, considering that I'd never seen this guy before. But as I turned around to confirm if he was talking to me, the guy prostrated and shouted "Tuale for the chairman himself". This time I became confused and scared a bit too. Could he be mentally disturbed I thought to myself? But dude looked clean and normal with scary tattoos all over his arm and neck.
After paying for the card, the guy approached me and whispered "chairman, abeg make I hold one old port na"... Only then did the whole thing make sense to me.
Not desiring to waste both of our time, I told the shop owner to give him one bottle, gave him ₦200 and asked him to keep the change.
Guess what?
The guy thanked me profusely and gave me these words of assurance as I made to leave; "chairman see eh,I no know you before o. But you see this thing wey you do for me so? Na God go bless you. And again ba, you see for this area like this ba, insurance cover you. You no get anything to fear. If anybody talk to you anyhow or person threaten you ba, just look for me make I treat their fukc up one time. My name na spider".
And yes! Dude had tattoos of spiders on his arms and neck.
I thanked him for his free offer of standing up for me whenever I get in trouble and left.
Just when I thought I'd found peace from nosy neighbors and noisy churches... A new problem surfaces.
Wahala for this country be like VIO for Abuja o.. Them dey everywhere..
Content created and supplied by: Dipsix (via Opera News )