GRATITUDE DAY 10: *Adeoye Fadeyibi*, power industry guru, business transformation champion, and Managing Director/CEO, Eko Electricity Distribution Company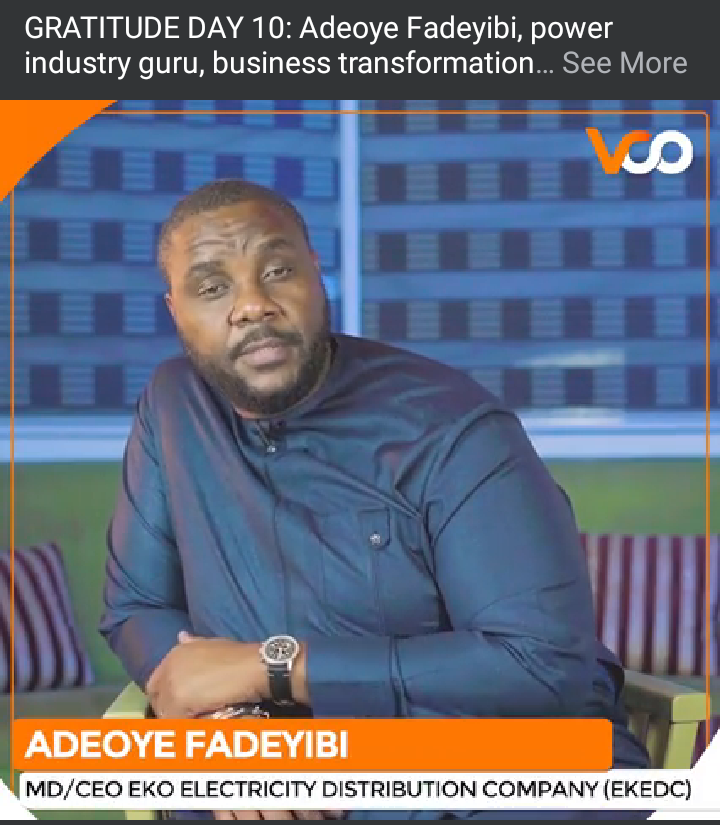 Today, my gratitude spotlight beams on my friend, brother, colleague at Transcorp, Adeoye Fadeyibi. 
Ade is synonymous with the power sector where he sits at the helm of one of biggest distributions companies, Eko Electricity Distribution Company (Eko Disco). He also served as CEO of Transcorp Power after he was headhunted from GE where he spent several years supporting the power industry within the continent. 
Always with a listening ear and ever ready to help, Ade has been a source of support, wisdom, and encouragement for years. He is one of the many bright spots from my time at Transcorp. 
Ade, thank you so much for being you and letting your light shine. I am grateful for the kind words you delivered at my 50th Birthday Event. 
God bless you.
- *Valentine Ozigbo*
#Gratitude
#AdePower
#VCOisThankful
Content created and supplied by: Speeding (via Opera News )