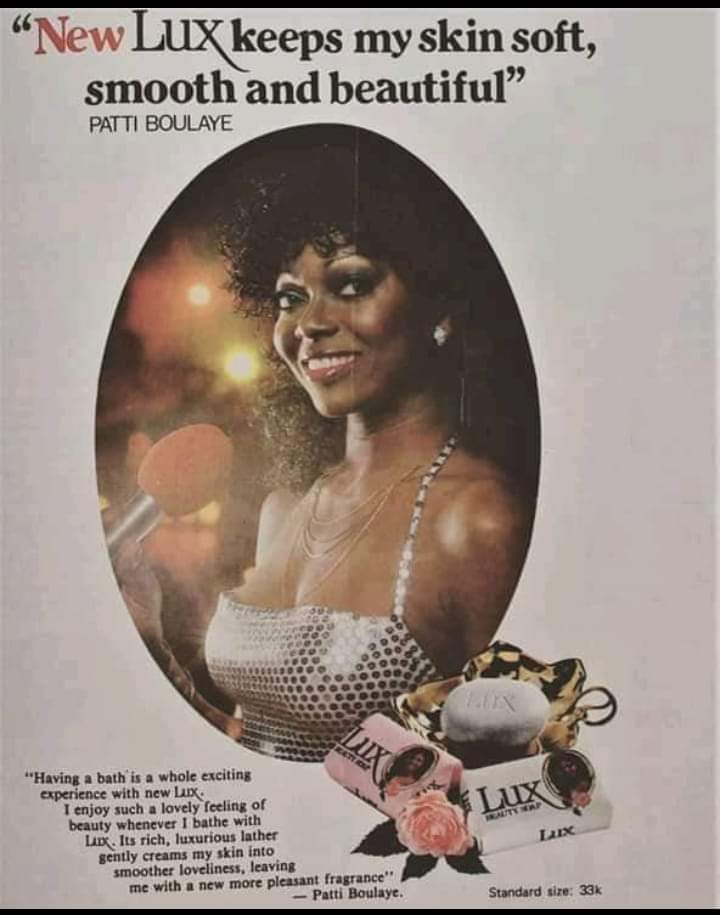 Here is a vintage 1980's Lux Soap advert featuring Nigerian-British Star Patti Boulaye.
If you are into beauty/fashion products as a manufacturer or a marketer, you can learn one or two copyrighting and marketing strategies from this advert design.
Let me break it down for you...
✅ Influencer Marketing:
...................
First of all, they strike a deal with a popular figure who is equally beautiful.
This has a way of making people trust your beauty brands the more.
Imagine Genevieve Nnaji coming out to tell everyone that the secret to her young looks is this particular product...
The product sales will skyrocket!
Elon Musk recently typed on his Twitter handle "Use Signal" all of a sudden, there is Signal Frenzy everywhere.
Millions of people started downloading to the extent that Signal's servers went down.
What does that tells you? Influencer marketing works. Find one and work with the person to promote your beauty/fashion products.
✅ The Catchy and Emotional Headline:
....................
Your headline need to grab attention and speak to people's emotion.
Notice that the picture is the first thing that grabs attention, but what about people who don't know who Patti Boulaye is?
Now, these people will see the picture as just another random advert picture. So, what next can make them stop and listen to your advert?
Your attention grabbing HEADLINE!
Now, notice the keywords there...
New.... Telling you it's something you haven't come across.
Keeps my skin soft, smooth and beautiful... This is every woman's dream, to have a soft, wrinkles-free, and beautiful body.
Tell me, why won't you have the urge to buy this soap and try it out?
✅ Use Testimonials:
..................
Look at the bottom text and you will see a testimonial from same Patti Boulaye.
Now, they did something different, because when I read that testimonial I notice that it can only be written by a good copywriter, and this public star is no copywriter.
So what happened? How did they got such a lovely powerful testimonial?
Very simple. Get an Influencer, get a copywriter to write a good copy for you, package it in the form of a testimonial.
Boom! The sky is your limit.
But you may ask, why not just get a copywriter to write the copy and headline, find a nice looking photo and just give to a designer to design it.
Sure, it will still look good and still make you sales.
But if you want to triple that sales, package the whole thing in the form of testimonial.
What did you just did?
You just placed a validation and authenticity on your product, removing from your customers mind the questions they may be asking...how real is this product, does it actually work, or is it one of those adverts we always see?
You just answered those damn creepy questions, and all your customer have to do is bring out his wallet or her purse and pay.
✅ In Conclusion:
...............
As a beauty or fashion brand, key into influencer marketing, use catchy and emotional headlines that speaks to people's feelings and problems, make use of testimonials extensively.
Then find a good graphics designer to handle your advert branding for you.
If you do other things right and your graphics design still doesn't look good, what it tells your customer is that this is one of those local, cheap, concoctions which doesn't even have NAFDAC approval.
It might as well burn my skin!
Some may take the risk, many others may simply not buy because of your cheap looking graphics.
But to get the best of your marketing, you need to package yourself well, and appear very professional.
In all your marketing, make your branding topnotch by getting a professional designer.
----------------------
I'm Darlington Okafor
Your business branding boyfriend 💕
Content created and supplied by: FimTvBlog (via Opera News )