Nigeria Is Not Ripe For Crypto, Nigerian Government Should Create A Naira Crypto — Aremu Babtunde.
Following the ban imposed by Central Bank of Nigeria on the buying and selling of cryptocurrencies in Nigeria, Nigerians are divided about the move.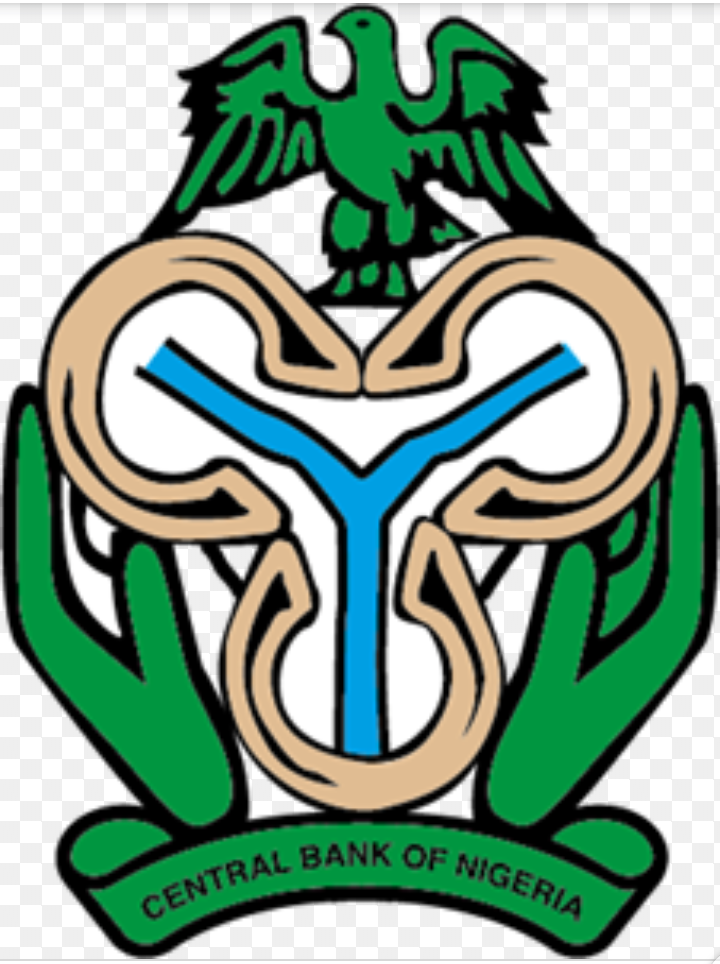 The Nigerian apex bank made an important but controversial announcement about transacting in cryptocurrency when it prohibited Nigerian banks and other financial institutions in the country to stop and report any account holders dealing in cryptocurrency trading.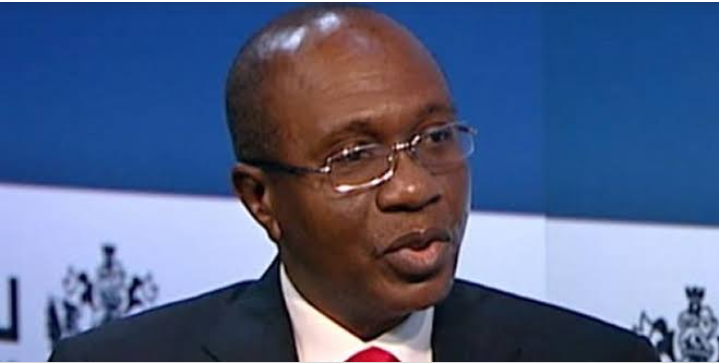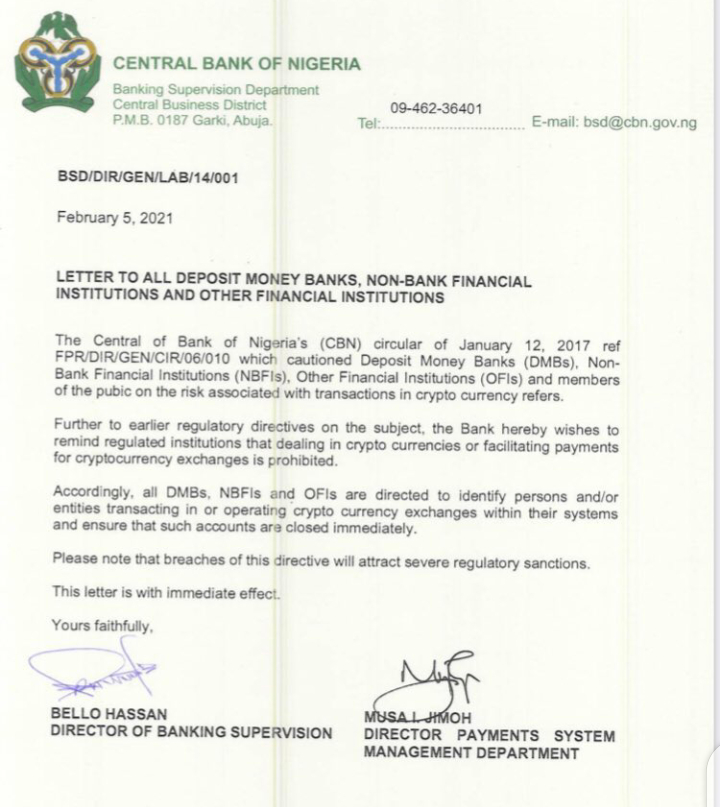 This directive didn't go well with many Nigerians, especially youths when it was made public yesterday. Many of them see it as an attempt to cage the hardworking and struggling youths by making them remain poor in absence of non-availability of jobs in the country. Some said the reason for the ban is not unconnected to how EndSARS protests were massively supported and sponsored by Nigerian living in diaspora through the use of cryptocurrency transfer. Others were of the opinion that this move is harmful to the already fragile Nigeria's economy that is currently in a recession. 
Still, there are others who believe the federal government through the Central Bank of Nigeria has done the right thing. These set of people argued that the use of cryptocurrency is similar to Ponzi scheme that defrauded lots of Nigerians some years ago after investing their hard-earned money in it. They also opined that it makes it easier for Nigerian politcians and foreigners to smuggle money out of Nigeria.
One of those who has shared same sentiment is a Twitter user, Aremu Babtunde, shortly after CBN made the announcement on its Twitter handle. He said this move, according to, is a good move adding that Nigeria is not ripe to adopt the use of cryptocurrency. He blamed the use of cryptocurrency on money laundering by the politicians, internet fraudsters and expatriates, as it doesn't need CBN authorization to carry out its transaction. He finally urged the federal goverment to set up a Naira Crypto as an alternative to cryptocurrency.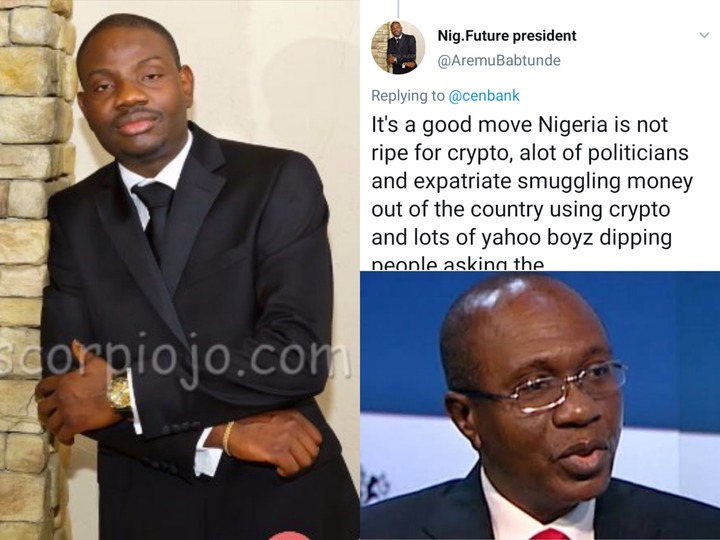 Aremu wrote : "It's a good move, Nigeria is not ripe for crypto, a lot of politicians and expatriate smuggling money out of the country using crypto and lots of yahoo boys dipping people asking them to send bitcoins, but Nigeria Gov. should look into creating a naira crypto."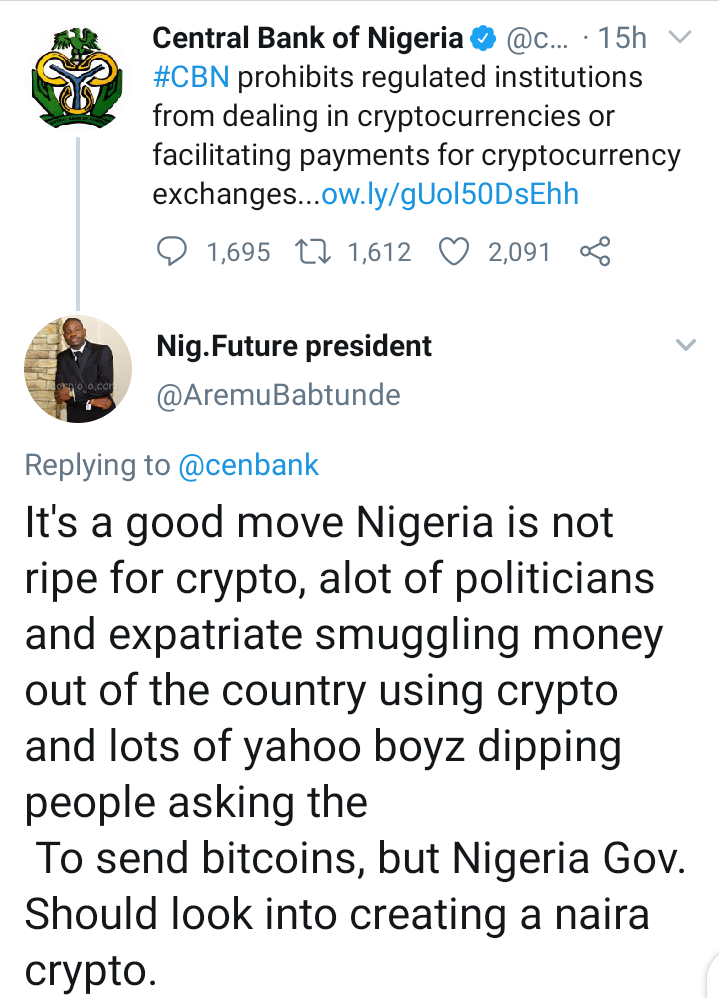 Content created and supplied by: Alrasad (via Opera News )