A couple of years back, I registered with a diary food company as a distributor. Someone told me about an oil services company that usually buys dairy foods for that offshore workers. So I decided to give it a trial.
The first day I visited the company, I was told that the person who has the right to approve my product was the procurement officer. When I entered her office, she asked me to wait. I waited for her to finish what she was doing. It took her about two to three hours to attend to me.
I couldn't complain. I had no right to do so even if I wanted to. I mean, I was the one who needed a favor from her. When she was through with what she was doing, she looked at me from the crown of my head to the sole of my feet like I was an abomination to her sight and told me I don't like you.
I didn't even try to convince her to like me. With that kind of look on her face, I knew that it would be a waste of time trying to, so I smiled, thanked her, and left.
Last year, I started my own company. And I needed some workers the same lady who told me that she didn't like my face came to apply for the position of a procurement officer. She didn't recognize me anymore because I was looking different. But I could still recognize her because she had not changed much from the last time I saw her.
I was curious, so I asked why she left her formal job because I know the company was far bigger than mine. She said that the company started downsizing, and she was among those who were affected. So I asked her if she recognized me, she said no.
I reminded her that I was the lady she told some years back that she didn't like her face and narrated my encounter with her.
She became very nervous and uncomfortable. But I asked her to relax as such is life.
We have to make a conscious effort to be kind to people because you never know where you will need them. Kindness is a virtue. And will cost you nothing to be kind.
See what the bible says about being kind: Therefore all things whatsoever ye would that men should do to you, do ye even so to them: for this is the law and the prophets. - Matthew:7:12
Let nothing be done through strife or vainglory, but in lowliness of mind, let each esteem other better than themselves. - Philippians:2:3
Treat everyone with kindness, not because they are kindhearted but because you are.
We do not meet people by chance. Everybody that you come across has a role to play in your life. Some of them are destiny helpers. So do not chase them away by being rude.
Don't try to make yourself great by making others look small.
Be kind to one another, tenderhearted, forgiving one another, as God in Christ forgave you." "Therefore, encourage one another and build one another up, just as you are doing. God bless you as you do so.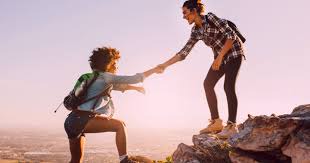 Content created and supplied by: Chinenye497 (via Opera News )