Motivational quotes are like fire that ignite us into taking those actions that seem difficult. In our every day life, we need motivation in order to continue with the struggles of life. Achieving our aims, bringing out the best in us and standing out of the crowd by being real and focusing on our ideas and goal are the main reasons for motivation.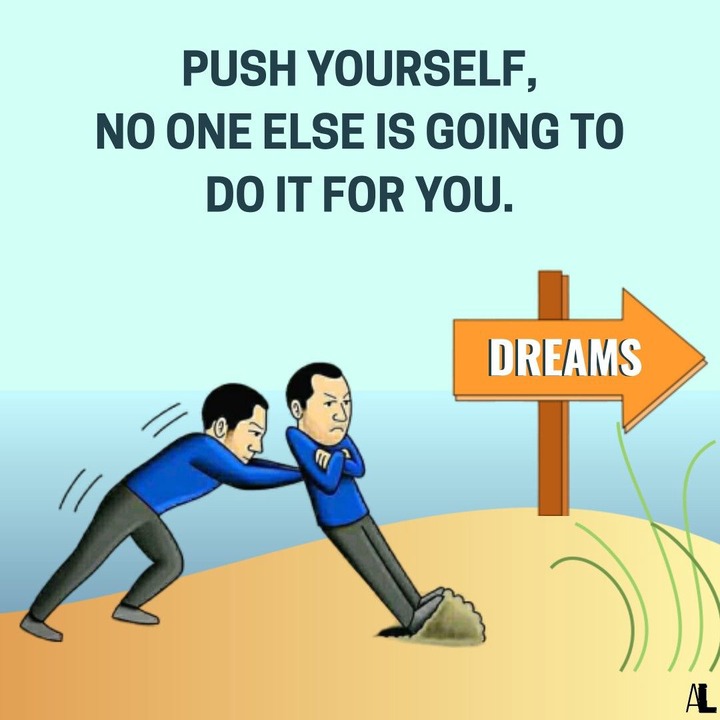 1. All our dreams will come true if we have the courage to pursue them. ___ Walt Disney
2. In the middle of difficulty lies opportunity. ___ Albert Einstein
3. The successful man will profit from his mistakes and try again in a different way. ___ Dale Carnegie
4. What lies behind us and what lies before us are tiny matters compared to what lies within us. ___ Walt Emerson
5. I may not be able to change the world I see around me, but I can change the way I see the world within me.
6. Your attitude determines your actions. Your actions determine your accomplishments. ___ John C. Maxwell
7. We cannot direct the wind … but we can adjust the sails.
8. If you think you are beaten, you are. If you think you dare not, you don't. If you would like to win but you think you can't, it's almost certain you won't.
9. Life's battles don't always go to the stronger or faster man, but sooner or later, the man who wins is the man who thinks he can.
10. A successful man is the one who can lay a firm foundation with the bricks others thrown at him. ___ David Brinkley
11. If things go wrong, don't go with them. ___ Roger Babson
12. You are today where your thoughts have brought you; you will be tomorrow where your thoughts take you. ___ James Allen
13. Winning is not everything but making the effort to win is. ___ Vince Lombardi
14. You never achieve real success until you like what you are doing. ___ Dale Carnegie
15. You and I do not see things as they are. We see things as we are. ___ Herb Cohen
16. Whether you think you can or you think you can't _ you are right. ___ Henry Ford
17. I have learned that success is to be measured not so much by the position that one has reached in life but by the obstacles which one has overcome while trying to succeed.___ Booker T. Washington
18. Our attitude towards things is more likely to be more important than the things themselves. ___ A. W. Tozer
19. Happiness depends not upon things around me, but on my attitude. ___ Alfred A. Montapert
20. The quickest way to correct the other fellow's attitude is to correct your own. ___ King Vidor
21. It's your attitude, not your aptitude that will determine your altitude.
22. God chooses what we go through; we choose how we go through it. ___ John C. Maxwell
23. It is a fact that you project what you are. ___ Norman Vincent Pearle
24. Life is not a dress rehearsal. ___ John C. Maxwell
25. A pessimist is a person who regardless of the present is disappointed in the future.
26. Do not let what you cannot do interfere with what you can do. ___ John Wooden
27. We cannot continually behave in a manner that is inconsistent with the way we see ourselves.
28. Quitting is a permanent solution to a temporary problem.
29. The greatest discovery of our generation is that human beings can alter their lives by altering their state of mind. ___ Williams James
30. There is no wrong side of the bed. We get up on the wrong side of our mind.
31. The greatest mistake a person can make is doing nothing. ___ John C. Maxwell
32. It is the eye that makes the horizon. ___Ralph Waldo Emerson
33. Believe you are defeated, believe it long enough, and it is likely to become a fact. ___ Norman Vincent Emerson
34. What really matters is what happens in us, not to us.
35. Every man takes the limits of his own field of vision for the limits of the world. ___ Arthur Schopenhauer
36. As he thinks in his heart, so is he. ___ Proverbs 23:7
37. Men maybe measured by their reactions to life's inequities.
38. The environment you fashion out of your thoughts, beliefs, ideals, philosophy is the only climate you will ever live in. ___ Alfred A. Montapert
39. Health, happiness and prosperity are primarily mental. ___ Marian Ramsey
40. Life is formed from the inside out. What I am inside determines the issues in the battle of life. ___ Dr. William Hormaday
41. Very little is needed to make a happy life. It is all within yourself, in your way of thinking and attitude. ___ Fred Corbett
42. Man's greatness lies in his power of thoughts. ___ Blaise Paschal
43. Others can stop you temporarily, but you are the only one who can do it permanently. ___ John C. Maxwell
44. An optimist may see a light where there is none, but why must the pessimist run to blow it out? ___ Michael de Saint-Pierre
45. Growl all day and you will feel dog tired at night.
46. Man must cease attributing his problems to his environment and learn again to exercise his will. ___ Albert Schweitzer
47. We lost because we told ourselves we lost. ___ Leo Tolstoy
48. Be careful for nothing, prayerful for everything, thankful for anything. ___ Dwight L. Moody
49. Never look back unless you want to go that way.
50. If a man has limburger cheese on his upper lips, he thinks the whole world smells. ___ John C. Maxwell
51. I go at what I do as if there were nothing else in the world for me to do. ___ Charles Kingsley
52. Places and circumstances never guarantee happiness. You must decide within yourself whether you want to be happy. ___ Robert J. Hastings
53. Failure is the only opportunity to begin again more intelligently. ___ Henry Ford
54. Opportunity looks bigger going than coming.
55. Action and feeling go together, and by regulating the action, we can directly regulate the feeling. ___ William James
56. The quality of a person's life is in direct proportion to their commitment, to excellence, regardless of their chosen field of endeavor. ___ Vince Lombardi
57. Whatever you do, work at it with all your heart, as working for the Lord, not for men. ___ Colossians 3:23
58. Always bear in mind that our own resolution to succeed is more important than any other one thing. ___ Abraham Lincoln
59. To live a long life and to enjoy life, the unseen force is the proper attitude. ___ Alfred A. Montapert
60. The quality of an individual is reflected in the standards they set for themselves. ___ Ray Kroc
61. The purpose of human life is to serve and show compassion and the will to help others. ___ Albert Schweitzer
62. The man who acquires the ability to take full possession of his own mind may take possession of anything else to which he is justly entitled. ___ Andrew Carnegie
63. Who is rich? He that rejoices in his portion. ___ Benjamin Franklin
64. Nothing is hard as it looks; everything is more rewarding than you expect; and if anything can go right it will and at the best possible moment. ___ Maxwell's Law
65. I thank God for my handicaps, for through them I have found myself, my work and my God. ___ Helen Keller
66. Where there is no hope in the future, there is no power in the present. ___ John C. Maxwell
67. There is no security in life, only opportunity. ___ General Douglas MacArthur
68. Success is peace of mind in knowing you did your best. ___ John Wooden
69. Anyone who stops learning is old whether at twenty or eighty, anyone who keeps learning stays young. ___ Henry Ford
70. Football games are generally won by the boys with the greatest desire. ___ Paul Bear Bryant
71. The attitude of the individual determines the attitude of the group. ___ John C. Maxwell
72. If a man has done his best, what else is there? ___ General George S. Patton
73. The last of human freedoms is to choose one's attitude in any given set of circumstances. ___ Victor Frankl
74. It is no exaggeration to say that a strong, positive self-image is the best possible preparation for success. ___ Dr. Joyce Brothers
75. Misery is an option!
76. I expect the best and with God's help will attain the best. ___ Norman Vincent Peale
77. You never get ahead of anyone as long as you try to get even with them.
78. Maintaining the right attitude is easier than regaining the right attitude.
79. I firmly believe that anyone finest hour, his greatest fulfillment to all he holds dear, is that moment when he has worked heart out in a good cause and lies exhausted in the field of battle. ___ Vince Lombardi
80. The higher you go in any organization of value, the better the attitude you will find. ___ John C. Maxwell
81. Men who say it cannot be done should not interrupt man doing it. ___ Chinese Proverb
82. Beware of those who stand aloof and greet each venture with reproof; the world would stop if things were run by men who say, "it can't be done".
83. There is no sadder sight than a young pessimist. ___ Mark Twain
84. We are confronted with insurmountable opportunities. ___ Walt Kelley
85. Never accept the negative until you have thoroughly explored the positive.
86. A person cannot travel within an still stand without. ___ James Allen
87. Nothing is attempted if all possible obstacles must first be removed. ___ Samuel Johnson
88. My great concern is not whether you have failed, but whether you are content with your failures. ___ Abraham Lincoln
89. When you affirm big, believe big, and pray big, big things happen. ___ Norman Vincent Peale
90. We cannot tailor make the situations of our life, but we can tailor make the attitudes to fit them before they arrive.
91. Failure isn't failure unless you don't learn from it. ___ Dr. Ronald Niednagel
92. Every success I know has been reached because the person was able to analyze defeat and actually profit from it in the next undertaking. ___ William Marston
93. Laughter is the shortest distance between two people. ___ Victor Borge
94. If you have a will to win, you have achieved half your success; if you don't, you have achieved half your failure. ___ David Ambrose
95. Life is 10 percent how we make it, 90 percent how we take it.
96. Circumstances do not make you what you are, they reveal what you are! ___ John C. Maxwell
97. You can get everything in life you want if you help enough other people get what they want. ___ Zig Ziglar
98. If a man be gracious and courteous to strangers, it shows he is a citizen of the world.
99. Ninety-nine percent of failures come from people who have the habit of making excuses. ___ George Washington Carver
100. It is what you learn after you know it all that counts. ___ John Wooden.
Content created and supplied by: Maryjoy24 (via Opera News )