In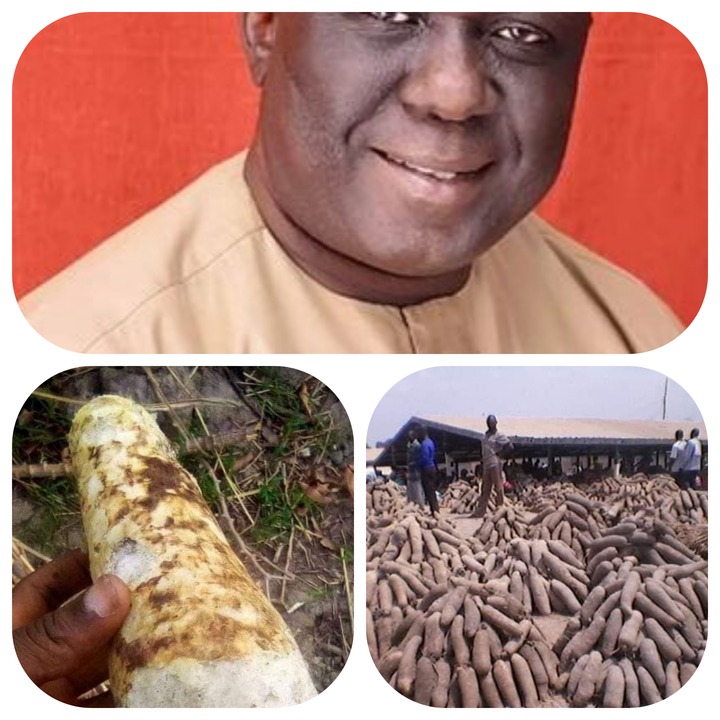 the words of Steve Ayua, Executive Chairman of Ukum Local Government Council (LGC), the local government's potentials especially the yams would have been showcased "to the world, and set the local government on a new enviable pedestal of development."
Zaki Biam, the commercial nerve centre of Benue State will be a beehive of activities as the Ukum Special Yam Show kickoff on 10th March, 2021. The three day event will close on 12th March. His Excellency Samuel Ortom, the Executive Governor of Benue State will attend the closing ceremony and also present awards to deserving farmers.
Steve Ayua, Executive Chairman of Ukum Local Government Council (LGC) has thrown the show, which provides opportunity for farmers in the Benue north east LGA to exhibit their strenght in yam production.
The following prizes are for grabs: 1st, 2nd and 3rd position for biggest yams.
Others are: Farmer with the most different varieties of yams; the woman with the biggest yams and young farmer of less than 18 years with the biggest yams.
The biggest yam is known as Akpaaku. So, who wins, in an event that say Memga Udende, Boga Abuul, Tersoo Kpelai, Richard Gbande, Shagbaor Simon Bende, Kizito Tiza , Jerry Orgem Iorngaem,
Prince Tyodoo Livinus , Pila Daniel AP , Simon Bende, or any other farmer harvests the biggest Akpaaku yam? Maybe, Akpaaku will be crowned as Ukum's Life Time Biggest Yam Producer and inventor of Big Yams producing technique. So, who comes second and third, in terms of biggest yams?
I think my friend Oduduwa Yaku has less headache. Without Obadiah Okor and Pevkyaa Zegi, Oduduwa may stand out among the folk singers that will tell the Ukum yams story.
A maximum of ten folk singers from each Council Ward that comprised Ukum LGA are expected to compete for the prizes in folk singing category of competition at the show.
The Ukum council boss' Media aide Timothy Vihimga , has indicated in a statement that "folk singers are not required to mention people's names in their songs, but to sing only about agriculture in Ukum Local Government, and about the promotion of the local government generally."
A number of Benue's finnest artistes are expected to add glamour to the show. According to Vihimga, "star artistes in Benue State and elsewhere like Zaki Azzay, David Abeks, Rapizo, Cairo, (the Egyptian), Pachanga (Zulezuu), Eugenous the Great, Pastor Nick, and a talkshow host, Igboji will be brought to make special presentations and appearances." It sure promises to be a hit, in the words of my friend Solomon Akpaaku.
The 2021 Ukum Special Yam Show reminds me of ganden Pevkyaa Zegi (of blessed memory). "Governor Aper Aku ngu launching sule ngu a komishina nav, Aku shi yila ciaman mba ken division cii. Ape mdugh yô ka Hemen Tyungu alu ciaman nnenge a na me cagh ishor." That was Zegi, when Aku was about flagging off his agric programme.
Number 1 Tarker Golozo also spoke incisively on best agricultural practices and agric shows in his songs. "Ka shie u tesen yiav; iyange la mea tese nan kpa me ..."
I am sure these two greats would have had a word for Ayua and indeed, Ukum farmers, at this special yam show. Notwithstanding their absence, Ukum boasts of some of Benue's best folk singers. I'll mention Oduduwa Agena and invite my friends Pila, Jerry, Tyodoo, Kertyo Solomon Akpaaku , to bail me with the other names.
I am keeping tabs on my friends from Ukum. I'll take notice of those that will come close to winning a prize. By word of mouth, they are always quick to remind me of how yam is no problem to them. So, Pilla Daniel, Jerry Iorngaem, Kizito Tiza, Bem Ingyough Ingyough, Prince Tyodoo Livinus, Smart Vagiht, Godwin Iwanan , and the rest of you; in what category are you showing at the 2021 Ukum Special Yam Show: Biggest yams or most variety of yams?
If eligible to contest, I am sure my mum would have won jn the variety category because she cultivates Gbangu, ako-ayo, amula, anumbe, agbo, angawa and ajie. She also has soup materials like adenger, gyande-atuur, furum, gbodi, mbuegh, tyuna, ashwe (agbende a uman), icegher, yiase, hurugh, shi tur ngu ikua.
I am planning to be on ground, to see first hand, what Steve Ayua's kinsmen will show to the world
Content created and supplied by: Orngu (via Opera News )