ASUU gives updates on 7-month-old strike
Nigerian lecturers' association, ASUU, has given an update on the 7-month-old strike in the country. The association said it is yet to suspend its strike.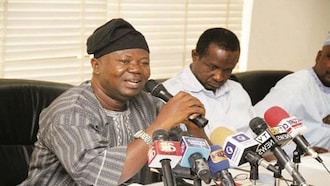 A key member of the union, identified as Professor Olusiji Sowande, who disclosed this on Saturday, October 17, 2020, explained that the negotiations are still ongoing with the Federal Government in a bid to resolve the issues behind the industrial action.
Sowande made it known to Nigerians that the association has not yet received funds to pay lecturers' earned allowance from the Federal Government.
Nigeria's prominent lectures' group, the Academic Staff Union of Universities (ASUU), has made it known to Nigerians and especially students that its strike is still ongoing.
Professor Olusiji Sowande disclosed this while speaking with newsmen on Saturday, October 17, 2020.
Sowande said that the rumor that claimed that the association has suspended the strike was a total lie.
He also denied the information that claimed that the Federal Government had released N30 billion for Earned Academic Allowance. He said the information was also fallacy.
The union leader said the negotiation between the association and the Federal Government so as to resolve the issues that caused the strike is still ongoing.
Also corroborating the position of Professor Sowande, Dr Dele Ashiru, who is the chairman of ASUU at the University of Lagos, said it is only the National Executive Council of the union that has power to call-off the strike.
He added that the decision of the NEC must also be subject to the congress.
Content created and supplied by: Dmoney1 (via Opera News )