In fact, it is well said no body is perfect. Most importantly, in whatever capacity you must have gone through, try checking and evaluating yourself. The question to start asking yourself, who are you? Is a very important question.
I was scrolling through my twitter account, there is a trending topic that has gotten lot's of comments from users on twitter, which i felt like to share with you and also allow you test your limits. This is not a Mathematics Exams neither is an English nor physics or biology. The exams is tag "A quick Life Exams for only 35marks."
I will like you to go through the question, you may not wish to live a comment in the section below if you wish but if you feel you can, tell us your scores by evaluating and scoring your own self. See attached screenshot below: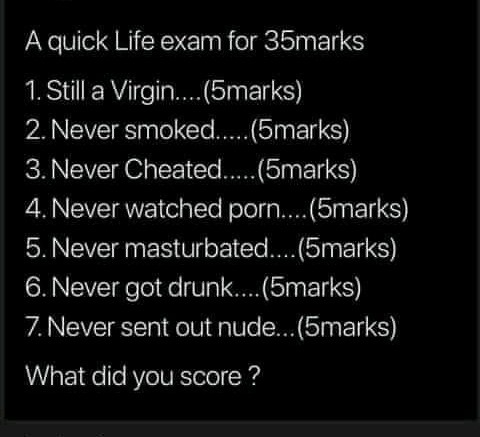 Omo Kogi (Yagba) on his Twitter page:
@Oladapomikky tweets "I scored 15."
He asked his followers "what do you score?"
I also asked you, what you score from the above screenshots photos?
This post generated hundreds of comments.
One of the commentator who Reacted @Gurusbest reply "If I am going to be honest with you,in my own humble opinion without being sentimental of course, without offending anyone who thinks differently from my own point of view,but also by looking into this matter in distinctive perspective, I would like to say I have nothing to say."
See attached screenshot below are some comments: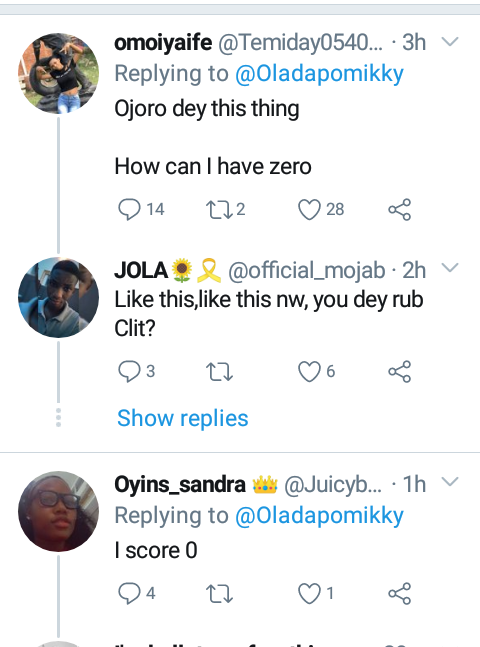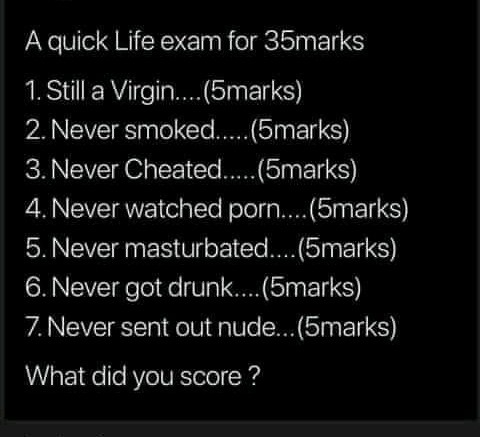 What do you think you will score. Indeed, we are imperfect being. Learn to abstain from other things that will make your spirituality weak. I believe you can do it. Just make up your mind about it. Thank you for reading through my article.
Content created and supplied by: Smacrin19 (via Opera News )