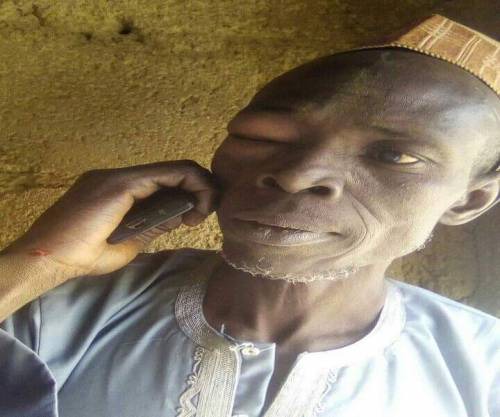 SaharaReporters has tweeted a news about an incident that transpired between Saleh Ibrahim, an old head teacher of a primary school known as Afunori Primary School Goniri in Gujba Local Government Area of Yobe State, and a soldier in the Nigerian Army from 120 Battalion in Goniri, Lance Corporal Umar.
The news report has it that Mr Ibrahim had ordered the blocking of an illegal bypass on the broken fence of his school as his pupils have resorted to defecating within the illegal route as well as abandoning the legal one passage.
However, Corporal Umar, upon his desire to further use the sealed route on the previously broken fence, met with insitence from Ibrahim. As a result of the argument that surfaced between them, Umar and his colleagues eventually manhandled the old head school teacher before his pupils, thereby, leaving him with an almost blinded eye.
See the picture of the brutalised man in the screenshot of the SaharaReporters Twitter post below: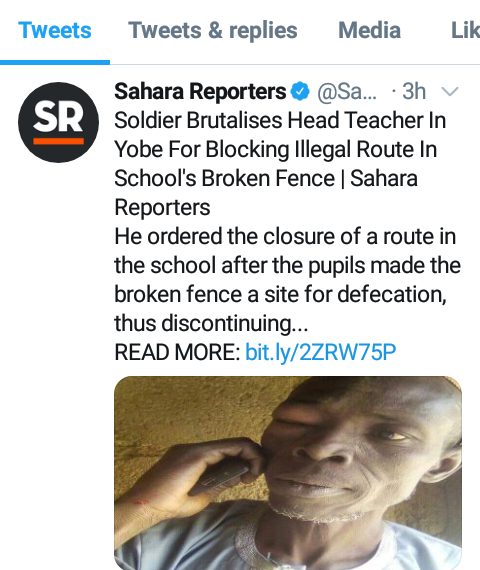 SaharaReporters was told by Ibrahim when they contacted him on the incident that the National Union of Teachers has launched an investigation into it.
Hm! It is indeed a wonder why some Nigerian security operatives take delights in undermining the law by baselessly brutalising and sometimes outrightly killing the civilians whom they are supposed to be protecting. Only a few days ago, a soldier had allegedly shot a truck driver to his untimely death because of #200. Alas.
Please, do well to share and commemt on this article. Also remember to activate the follow botton in order to be the first to get my next write-ups.
Thanks for reading.
Content created and supplied by: ohonsiwrites (via Opera News )