...as University community celebrate his meritorious service, great virtues, humanity etc
From Wole Balogun
The Biblical saying that:" Better is the end of a thing than its begining" is very apt regarding the exciting and admirable experience now greeting the exiting of Professor Kayode Soremekun from the Federal University Oye-Ekiti (FUOYE).
As the University community eagerly await the February 11, 2021 historic inauguration of the VC designate, Prof. Sunday Abayomi Fasina, the entire FUOYE community has began to pour encomiums on out-going Prof.Soremekun in heartfelt appreciations and expressions of gratitude for his outstanding, selfless, meritorious, resourceful, fruitful and exemplary performance in office.
This is clearly against some losers' wailing in spuriuos allegations targetted at distracting the public from Soremekun's great deeds as VC.  
The deluge of encomiums manifested in Sundry messages sent by both senior and junior staff members in academic and non- academic divides via the various social media platforms belonging to the FUOYE community. 
While many commended him, sending prayers for his good health, wishing him more successful future endeavours, others eulogize Prof. Soremekun and prayed for long life and prosperity for a man whose sterling leadership has brought fortunes for them.
We bring some of these profound messages of appreciations to Prof. Soremekun: 
Dean of FUOYE School of Post Graduate Studies (SPGS),, Prof. Mojisola A. Oyarekua, said: l, Prof. Mojisola A. Oyarekua, (Dean, SPGS) on behalf of the Board, Staff and Students of the School of Postgraduate Studies wish to express our profound appreciation to the outgoing Vice Chancellor, Prof. Kayode Soremekun for your landmark achievement during your tenure in FUOYE. As your name implies (Kayode) you brought happiness and joy to FUOYE as revealed by the infrastructural and Human Development in the University during your tenure. I cannot but to mention that when many believed that FUOYE was too young for Postgraduate Programme you planted the seed of the School and it germinated. Today, the school has many Masters Students who are on the verge of final oral examination. We say thank you Sir and wish you well in your future endeavours
I sincerely appreciate Prof. Kayode Soremekun for his unique leadership style. " 
Chief Olusola Afolabi of the Computer Science Department, was so touched with Soremekun's admirable performance and he penned these glowing words: "Sir, it is an undeniable fact that you are leaving FUOYE far better than you met it. Your deeds particular in the areas of infrastructural and programs development shall linger long in the annals of the history of FUOYE. Best of the best in your future Sir.
I write to appreciate your leadership style during your stay in FUOYE. I am one of the staff that constructively criticize your administration , offers suggestions on way forward and executive plans in small ways to create an enabling environment to support your five years administration in FUOYE.
You have a listening ear, accepts criticisms in good faith and make timely adjustments or corrections to perceived policy error, all for the benefit and progress of FUOYE.
You have successfully corrected some of the policy errors inherited from the previous administrations in FUOYE. I wish you implore your successor, who luckily has been part of your administration, to endeavor to build on the structures you already laid, and struggle to surpass your achievement in the area of staff welfare and infrastructural development in FUOYE. 
You may not know me personally because , I did not want you to think i did all that i had done for personal favour from you. I wish you good health, long life and more progress in your future endeavors.
Yours,Chief Olusola Afolabi(Computer Science Department)."
The University Librarian, Dr Isaac O. BUSAYO has this to say: "On behalf of the entire Library staff members, I want to congratulate our Library-friendly outgoing Vice-Chancellor, Professor Kayode Soremekun, for making the University library the cynosure of all eyes. You're no doubt, leaving an indelible mark by your unprecedented achievements in FUOYE (Oye and Ikole Campuses). Wishing you many more open doors in your future endeavours in Jesus Name (Amen)."
Head of FUOYE General Studies, Dr. (Barr.) Oyedokun-Alli, Wasiu Ademola, said: "On behalf of all of us at the Directorate of General Studies, I, Dr. (Barr.) Oyedokun-Alli, Wasiu Ademola heartily congratulate the outgoing Vice Chancellor, Professor Kayode Soremekun on the successful completion of his term. I wish you huge success in your future undertakings! Shalom!"
And from the faculties of Agriculture and Enginneering, FUOYE, Dr. Olorunwa Eric Omofunm, said this : "The entire members of Agricultural and Bioresources Engineering department, congratulate the Mna of honour and integrity , The Vice-Chancellor Prof. Kayode Soremekun for making the department grateful and only department that had both COREN and NUC accreditations once in the faculty of Engineering. You are blessed sir. Wishing you more success in your future endeavour in Jesus mighty name, amen."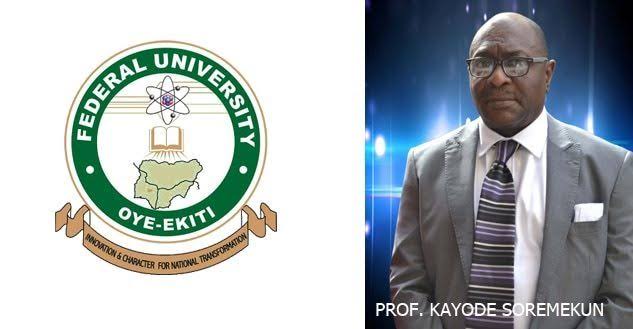 In the same vein, Dr. Abrifor Chuedu Akporaro, HOD of Criminology and Security department, said: "On behalf of the entire staff and students of the Department of Criminology and Security Studies, we thank and wish the outgoing Vice Chancellor Prof. Kayode Soremekun the very best in life for his kind support and working relationship offered. Thank you very much sir, may God support all your efforts in life in Jesus Mighty Name Amen."
Sending in his encomium on the first day of February, a staff member penned: "Welcome to a new month of Refreshing Glory. The Month you are handing over as the Vice Chancellor, Federal University Oye Ekiti. Sir, you are a real Benefactor who had contributed meaningfully to my family. you shall enjoy the manifestation of God's glory in an unusual manner in all your pursuits in the mighty name of Jesus. As you are planning to logout as Vice Chancellor, You shall log into better Glory. Happy new month sir and congratulations for the successful completion of your tenure in office."
Praying for Soremekun, another staff member penned: "We thank God for your life and all you were able to achieve as our VC. Most importantly, we thank God for your positive impacts on staff and students. It is our prayer to the Almighty God to grant you sound health and peace beyond human understanding. Remain blessed sir".
Prof. Sylvia Uzochukwu, also penned:"Congratulations, our dear VC Prof. Kayode Soremekun, for a successful tenure. On the 11th of February, your name will go down in history as the first VC to complete his tenure in FUOYE. It is the Lord's doing. You will be remembered for the many professional courses you introduced in FUOYE - Pharmacy, Law, Architecture, Building, Estate Management, QS, etc. As the curtain begins to fall on your performance, we applaud as we wish you the very best in your next assignment, for life is but a stage. May God grant you wisdom and courage to do His will in all your future endeavours. May he bless you with a long and happy life. Amen. Do enjoy your leave, Sir." 
Dr. Bolupe Awe has this to say: "My dear Prof I want to thank you immensely for your contribution towards my professional development. You gave me hope in the moment of despair. You right all the wrong treatments i suffered at the National Open University of Nigeria. You made my dream a reality. Never knew I could make it to professorial cadre in life but you made it happen. I will be eternally grateful to you. You came you saw and you conquered. You transformed both the physical environment and academic programmes in the University. Among all the Jonathanian Universities you made FUOYE the first. No doubt you have left your footprints in the sand of time. Without mincing words you're the most successful VC in the University. What all your predecessors couldn't achieve you have achieved and even surpassed them. It is my prayer that God will continue to sustain you sir. Wherever you find yourself God will make it Goshen for you. Whatever grouse your adversaries might have against you pans to nothing in the face of your obvious achievement while in office. I appreciate you so much. Warmest regards to your family." 
Another staff member, head of the department of Food Science and Technology, said: "Today, FUOYE is wearing a new look and what this entails is leadership. Leadership is the conscience of any establishment. The growth will be given impetus by his leadership. Infact, Prof, Kayode Soremekun has impacted positively on FUOYE. Sir, you laudable efforts in FUOYE portray you as *A GREAT ACHIEVER. On behalf of Food Science and Technology Department, I celebrate you Sir." 
Also, another staff member said: "Good morning sir, it is an undeniable fact that you are leaving FUOYE far better than you met it. Your deeds speak volume particularly in the areas of infrastructural development which shall linger long in the annals of the history of FUOYE.
Sir, I can never forget what you have allowed God to use you do in my life and family. May the Lord you bless you abundantly in your future endeavors Sir. Thank you sir."
Content created and supplied by: LiveTimesNG (via Opera News )