Welcome to this page kindly click on the follow button to follow me for more updates and articles.
It is very important as an aspiring student of any Nigerian University you know how to print your original jamb result from JAMB portal, the purpose of the original JAMB Result cannot be overemphasized as it serves many roles in the Admission processes.
Most students fall victim of fraudsters because of ignorance, that is why they say that knowledge is power. As a student, it is not everything your parents will do for you it is expected you know some certain things for your self and apply them without be asked to do it.
Now in this article I will be showing you how to print out your original JAMB Result slip from your jamb portal(Step by Step)
1. Login to your JAMB portal, with your email and password
2. Once you logged in you will see your dashboard, click the left corner to open a tab then scroll down
3. Select "print result slip"
4. Once you select this service you will automatically generate an invoice or you can pay directly with your card
5. Take the invoice to the bank and make payment, in less than an hour your original JAMB Result will reflect on your portal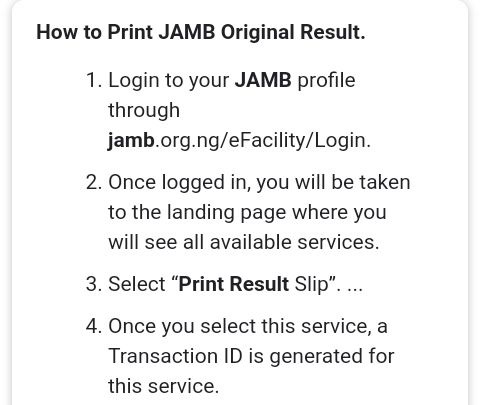 Thank you for viewing through this article, kindly comment and share this article for others to benefit from it too.
Follow me for more articles like thisWelcome to this page kindly click on the follow button to follow me for more updates and articles
Content created and supplied by: AuthenticVoice (via Opera News )