The Anambra State Government Calls For Applications From Indigent Students Of The State.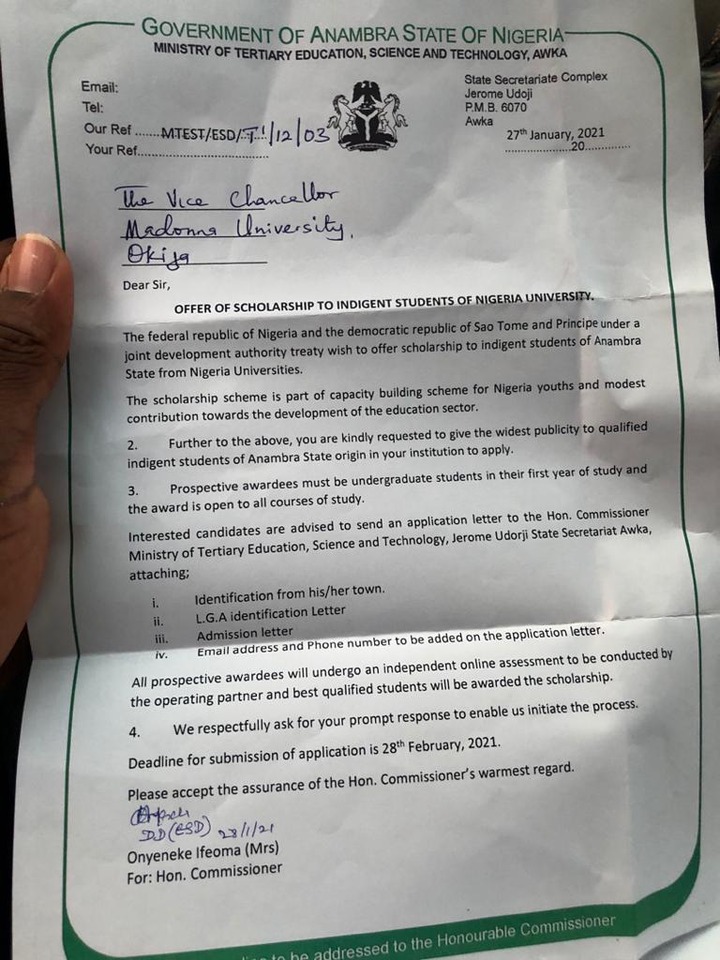 It has always been the saying that education is an equalizer. This is because it breaches the gap between the poor and the rich in the society. 
In line with above saying the Federal Government of Nigeria in conjunction with Republic of Sao Tome under the principle of Joint Development Treaty between the two countries have awarded scholarship to the Indigent Students in Nigerian Universities who are from Anambra State origin.
The application is meant for only Anambra State Indigent Students who are in various Nigerian universities. In the letter signed by the Hon. Commissioner of Ministry of Education, Science and Technology, Mrs Ifeoma Onyeneke and dated 27th day of January, 2021 , it is revealed that the qualified applicants should submit letter of identification from their town, local government identity, admission letter from their Universities and email address and phone. The application will end on 28th day of February, 2021. 
The letter was addressed to the Vice Chancellor of Madonna University, Okija urging him to publicize the information contained in the letter his the school and beyond. 
In paragraph 2 of the letter reads, " Further to the above, you kindly requested to give the widest publicity the qualified Indigent Students of Anambra State origin in your institution to apply".
This is a welcome Development. But I wonder it is for only Indigent Students from Anambra State origin. The application should be expanded to accommodate the others who are most Indigent Students in various Nigerian universities.
Content created and supplied by: Alo994 (via Opera News )