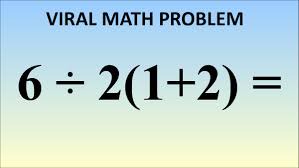 They say practice makes perfect. There is no how if you don't practice maths that you will know it like the back of your hands unless you are a genius.
The above problem was a viral maths problem that got many people by surprised as they failed woefully. You are expected to know your fundamental laws like BODMAS to solve such problems when they arise.
Maths has no respect for anybody that is why you should always be ready for anything when you are looking for employment or being called up for promotional exams. This is one of the type of funny questions they put for you to solve.
Without further ado, I would like you guys to present answers to this question as myself is confused on what to do.
I believe we have maths gurus on this platform. Please, help me out to avoid further disgrace.
"Believe in yourself for there is no limit to what you can achieve"
Content created and supplied by: De-Ancestor (via Opera News )