Veritas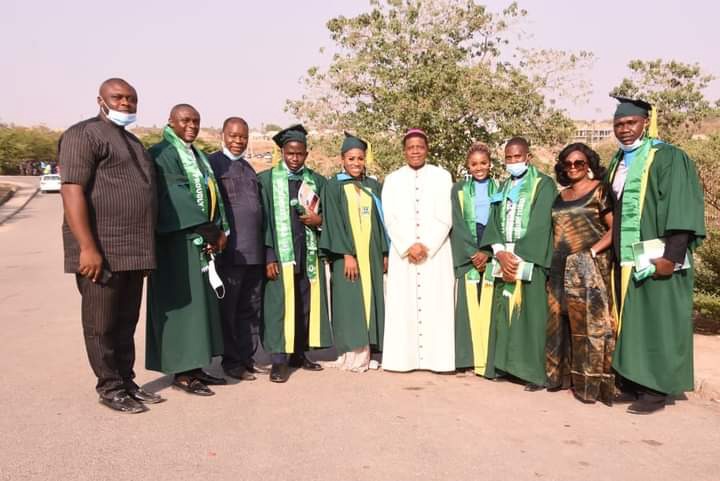 University Abuja, the only university owned by the Catholic Church in Nigeria, held her 9th convocation ceremony on Saturday 30th January, 2021. Many of the graduating students made history by winning one academic award or the other. Interestingly, among these lucky winners were sons and daughters of Nsukka diocese.
In 2016, the chief shepherd of the diocese, Most Rev. Prof. Godfrey Igwebuike Onah, sent nine students to study at the university, among who were two Reverend Fathers: Rev. Frs. Paschal Beluchukwu Eze (Unadi, Economics) and Augustine Emeka Ugwumgbo (Diogbe, English and Literary Studies). The other seven candidates include: Mary-Jude Ngwoke (Nru, Microbiology), Ngozi Maureen Makata (ImilikeAni, Biochemistry), PetrusEze (Ekwegbe, Mass Communication), Boniface Onoyima (Okutu, Computer Science), Agada Martha (Igogoro Enugu-Ezike, Computer Science), Precious Chifulumnanya Okodi (Aku, Microbiology), and Cynthia Ifeoma Ugwoke (Iheapkuoka, English and Literary Studies).
One of the two Best Graduating Students of the University in the 9th convocation ceremony was Cynthia Ifeoma Ugwoke who is a graduate of English and Literary Studies. She is a product of our own dear St. Catherine's Girls Secondary School, where she finished as the best English student in her set before proceeding to Veritas University Abuja. In this year's convocation she triples as the best graduating student in her department, faculty, and one of the overall two best students of the university, bagging first-class Honours with a 4.92 CGPA.
There were other Nsukka indigenes whose performance merits mentioning. Among the outstanding results in the whole school is the result of one of our Nsukka diocesan priests Fr. Augustine Emeka Ugwumgbo, who bagged first-class honours, graduating with a 4.89 CGPA; making him the second Best Graduating student from the faculty of Humanities and the department of English and Literary Studies.
More still, the best graduating student in the department of Mass Communication is an Nsukka son Mr. Petrus Ejike Eze; a native of Ekwegbe in Igbo Etiti Local Government Area. He graduated with a 4.32 CGPA. The second best result in the department of Computer Science came from Agada Martha.
In no small measure, all gratitude goes to the shepherd of our diocese, Most Rev. Godfrey I. Onah, under whose watch these talents were discovered.
Content created and supplied by: Stanchibuike (via Opera News )