A Fulani herdsman's picture has gone rival in Nasarawa State University after he was sighted with a shirt that was supposed to be wore by students. The picture has caused stir and mixed reactions from student via the school Facebook page. This is because the shirt was supposed to be a uniform meant for only students of the Applied and Natural Sciences.
The Nasarawa State University, Keffi as a university has about seven to eight faculties. Applied And Natural science, Arts and Humanities, Law, Education, Social sciences, Administration, Enterpreneurship, Environment sciences.
Faculty of Applied sciences which is one of the faculties in the school, has a particular navy blue shirt which is mearnt only for students of the faculty. The t-shirt is a well designed t-shirt with a bold 'NASSA' inscription on it.
Today, a Fulani man has caused reactions after he was seen around the school rearing his cows with the t-shirt on his body. Some of the students have taken to the school Facebook platforms to make fun of students form that faculty, saying they now have an I.T student who rears cows. Though some students saw it to be funny, some have reacted painfully. They have made their worries known because to them, it is disrespect to their faculty because the uniform was used in a wrong way.
See Photo Of The Fulani Man Below: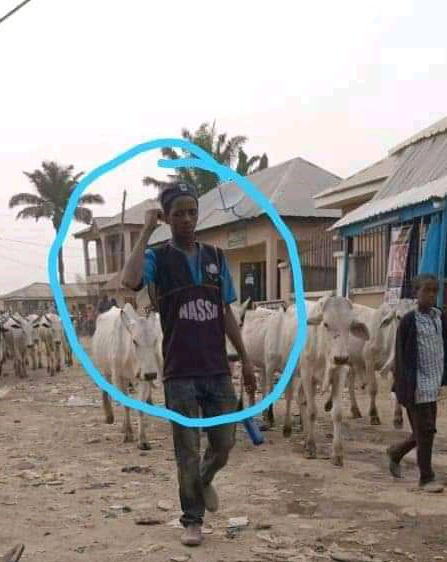 Do You Have Anything To Say About This? Drop Your Comments And Please Click Follow
Content created and supplied by: Cletusraboblog (via Opera News )