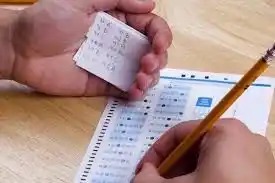 A student of The Federal polytechnic Bida, Niger state and an invigilator of the same institution today were in a loggerhead during an examination.
It all happened when the invigilator(whose name is not to be disclosed) caught two students whom were involved in examination malpractice, As the invigilator was about approaching the two students,Victor Ikegbunam a student of mass communication in the institution whom was also writing the same exam whispered to the the two girls to keep safe.Due to anger the invigilator rushed Victor and tore his exam answer booklet and this was where the whole drama started.
The invigilator quickly alerted the security man whom was on ground in the examination hall to force Victor to fill examination malpractice witness form against the two girls(whom names are not to be disclosed also).Victor practically refused filling the witness form and this prompt the security man to force him to stand up and fill the form.while the security man was dragging Victor to stand up and fill the form a piece of paper fell from Victor's body (problem part2).
Victor whom couldn't stand the pressure fled through a window closer to him and up till now the school's security men are on the lookout for him.
A piece of advice to we students, please don't try to start a fight you can't finish as the end result may not be funny.
Feel free to drop your own advise in the comment box
Content created and supplied by: Kayboy3131 (via Opera News )