Star Student Suspended for Baffling Reason Gets much Deserved to Revenge
Hannah was a sophomore at North Paulding High School in Georgia, which is near Atlanta. She captured an image of students in her school, which had made the choice to reopen for the incoming class of 2021.
As time marched on to the fall of 2020, schools were making decisions on reopening. Some gave parents the option for online classes and some didn't. Other locations decided against reopening and moved fully online.
Disease expert Dr. Anthony Fauci said that if schools implemented strong social distancing practices, they would prevent infection. Even so, sending children to school during the pandemic was something that many parents struggled with.
North Paulding decided their strategy would be to reopen with new health mandates in place. Hannah immediately noticed these weren't being followed and that others needed to see what was taking place in the passing period.
And so, she took this picture. In the image, there are only a few students wearing masks and everyone is pressed together in the tight hallway. No one is social distancing here or seems worried about limiting physical contact.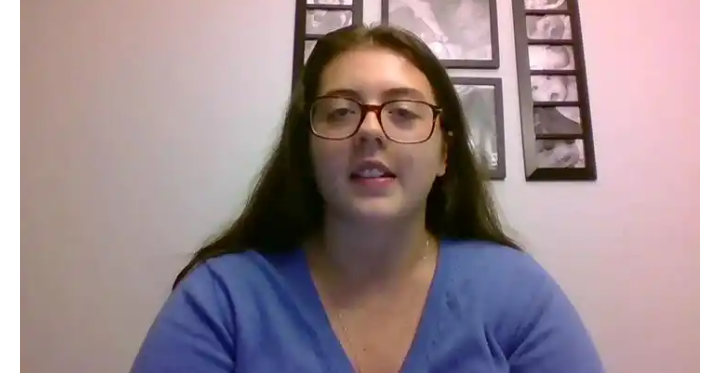 When the administration realized what Hannah had shared, they suspended her for five days. Hannah didn't care. She was proud of herself for sharing the picture so that everyone could see the truth behind what was actually happening in her high school.
"I was concerned for the safety of everyone in that building and everyone in the county because precautions that the CDC and guidelines that the CDC has been telling us for months now, weren't being followed," Hannah said.
Their reason was she broke the conduct code by using a cell phone and social media during the day and taking pictures of others without their permission, thus violating their privacy.
However, Hannah had posted her picture after school, and students were allowed to use their phones outside of class. She admitted that she did take pictures of students without their knowledge — and she doesn't regret it.
"I'd like to say this is some good and necessary trouble," Hannah said. "My biggest concern is not only about me being safe, it's about everyone being safe because behind every teacher, student and staff member there is a family, there are friends, and I would just want to keep everyone safe."
Gabe Carmona, the school's principal, wanted to dissuade other students from taking pictures, announcing, "Anything that's going on social media that is negative or alike without permission, photography, that's video that's anything, there will be consequences."
In response to Gabe's unfriendly announcement, Georgia State House member Beth Moore created an anonymous email account so anyone could report an unsafe environment. In a week, she received 650 messages.
However, Superintendent Brian Otott chimed in to say that viewers needed context for Hannah's photo. "Class changes at the high school level are a challenge when maintaining a specific schedule. It is an area we are continuing to work on in this new environment to find practicable ways to further limit students from congregating," he wrote in a community letter.
"Students are in this hallway environment for just a brief period as they move to their next class. (…) There is no question that the photo does not look good. (…) Wearing a mask is a personal choice, and there is no practical way to enforce a mandate to wear them," the superintendent wrote.
Hannah agreed that students are only in the halls for about five minutes, but in that time, they come in contact with countless others, creating numerous opportunities for COVID to spread.
In response, the administration has switched to two virtual learning days. And Lynne Watters, Hannah's mom, spoke with Principal Carmona about her suspension. The incident was removed from her record, and she soon returned to school.
Yet since posting the picture, Hannah has received troubling messages. "People I've known for years now that are threatening me now," she said. The school itself already had to close for cleaning after six students and three staff tested positive for COVID.
Hannah explained that the senior class is particularly angry with her because they want to enjoy their final year of high school. She wants everyone to understand that "… when I did 'expose' Paulding County, it wasn't to cancel the senior year, it's not to go after anyone, it was just to keep us all safe."
Hannah continues to express frustration toward the North Paulsen administration for supporting the school's reopening even though the rest of the state has a high rate of coronavirus cases.
"We could have just delayed opening like many other schools and many other counties," Hannah said. "They kind of sent us to school and used us as guinea pigs to see what would happen later on." But at least Hannah took heart in hearing stories of other brave teenagers who risked suspension to do the right thing.
The Johnson family was a happy one. They lived out a peaceful existence in Poth, Texas, where dad, Alan, and mom, Jamie, worked hard to provide a good childhood for their kids Newt, Jasper, and Maggie.
Content created and supplied by: Femiiyy (via Opera News )