The Joint Admission Matriculation Board, JAMB wishes to inform all present and past candidates who has been offered admission via their various schools and those yet to be admitted that they can now start checking of their admission status via the Central Admission Processing System, CAPS Admission Status Checking Portal form 1995 - Till Date.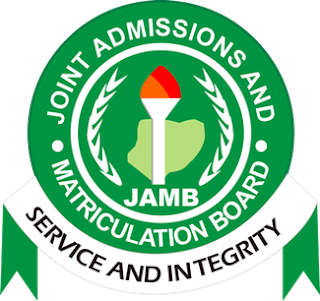 Please Kindly note that Checking of your Admission Status via JAMB CAPS is totally free of charge.
Though most schools publishes their admission list of admitted candidates on their own portal or notice board, it is highly recommended that all students confirm their admission too via the JAMB CAPS Admission Status checker portal as that is the only well recognized admission in the Nigerian Education System.
As for past candidates, needs might arise and requires confirmation of your admission status either after your JAMB Regularization Process or any other activities relating to gaining admission into other institutions or Job Recruitment or NYSC activities, whichever way the-same process outlined below is applicable to you also.
JAMB CAPS: Admission Status Checking Guidelines [Online & Text Message (SMS) | 1995 - Till Date (PHOTOS)
1. Kindly visit the JAMB e-Facility portal via https://jamb.org.ng/eFacility/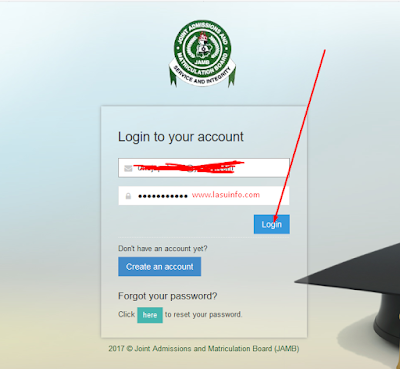 2. Enter your Username and Password and Click the Login Button as shown on the image above.[NOTE: If you don't have any Username or Password quickly create one using the "Create Account Button" located at the LOGIN Page].
3. After Successful login, if you are on a desktop computer kindly locate the "Admission Tab" on the left hand side on the page, Click on it to reveal the drop down menu which contains the "Check Admission Status Button"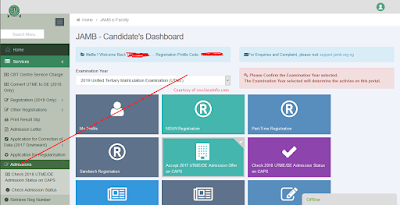 4. Now Click on the Check Admission Status Button which was revealed via the drop-down Admission Tab button.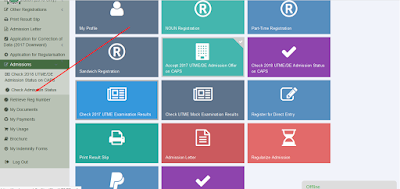 5. Kindly Select your Examination Year from the Drop-Down Menu Box, and Input your JAMB Registration Number in the other box and click on the "Check Admission Status Button" and wait for your admission status to be displayed.
. If you are been admitted you will get a response with your Photo Image being displayed and a text Congratulating you on your admission offer, But if you are not offered any admission yet you will get a text response with "Sorry No Admission has been Given Yet"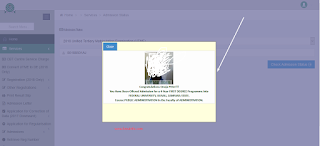 7. After successful confirmation of admission status and if offered admission you can proceed to ACCEPT OR REJECT ADMISSION STATUS or Proceed to PRINT YOUR JAMB ADMISSION LETTER.
OR
OR
Using the Search Box
Enter your JAMB REG Number in the box provided
Click on the Search Button to confirm your names.
OR
Candidates who are not sure of their admission status can check for such from their phones by sending
* ''STATUS YEAR OF ADMISSION" to 55019 e.g "STATUS2020" to 55019.
NOTE: Successfully admitted candidates are advised to ensure that they indicate the acceptance or rejection of admission online and timely to enable the processing of their admission.
It is important to note also that candidates who have been offered admission are to equally print their admission letter after accepting the admission, as they will likely need this during clearance and registration in the school that they have been admitted.
Candidates who used "awaiting result" during their registration are to upload their O'Level result on JAMB portal so that their institution of choice will be able to process their admission.
Not offered admission yet? Keep checking the JAMB website for your admission status.
Note that the Admission List will be uploaded in batches on JAMB portal as they are processed.
Hope you found this article helpful? Feel free to comment and don't forget to share with friends using the share buttons, follow and likes this post.
Content created and supplied by: FUDMA_Connect (via Opera News )